How to Celebrate Valentine's Day With Your Dog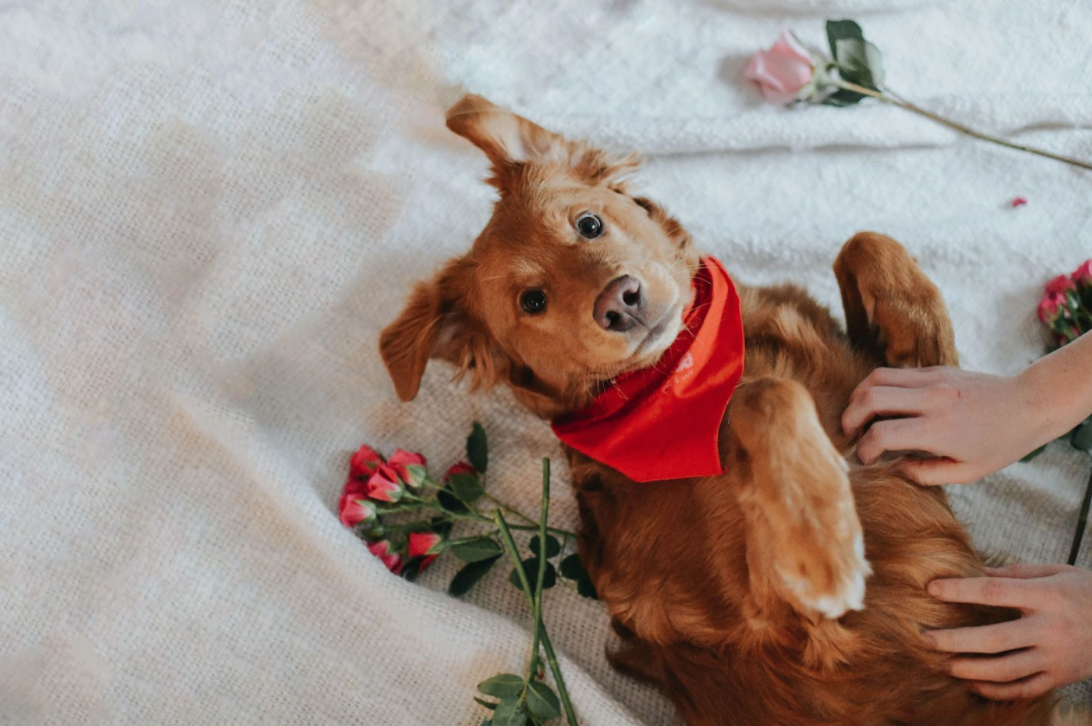 Valentine's Day is almost here! While you might be looking for gifts, candies, and flowers to send to the people you care about, your furry family members deserve love too. Of course, we're talking about your dog. 
Valentine's Day is known for being a holiday where you go the extra mile to show affection to the people who mean the most. But your dog does this every day. Can you imagine a day without kisses or cuddles? 
Your dog is always excited to see you, loves you unconditionally, and treats you like you're its world because let's face it, you are.
And while you may love your dog daily, include them in your celebration by making the day special!
How can you celebrate Valentine's Day with your dog? Here are some starters:
Go on a Shopping Trip

Adventure Together

Lunch or Dinner for Two

Have a Photoshoot

Massage Your Dog

Spend a Night In

Donate to Dogs in Need

All of the Above!
Go on a Shopping Trip
Snacks, toys, and beds — the new things you can get your dog are endless. So why not take them on a journey to pick out their own Valentine's Day gifts? Bring them to pet stores and dog-friendly places that allow you to bring your pooch along. 
Show them toys and treats and let them make the decision! This will give you the opportunity to stumble across a new favorite food or item that they'll love. To your benefit, it makes your future shopping for them easier because you know what they want most.
Need a new dog bed? This is a great chance to mark off items that you know you need, with a little help from someone who will enjoy them.

Our shop even has some accessories to make your dog's day better! 
Adventure Together
Whether you're heading out with new toys or old ones, it's important to get your dog to exercise and change up their daily routine. 
An adventure could be anything from a park visit to a hike in the mountains, a romp in the snow, or a trip to the beach! Take your dog somewhere new or back to a familiar place. 
An added bonus: there's a benefit to you! Perhaps you're working toward increased or maintained fitness goals. Skip the gym for the day and spend that time with your dog. 
Even if you don't get out of the car for long, climb aboard and wander around. You never know what you'll find!
If you live where it's cold, follow our tips for keeping your dog warm on winter walks.
Browse our shop for the best harnesses, leashes, and accessories for your adventures. We also suggest a travel bowl and portable poop bags!
A Meal for Two
Raise your hand if you have dinner plans with friends or your significant other for the holiday! Even though we can't see you on the other side of the screen, we're betting there's a good chance many of you do. Why not give your best furry friend the same treatment?
Make your pet their favorite meal or something special like a steak, and spend quality time enjoying it with them. Perhaps top it off with a sweet trip to get some ice cream — one for you and one for your dog.
Depending on where you live, you can picnic in the park (after your adventure) or even have one inside. Perhaps even stop by a dog cafe. There are plenty of options for a lovely meal for two with you and your fuzzy beau!
Have a Photoshoot
You can never have too many photos of your dog. This Valentine's Day, take even more. But, consider a photoshoot of or with your dog to commemorate your relationship and your special day together.
The photos can be as simple as using your cell phone. However, consider hiring a photographer to snap incredible photos of your dog and you. 
See if you can find a photographer specializing in this type of photography that's within your budget. While photographers are an added expense, it's worth it for the photos you will get in return. It's a one-time investment for a lifetime of memories. 
Massage Your Dog
Massages feel great to humans, but they're also great for your dog too. According to Top Dog Health, "Canine massage provides a wide range of physical and psychological benefits for your dog."
Here are their top five benefits:
Reduced stress and anxiety

Decreased pain

Improved circulation and lymphatic flow

Rehabilitation from an injury or surgery

Identification of potential health issues
For more information on the benefits and how to massage your dog, see this post by the American Kennel Club.
Spend a Night In
Above all activities, sometimes the best thing you can do with your dog is give them your time, love, and attention. 
Have dinner with your dog, give them a massage, brush their teeth, or bathe them. Then, cuddle and watch some dog-centered entertainment. Check out our list of funny dog videos or watch some of pop culture's most iconic dogs.
Donate to Dogs in Need
You are lucky to have your dog and your dog is lucky to have you. Unfortunately, not all dogs have found their happy homes yet. 
Donate to a shelter, your favorite dog charity, or engage with Joyride Harness's "Paw It Forward Initiative."
All of the Above!
You can mix and match or maximize your Valentine's Day by doing all of the above for the fullest and best day with your dog! 
As we mentioned, the most important of all is to give your dog your time, love, and attention. No matter what you do, your dog with think it's special because they spend it with you. 
For more doggie photos and pup-related fun, follow us on Instagram at
@joyrideharness
. And for a more detailed blog post about finding the best size dog harness for your pup, check out this
blog post
!
Share this post