If you love innovation as much as we do, then this 2 in 1 dog leash/seatbelt combo will be right up your alley. When something can perform more than just one function, that's just plain cool, and this product does just that.
Taking your fur baby to the park? Well, you're going to need your leash, of course, but what you may forget about is the importance of a seatbelt. Seatbelts are required by law because they save lives. You pamper your fur baby in every possible way, so don't skimp out here.
With this heavy duty dog leash/seatbelt combo, you're always prepared.
Features:
Adjustable length. Easily adjust the length 35" to 43". Short enough to keep the secure, long enough allow them some mobility and to peek out the window.
Built to last. These things are made durable and guaranteed to last. Made from heavy-duty nylon that is much thicker and more stronger than your standard leash.
Reflective material. Accidents happen and no fur baby is perfect. Should they ever get away from you late at night, you can feel a little better that there is reflect material sewn into this leash which will greatly enhance night-time visibility. 
Customer Reviews
Write a Review
Ask a Question
It is larger than expected, but for $29.95 I only got one in the mail I ordered two collars and two leashes I received the first two collars in a timely manner but I had to write back for my leashes, I waited two week and only got one. Still waiting on the other one. I'm very happy with the quality the size the fit and the color, but I am very dissatisfied with the shipment and not receiving my order. Still waiting it's been a month still one leash short.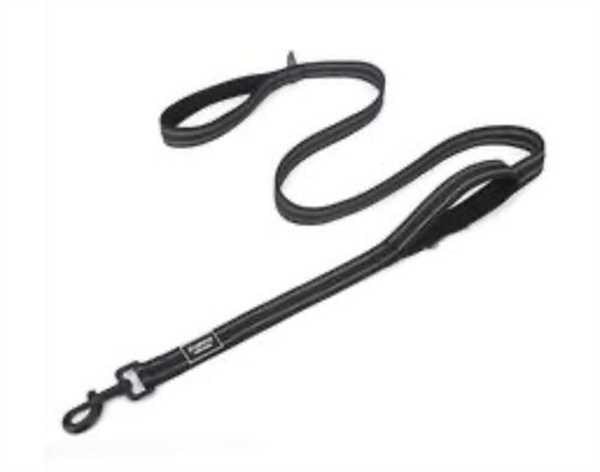 This is a great leash, I love the second loop and the seat belt clip, we now go directly from walking to riding without having to change anything. The best invention
your harness is fine. its your lousy customer service you were supposed to get back with me in a timely manner this never occurred. your people on the phone sight are fine. your customer service sucks big time you never got back with me . my dogs harness metal bolt snap hook broke on the sliding lock due to cheap zinc casting. i want this item either repaired or the harness replaced as this is unacceptable. i will not buy from you again if this is not alleviated immediately. further i will bad mouth your product due to your ****** follow up. if you think i am kidding just try me out. word of mouth is powerful. call me back to arrange repair or replacement at 845-564-1219 or email me at jshapiro496vn@verizon.net
The leash is very strong and the second loop makes it easy to control your dog if he starts getting too frisky. The seatbealt attachment is great. I would recomend this to anyone looking for a leash.
I love this leash. I am able to control my dog better with this product. The best part is the seat belt connection. The length is just right once I connect with the seat belt. My dog has enough space to sit once connected.
Good length and comfortable to use. I like the reflective enhancements.
I have two Shorkies Bobo and Azizi ❤️ They have three harness, Orange for fall, Red plaid for Winter, Rainbow for Spring and Summer ❤️ I'll send pictures on Valentine's Day; they go to a doggie Valentine party weary " I Love❤️ My Mommy tee shirts I love the new name of your company