Help your dogs feel safe and reduce driving distractions. Ideal for protecting your car's upholstery, leather and keeping your seats like new. (Protects seat from dirt, pet hair & claw marks)  
Our back seat dog cover is the perfect size at 54" W x 58" L comes with length adjustable straps, 4pcs adjustable headrest straps fasten securely to front and rear headrests, easy to install. This cover fits ANY size vehicle with headrests. Fits most of all cars and SUVs with headrests (Does not work for cars without headrest and big trucks)
The seat cover is made from a high quality water proof polyester which will stand up to scratching, protecting your seats from any damage.  Our cover is very simple to install, simply snap the buckle straps around the head rests and you're good to go!  
Features/Size:
GUARANTEED to protect your car seats from nail scratching, hair and dirt
Heavy duty and high quality, will last FOREVER
Universal size to fit to any back seat, 54 inches x 58 inches with adjustable straps.
Water and tear resistant with rubber backing to prevent slipping
Keeps your dog from jumping up front or falling between seats
Equipped with seat belt opening to use your back seat belts and any attachments as usual
Perfect for beach days, park days, summer fun outings, and more!
For any questions, feel free to ask!
Customer Reviews
Write a Review
Ask a Question
I had been driving Tina around with the back seats down so she was on a platform. She was not secured as well as I liked, I had her in a harness (my JoyRide :-) and I gerry-rigged the leash. With this backseat sling she is safe and secure and much more at ease. I like the slots so I can clip her into the seatbelt (your seatbelt leash!). It's a wonderful product. Worth every cent!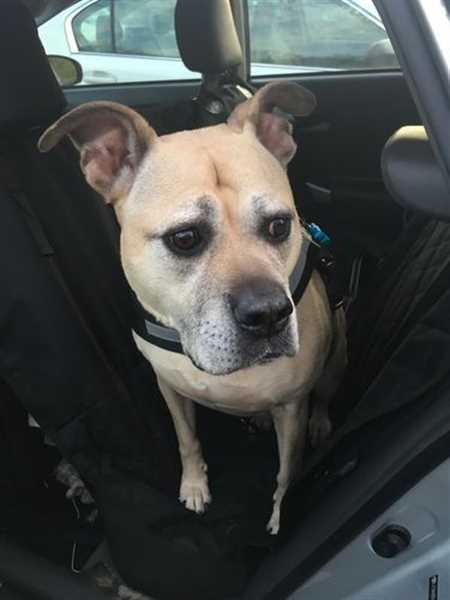 We actually have two large dogs and this works perfect for them. One drools during car rides so this helps keep the seats clean. The dogs love it.
This is going to be a gift. No comment yet.
Perfect, except I wish there was a "this side up" printed on it. All of the head rest attachment have been customized for the dog and sometimes it gets on backwards. Just a suggestion for the easily challenged.