See The Joyride Harness In Action: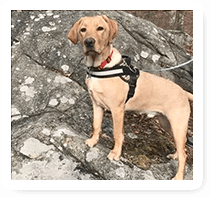 Making life much easier for everyone!
ANGIE W.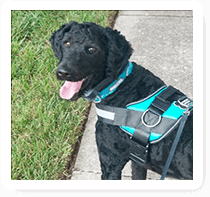 Best Harness Ever!
DANA D.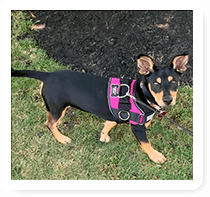 No more wrestling with our puppy!
BRIAN B.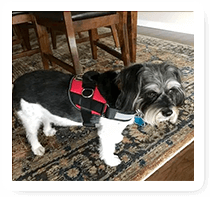 My girl LOVES this harness!
ASHLEY C.

Black and White Dog Harness Additional Information 
If you've been wondering what color harness to get your dog, you can't go wrong with a classic black and white dog harness. This monochromatic buffalo plaid print is stylish for all seasons. The benefits of a neutral color palette mean it is suitable for all fur babies. 
Our black and white dog harness is available in six sizes, so dogs, both big and small, can strut their stuff with style and comfort. From sizes XS to XXL, our black and white buffalo plaid dog harness will fit everything from tiny Chihuahuas to sturdy Rottweilers.


We designed this black and white dog harness to be heavy-duty yet remain comfortable for your dog. How many times has your dog run away when you tried to put their harness on? You won't have any problems like that with this Joyride Harness. We designed an easy-on, easy-off harness that only takes seconds to put on and take off. Simply slide the harness over your dog's head, make a couple of adjustments for the perfect fit, and voila! You and your fur baby are ready to go! 
Joyride Harnesses are built with tough materials that can withstand even the strongest pullers. We even lined the interior with fleece to prevent any potential discomfort. 


Black and White Dog Harness Features
-Heavy-duty materials and soft fleece ensure durability and comfort
-Reflective material provides visibility when walking at night
-Three attachment points allow you to customize your dog walking experience
-Stylish buffalo plaid pattern 

We think that you can't beat a classic black and white buffalo plaid print, However, if you want your dog's wardrobe to match yours, the bestselling Joyride harness is available in a wide selection of colors and fun prints! If you think plaid is rad, be sure to check out our Fall Plaid Harness, Purple Plaid Harness, and Christmas Plaid Harness! 
Confused on what size to pick? Use our sizing guide below:
For size 'XS', dogs should weigh between 5-9 lbs and have a chest size of 12-17". Suitable breeds include Chihuahuas, Yorkies, Pomeranians, and Small Puppies.
For size 'S', choose this for dogs weighing 10-19 lbs, chest 17-22". This fits Mini Schnauzers, Shih Tzu, Bichon Frise, and Maltese.
Size 'M' is ideal for dogs weighing 20-40 lbs with a chest size of 23-28". This includes breeds like Pugs, French Bulldogs, and Corgis.
Size 'L' is for dogs weighing 40-60 lbs, chest size 28-33", fitting breeds like Australian Shepherds, Basset Hounds, and Standard Poodles.
For size 'XL', select this for dogs weighing 60-85 lbs, with a chest size of 33-38". Breeds like Labs, German Shepherds, and Golden Retrievers fit into this size.
Lastly, size 'XXL' is for dogs weighing 85-140 lbs, chest size 38-44". Breeds in this category include Rottweilers, Tibetan Mastiffs, and Bullmastiffs.