3 Reasons Why Dog Owners Pick Joyride Harness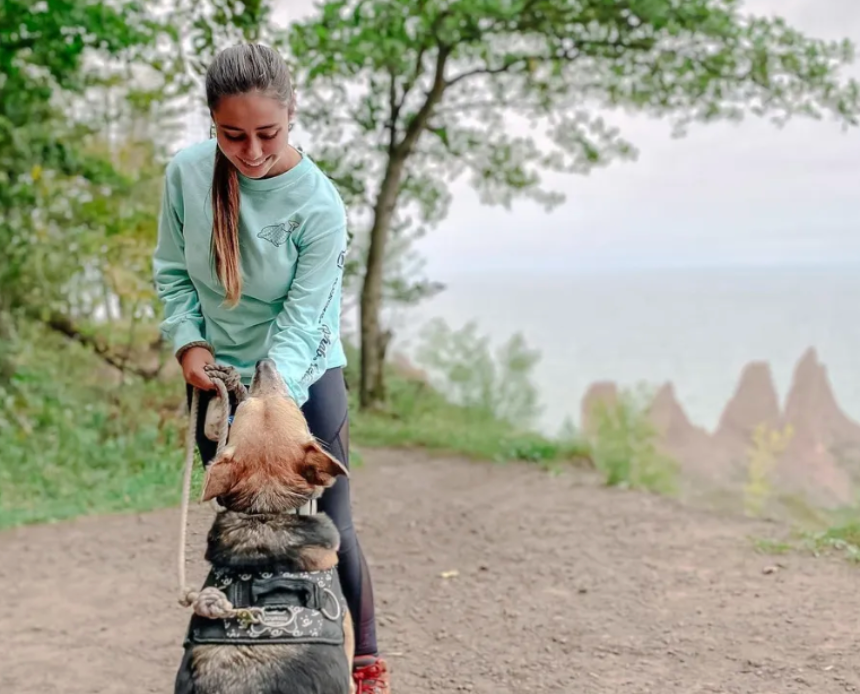 At Joyride Harness, dogs are our #1 user, but your satisfaction as the dog parent means a lot to us.
We have over 40,000 customer reviews raving about products and our brand!
But what makes Joyride Harness different? We'll give you three reasons why.
Reason #1: Harnesses are Better for Dogs
"A harness? What's the difference between that and a collar?"
"Why is a harness better?"
Dog harnesses are better for dogs than just a collar for a few reasons:
Sorry, Houdini, no escaping here:

Joyride Harness is a great choice for small dogs, big dogs, powerful dogs, and

escape artists

as it not only is a

no-pull dog harness

but with the perfect fit, you can avoid losing your dog on walks.




Safer for your doggie's neck:

By choosing Joyride Harness you provide safety and security to your dog and avoid long-term health issues that can occur with repetitive pressure on your dog's neck from collars alone. Prolonged stress and pressure applied to the dog's neck can lead to tracheal collapses. In fact, harnesses are

veterinarian-recommended

.
Take it from our happy Joyride Harness customers:
⭐⭐⭐⭐⭐ Laurie M. "Sprockett loves the new harness. It's easy to put on and off, and comfy for my dog. It helps with pulling." 
⭐⭐⭐⭐⭐ Kara M. "Great quality. We've purchased 3 different harnesses for our Boxador, and haven't really been satisfied with any of them...until we purchased a Joyride Harness. He's a big guy, a little over 80lbs, and this is the only harness that gives us the control we need while on walks. It is easy to put on and I love the handle on top! Also, NO choking!! Even when he gets the most excited, the harness supports him beautifully. I wish we knew about Joyride when he was a puppy, this is the only harness I will buy from now on."
Reason #2: Easy to Use
Finding the right dog harness for your fur baby can be quite the challenge. Thankfully, Joyride Harness is now one of the most popular dog harnesses in the market for dogs of all sizes.
What makes Joyride's harnesses the best easy-on and easy-off dog harness for small, medium, and large dogs? Take a look at how you put it on:
Step 1: Slip the walking harness over your dog's head. The harness will automatically slide into place (over your pup's chest, not the dog's neck), making it ready for use immediately.
Step  2: Attach the buckle into the clip (our harness is a front-clip harness with the buckle connection and the front clip located just under the belly), making sure that it is tight without making it uncomfortable for your dog. 
While this clip harness is designed to prevent your dog from feeling discomfort (especially in areas without the buckle like the armpits), your dog may still be subject to pinching or friction around the dog's skin if you do not provide the strap with enough slack. 
Always check to make sure the harness fits and those attachments are secure before you use this no-pull dog harness.
Step 3: Attach your leash to one of the provided adjustable points (there are multiple leash ring attachment points for your needs) and start walking!
Take it from our happy Joyride Harness customers:
⭐⭐⭐⭐⭐ Kelly E. "Absolutely LOVE our Joyride! Total game changer! The Joyride harness is stunning! Not only is it durable and clearly well made, it's incredibly user friendly!  Our Lab/Hound mix puppy would cower whenever we would have to put her old harness on her - as it was such a hassle to get over her head. With her new Joyride - she loves it and it takes half a second to place over her head! Not to mention - a total game changer when it comes to mitigating her pulling!  You have a customer for life!  … perfect w/ a growing puppy!"
⭐⭐⭐⭐⭐ Marcia B. "Great Harness! Overall experience is great.  Once I got it sized correctly it is perfect for my high energy Min Pin. We walk 2 miles every day and I feel much safer with the Joyride harness. I do take it off after we get home. Easy to get on and off. Takes 2 seconds."
Reason #3: Our Promise to Our Customers
"We aren't like other harness companies," we say as we flip our hair.
We have five core elements that drive everything we do and set us apart.
ONLY THE BEST:

Our dogs love us and rely on us for their wellbeing. That's why we sell only humane products that will not only improve their lives but yours as well. They deserve the best and so do you. Our products are all made from the highest quality materials and are built to last.




AWESOME CUSTOMER SERVICE:

Our customer service team is available all week long. A real person is here to help, Mon-Friday from 9 am to 5 pm. If you have any questions, we are always happy to help.




WE KNOW OUR DOG STUFF:

Everything we sell on this website is everything that our dogs use and have themselves. We would never sell anything that we wouldn't use ourselves. All of our products are first tested by us and our own dogs before we decide to sell them in our store.




SMALL & FAMILY OWNED:

Small, family-owned businesses are the backbone of this great country and we are proud to be part of it. When you buy from us, you're not buying from a huge corporation. You're buying from a local small business.




GIVING BACK:

We are dedicated to not just providing a portion of all our sales to Dog Rescues across the nation but we also love to help non-profits and other organizations with donations and other ways that they may need help. If you're a part of a rescue organization and would like to partner with us, feel free to contact us anytime. We're here to help.
Take it from our happy Joyride Harness customers:
⭐⭐⭐⭐⭐ Tamara H. "Best Dog Harness. My experience was fantastic and this is [the] best dog harness we have used. It is super easy to adjust and use and comfortable for my puppy. We love the handle to be able to grab and correct our puppy!"
⭐⭐⭐⭐⭐ Sheri B. "Our favorite! We love your harness! We've been using it for years and recently brought a new addition home. One of the first things we did was purchase a harness for him."
For more doggie photos and pup-related fun, follow us on Instagram at @joyrideharness. And for a more detailed blog post about finding the best size dog harness for your pup, check out this blog post!!
Thank you to all of the above pet parents as well as the below happy pups for the pics:
@nickihummell
@knopeandswanson
Share this post