Why Dog Harnesses Work Best For Walks In Place of Collars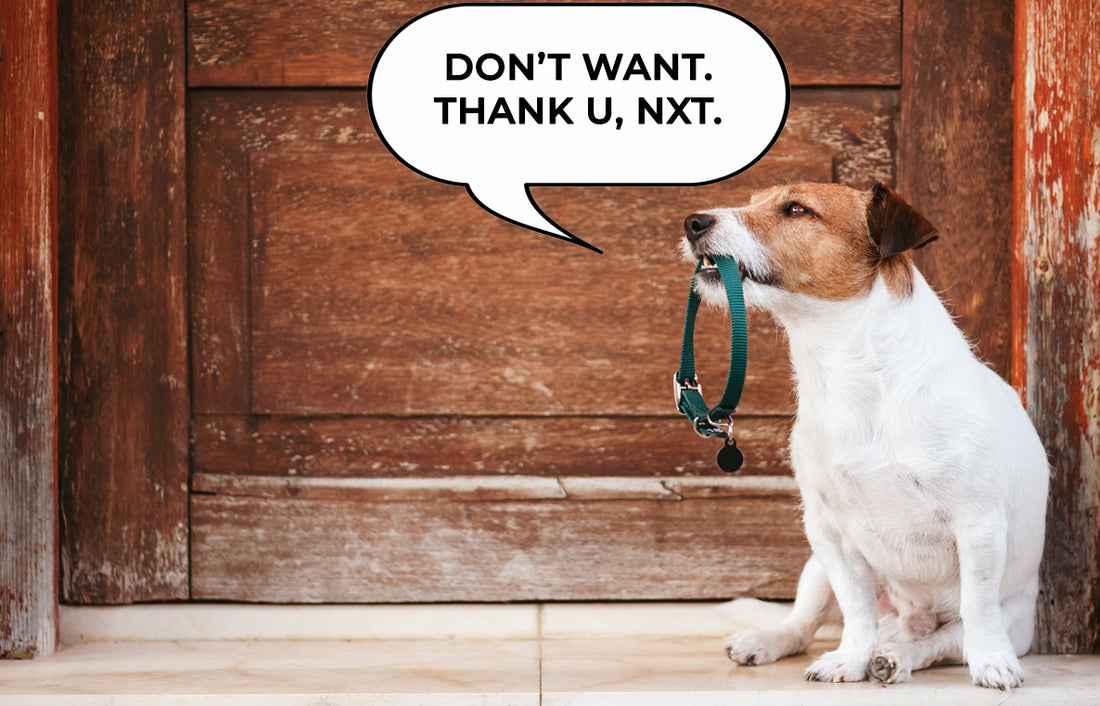 There's a huge debate about which is better: dog harnesses or dog collars? 
If may seem bias of us to lean towards harnesses considering that's our flagship item, but there's a reason why we started creating and offering this product: harnesses are safer for the long-term health of dogs.
Harnesses are typically picked by dog parents when their fur babies are more likely to exhibit behaviors like pulling or they're high energy and get easily excited on walks. The decision to go with harnesses is usually because of a call for a solution to these things rather preventative, which is what we're going to dive into here.
In a previous blog post, we shared the opinion of Dr. Lisa Lippman (DVM) and how she feels about harnesses in place of collars. 
"Collars have known detriments to them. There's nothing worse than when I see a dog choking on a collar…" - Dr. Lisa
You're probably wondering what detriments Dr. Lisa is referring to, and they include this long and troubling list of long-term effects that are caused by collars:
Dog necks are similar to that of humans. They house the trachea, thyroid gland, esophagus, jugular, lymph nodes, and spinal column. 

Because of this, using a collar can be extremely harmful because of all the pulling that causes pressure on the areas of the neck. High risk and potential injuries include…

Neck Injuries 

Eye and ear problems which is another effect of pressure to the neck

Hypothyroidism, or inflammation of thyroid cells leading to the deficit of thyroid hormone

Nervous system complications

Heightened behavioral issues 
View full Dr. Lisa post here.
Are these risks you want to take for your fur baby and your finances? According to Embrace Pet Insurance, the costs of treating tracheal collapses can stack depending on the severity of the collapse. However, even if the tracheal collapse is mild, that can incur to worsened health over time. 
"The cost for mild cases can be as low as $0 to $30 a month. More severely affected dogs requiring advanced diagnostics such as scopings and ultrasounds can expect to incur $500 to $2,000 in testing alone. Stent surgery itself can add another $2,000 to $5,000 to the bill." -
Embrace Pet Insurance
With those concerns in mind, we decided to pull some of our customer submitted reviews that point out the switch to harnesses because of tracheal collapses or potential tracheal collapses. Here's what dog parents had to say!
Karen M. - ⭐⭐⭐⭐⭐/5
Size/Color: S - Red
"Lily has a collapsed trachea. Walking with the leash attached to her collar resulted in episodic coughing. This harness has enabled her to walk with the leash comfortably and safely. It is well made and adjustable so fits her well. This is the third harness I've tried on her and it will be the last. We both love it!"
Eddie M. - ⭐⭐⭐⭐⭐/5
Size/Color: S - Pink
"Absolutely love it. We have a  Pomeranian and it fits her perfect and is super easy to get on and off and most of all it's safe not pulling on the neck. anyone knows with a collar on a Pomeranian with one jerk can cause the trachea to collapse. but with the Joyride harness there's no issues. We're extremely satisfied."
Benita S. - ⭐⭐⭐⭐⭐/5
Size/Color: N/A - Black
"My one yorkie always fought me on putting on his harness. I do not use collars on my boys because of my concern for collapse trachea that is common in this breed. Needless to say, the pug harness has been a blessing when putting it on because there are no need to mess with adjustments, fighting to get it on them, and the loops are perfect when hooking them up to their booster seat! I get a lot of compliments from people when they see the harness. Many have seen advertisement in Facebook and ask questions. Best investment made for my boys!"
Cindy P. - ⭐⭐⭐⭐⭐/5
Size/Color: N/A - Fall Plaid & Camo
"Having 2 perpetual motion Jack Russells means when somebody needs to go outside, they are ready to go out right now!  Cooper, the 16 year old, has urgency issues, so being able to quickly slip and click the Joyride harness on him has been a mess saver!  Bentley, the little one, has a collapsing trachea, so a harness that doesn't put pressure on her throat is a must, especially since she has no qualms thinking she can just take off at any moment to chase after a deer or a squirrel!  These harnesses are extremely well made and so easy to put on and take off. Best harness we've ever used!"
Diane G. - ⭐⭐⭐⭐⭐/5
Size/Color: N/A - Black
"My standard poodles are trachea sensitive so its wonderful NOT having them cough if they pull on the leash even in the slightest! And the handle has come in handy many times including pulling them into the boat from their Doggy Dock!"
To view all of our customer submitted reviews, feel free to visit
this page
of our website. Consider making the switch from collar to harness so that your dog can live their best life!
Share this post