Best Easy to Put on Dog Harness For Small, Medium, and Large Dogs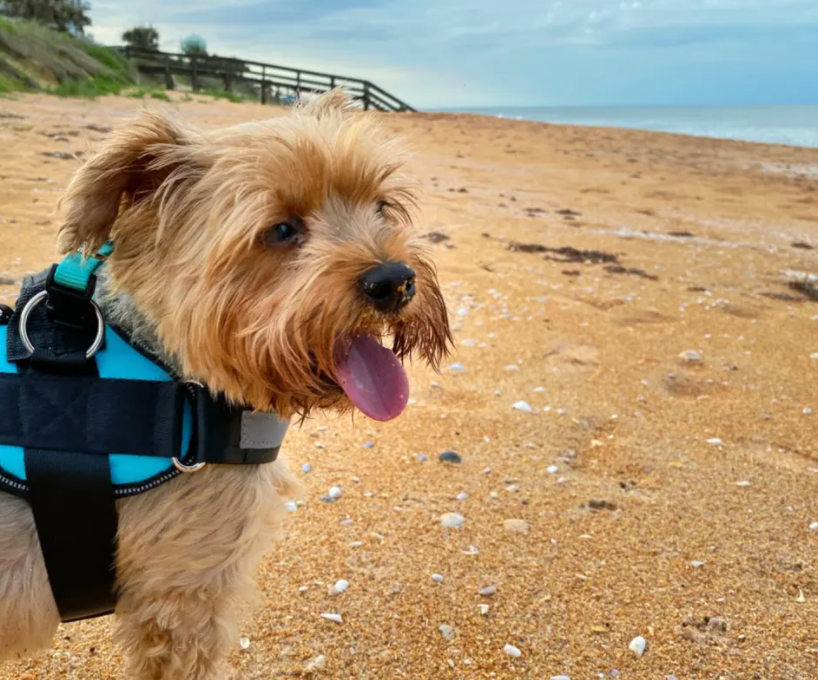 Finding the right dog harness for your fur baby can be quite the challenge. Not all harnesses are created equal, and the style harness you choose will depend on several factors. For most pet parents, you are looking for an easy on dog harness that prevents your dog from pulling too much. If this sounds familiar, you are looking for a no-pull harness. 
Thankfully, Joyride Harness is now one of the most popular dog harnesses on the market, making it a quick and easy experience for customers to get their dogs prepped and ready for the next walk.
Joyride Harness: the #1 No-Pull, Easy On Harness 
No-pull harnesses are specially designed to limit your dog's pulling when you are out for a walk. The Joyride Harness no-pull dog harness uses revolutionary side-ring technology, so if your dog tries to pull, they will instead spin around and face you.
But what makes this the best easy-on and easy-off dog harness for small, medium, and large dogs? 
For one, our harnesses are available in six sixes, ranging from XS to XXL, which means we can accommodate just about every dog and dog breed, from five pound Chihuahuas to 140-pound mastiffs. People with both small dogs and extra-large dogs often struggle with finding the right size harnesses. We believe all dogs should have great gear, which is why we developed our inclusive size range. 
No-pull harnesses shouldn't hurt your dog as long as it is properly fitted and used properly. The Joyride easy on dog harness has fleece style padding for added comfort. Adjustable straps allow you to achieve a secure and perfect fit for your dog, no matter their body proportions. 
Our harnesses also have three points of attachment (back and sides) so you have total control over how you walk your dog. Doing for a car ride? Attach the seat belt leash to the back ring so you can buckle up and go! Are you still working on your training? You can use a double dog leash to clip in both the back and side attachment, giving you more control over your super puller.  
How Do You Put a Dog Harness On
?
One feature we didn't even touch upon is how easy it is to put on a Joyride Harness. Here are the simple steps for how to put a Joyride easy-on harness on your dog: 
Slip the walking harness over your dog's head. The harness will automatically slide into place (over your pup's chest, not the dog's neck), making it ready for use immediately.

Attach the buckle into the clip (our harness is a front-clip harness with the buckle connection and the front clip located just under the belly), making sure that it is tight without making it uncomfortable for your dog. While this clip harness is designed to prevent your dog from feeling discomfort (especially in areas without the buckle like the armpits), your dog may still be subject to pinching or friction around the dog's skin if you do not provide the strap with enough slack. Always check to make sure the harness fits and those attachments are secure before you use this no-pull dog harness.

Attach your leash to one of the provided adjustable points (there are multiple leash ring attachment points for your needs) and start walking!
Joyride Easy-on Dog Harness Reviews
We believe that our easy on harness is the best on the market, but you don't have to take our word for it! To show you how the harness is working for our customers, we've rounded up reviews from customers with small, medium, and large dogs so you can hear firsthand why this is the best easy-on dog harness for dogs of all sizes.
Small Dog Wearing a Joyride Harness
Linda M. - ⭐⭐⭐⭐⭐/5
"Perfection! Couldn't be happier with this very well made, super easy on and off harness. My little 10-lb Buzz (Shorkie—Yorkie/Shih-tzu mix) looks so cute in it plus I don't worry about pulling his neck or his collar slipping off his head which has happened a couple of times because his head is really small—basically all fluffy fur). So much safer with this harness."
Buzz is wearing our Red Hearts dog harness. 
Mark D. - ⭐⭐⭐⭐⭐/5
Medium Dog wearing Joyride Harness
"Easy on, easy off. Heading out and coming in are a relief. Old harness was such a hassle, we left it on all the time (and she'd chew through the chest straps once a month). Joyride slips on and the large clasp clicks shut easily. So far, feels very sturdy. Dolly adapted quickly and hasn't complained."
Dolly is wearing our Rainbow dog harness.
Nichole B. - ⭐⭐⭐⭐⭐/5
Large Dog wearing Joyride Harness
"Got one for our Lab (114 lbs) and our Yorkie (15 lbs) Easy on and off. So nice to not have stress on their necks. The handle is great for quickly grabbing our Lab, when he sees a squirrel on our walk, or gets too excited to meet a new friend while we're out and about. For the small boy, I can hold him To give our big boy a head-start when playing fetch... and release him quickly to keep him from getting trampled in the race! I got the XXL for Winston (Lab), and the S for Baxter (Yorkie). Baxter is stocky for his breed. I know the pic of our lab make it seem like the harness is tight... but it's not at all. He has a lot of loose skin. I will say that it just barely fits him. Any less available adjustment and it would work. We use the center loop for the small day and the left side loop for the big boy. Great company. Very responsive and keeps you informed without prompting from placing the order, processing, delivery etc., to post delivery follow up. Highly recommend."
These are just a few of our customers' submitted reviews on our bestselling easy-on dog harness. You can view all submitted reviews by checking out this page. You can also filter reviews by breed. 
Additionally, if you have sizing questions, you can always reach our team through the contact form on our website if the sizing charts on our size guide do not suffice. You'll find two charts available for sizing reference based on weight and girth measurements. You can also check out our article on how to choose the right size harness for your dog. 
Want more from Joyride? Feel free to follow us on Instagram at @joyrideharness and on Facebook. We love sharing photos of your furbabies sporting our Joyride easy on harness! 
Share this post