REVIEW: Best harnesses for small dogs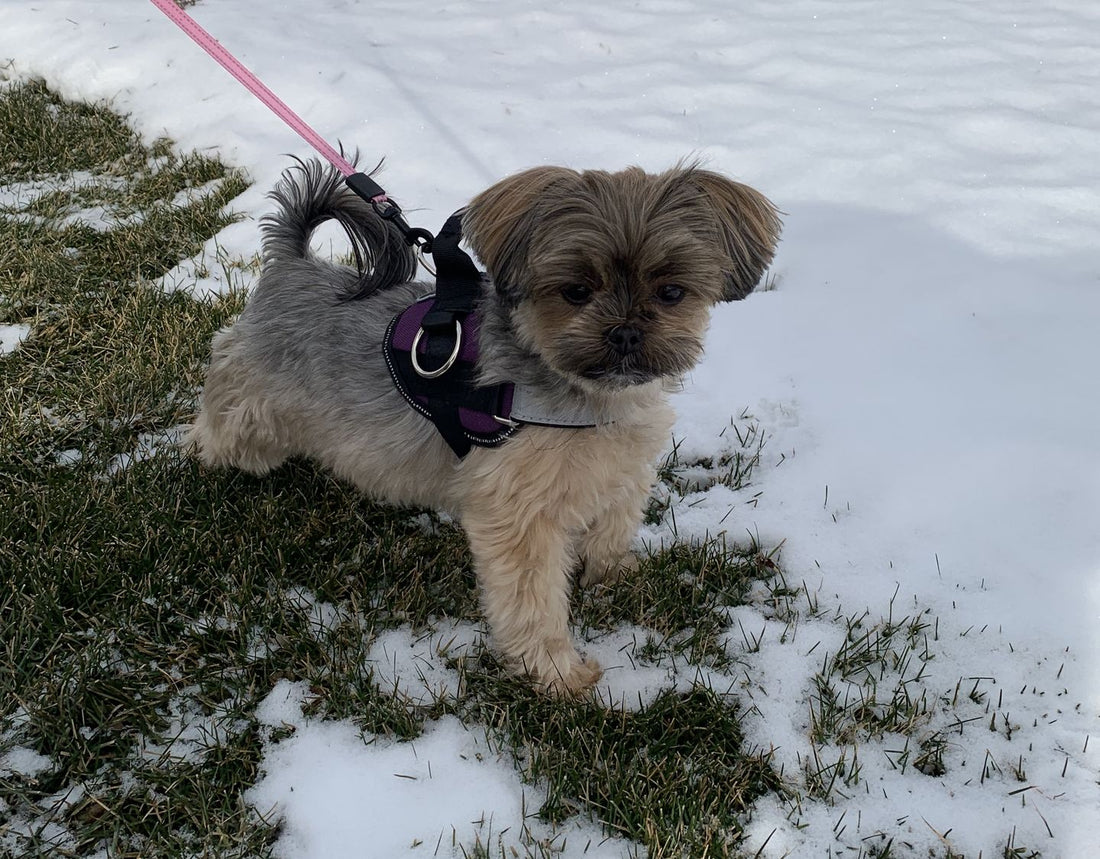 Picture it.
You've got this small furbaby with a large personality. You're starting to wonder why you didn't name him Napoleon, but even grand personalities like Napoleon need to get a bit under control. That's why the Joyride Harness is a thing. For better training and control on walks and hangouts, you'll notice a difference compared to the standard leash and collar.
MORE READS: Check out this interview with a dog behaviorist and walker about the Joyride Harness
Often we get messages and e-mails asking questions about sizing.
Is this harness going to fit my dog?
I have a Chihuahua. Will this fit them right?
Great thing is Joyride Harnesses are offered in sizes starting with extra small which can accommodate furbabies starting at 5 lbs or 17" in girth measurements. So you can see how it is in action, we've rounded up some photos and reviews from humans who have little furbaby minions.
Marsha G. - ⭐⭐⭐⭐⭐/5
Size X-Small
"Going on walks is a pleasure and no more tugging. Pippa seems to be really comfortable with the harness. Love it!!"
Karen M. - ⭐⭐⭐⭐⭐/5
Size Small
"Lily has a collapsed trachea. Walking with the leash attached to her collar resulted in episodic coughing. This harness has enabled her to walk with the leash comfortably and safely. It is well made and adjustable so fits her well. This is the third harness I've tried on her and it will be the last. We both love it!"
Susan T. - ⭐⭐⭐⭐⭐/5
Size X-Small
"We've bought various harnesses over the years but this one is the first one that actually works like it should couldn't be more pleased."
Jon R. - ⭐⭐⭐⭐⭐/5
Size Small
"Dickens, our mini schnauzer hated the harness and collars we have used on him prior to this wonderful harness. Now he runs over when he hears it jingle when I pick it up! No more resistance, only enthusiasm."
With small doggos and furbabies, we know the initial feeling is to go with a size small but smalls may be defined differently with each company you look into. Before you place your order, we do recommend taking measurements of your doggo and weighing them on a scale to determine which size to get. You can find information on how to properly pick the right size harness for your dog at this page.
If for some reason you receive your order and the harness is not the right fit -- perhaps it's too snug or too loose -- you can start an exchange to get the right size for them using our new returns and exchanges system on this page. The system will provide you a prepaid shipping label. If you want more information on how it works, please visit this link.
One more thing before you click out of here!
We love seeing pictures of your furbabies especially when they're rocking their Joyride Harness. For a chance to be featured on our social media or website, be sure to post using the hashtag #JoyrideHarness and/or #JoyrideHarnessSuperstar!
Share this post