Why German Shepherd Dog Owners Love Joyride Harness! | Reviews & Testimonials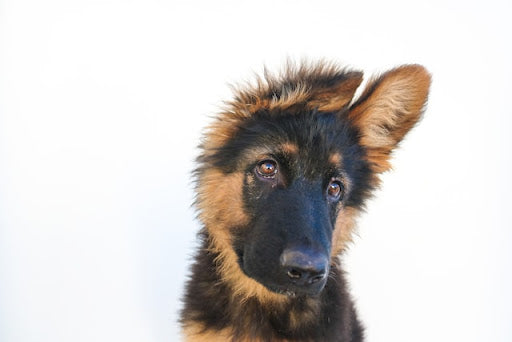 Strong, active dogs can be a handful on walks. That story sounds familiar to any German Shepherd dog owner. For large dogs like German Shepherds, harnesses can be a safer and more secure option than a traditional collar. If your German Shepherd is a heavy puller, walking them on a flat collar can choke them and injure their neck. Because harnesses fasten securely around your dog's body, they don't risk throat damage and provide more security by lessening the likelihood of your dog escaping. 
The best German Shepherd harnesses are strong, easy to use, and fully adjustable. If you're a German Shepherd owner, turn to a harness that is
Easy to slip on energetic dogs

Can adjust with the growth of German Shepherds

A top bestselling dog harness that is German Shepherd dog owner approved!

 
Struggling to walk your dog on your current harness? Turn to Joyride Harness.
Fitting a Joyride German Shepherd Harness
Finding the best harness for German Shepherds is all in the fit.
When you shop Joyride Harness, we have size charts on every product page. You can use our "By Weight" size chart, or you can use our "By Girth" size chart to find the best fit for your dog.
When you receive your harness in the mail, the first thing you'll do is put it on your German Shepherd. Start by buckling one strap behind their front legs (under their chest) and using the velcro strap across the front of the dog's chest. You'll then turn your focus to the adjustment straps. 
The durable mesh design of the harness allows you to tighten the straps at the adjustable points to mold to a perfect fit for your German Shepherd dog. If you accidentally ordered the wrong size harness for your German Shepherd, we offer FREE exchanges (for U.S./domestic only). 
This dog harness is perfect for all sorts of German Shepherds: rescue dogs, agility dogs, guide dogs, watchdogs, and German Shepherds that might run after a squirrel, and you need a handle to hold them back. The design of the dog harness relies on a proper fit or barely snug fit to ensure the dog's comfort and restrict them from making a great escape.
Joyride Harness for German Shepherd Benefits 
Durable quality that is machine-wash safe

No pressure around the dog's neck, minimizing the risks of tracheal collapse

Secure buckle

Better control of pullers (no-pull dog harness)

Works great with 2-in-1 Leash & Seatbelt Combo for car rides

Three rings for different leash and seat belt attachment points

Can still be worn with a dog collar

Lightweight but with plenty of padding

Breathable mesh for long walks

Reflective straps and stitching for night visibility
"Generally considered dogkind's finest all-purpose worker, the German Shepherd Dog is a large, agile, muscular dog of noble character and high intelligence. Loyal, confident, courageous, and steady, the German Shepherd is truly a dog lover's delight." - American Kennel Club (AKC)
Why Dog Parents Love this German Shepherd Harness 
At Joyride Harness, we've shared with you countless dog owner reviews from customers with puppies, small dogs, dogs with health issues concerning their neck, small dogs and big dogs that pull, service dogs, and more. Now, we're sharing with you real Joyride Harness customer testimonials explaining why this harness is the best harness for German Shepherds. If you have a German Shepherd puppy or adult at home, take a look at these!
Doreen T. - 
⭐️⭐️⭐️⭐️⭐️/5
I have an oversized 5 month old German Shepherd (60lbs) and he has no idea of his size When we would attempt to go for a walk before we had the Joyride Harness it was not very much fun for either one of us. Since we purchased the Joyride Harness walking is fun and a tired puppy is a happy puppy.
Carlos F. - 
⭐️⭐️⭐️⭐️⭐️/5
We bought the harness and seat belt leash and love it! Looks stylish, easy to put on and has made walks with our 5 month old German shepherd much easier. The seat belt leash buckles in easily and gives us peace of mind during our frequent car rides.
Hallie P. - 
⭐️⭐️⭐️⭐️⭐️/5
I have a German Shepherd, he has a bit of an attitude problem. It is hard to be able to take him for walks out in public because he has a problem with everyone/ everything he sees. Until I purchased a joyride harness, he was hard to control (I'm a small female, and he's over 100 lbs) collars caused discomfort or pain when he would pull, and it would make his aggression worse. 
The harness itself is very well made. The materials seem quality, and everything sits in the right place. The handle on the back is perfect for grabbing him closer to me if I need to, and he's not getting choked anymore. I could cry because I love my fur-baby so much, and the harness helps me to be able to take him so many more places because his attitude is much less now. I review products after I've used them a while and I will never buy a collar for a dog again. Thank you for this amazing product!
Connie P. - 
⭐️⭐️⭐️⭐️⭐️/5
I have a German Shepherd, and we hike in Colorado. The harness is much better than a collar for control around other hikers and dogs and more comfortable for Chief! Just purchased a second one to keep in the car.
Martin V. - 
⭐️⭐️⭐️⭐️⭐️/5
Ordering was easy, customer service kept me updated on shipping and delivery, quality is great, fits well - have extra large German Shepherds! Helps control walks comfortably for me and my GSDs! Highly recommend! Love these harnesses. Bought three different colors so each one adjusted for each size GSD we have. All three walk and run easily and act like they don't even feel the harnesses!
Sam C. - 
⭐️⭐️⭐️⭐️⭐️/5
Lilo is our 16-month-old German Shepherd. She is my daughter's running partner. She pulls really hard still so we needed a good harness to keep her under control. This seems to be perfect! My daughter really loves the handle on the back.  I love how easy it goes on and off!
Patrice B. - 
⭐️⭐️⭐️⭐️⭐️/5
My German Shepherd, Riley, loves this easy harness. This is the first one that he accepted.  The padding is great and the rings (so he can carry his own water bowl) are so convenient. I also use this in the RV to keep him out of the driver's seat.  I have ordered more for my kids' dogs! Good work, Joyride!
Ashley M. - 
⭐️⭐️⭐️⭐️⭐️/5
I love this dog harness! It fits very well and you can tell it's made with high-quality materials. It makes walking my German Shepherd much easier than before. She seems very comfortable with it on and it helps a lot with her pulling when we walk. I would highly recommend this for someone who likes to walk their dog and has some issues with their dog pulling.
These are just a few of our customers' submitted reviews on why they love Joyride Harness for their German Shepherds. Want even more info on why we sell the best German Shepherd Harness? You can read all reviews and testimonials on our reviews page, including specific reviews for big dogs, as well as harness reviews for small dogs. Bonus? You can search by breed with our updated review features! We also have more blog posts that round-up reviews based on different dog types for your convenience.
Try the Bestselling German Shepherd Harness 
Are you ready to try the best harness for German Shepherds? Don't wait–take control of your walks today with Joyride Harness!
If you have sizing questions you can always reach our team through the contact form on our website if the sizing charts provided on our size chart page do not suffice! You can also check out our detailed post on how to choose the right size harness for your dog. 
Share this post