See The Joyride Harness In Action: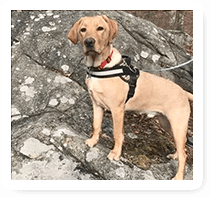 Making life much easier for everyone!
ANGIE W.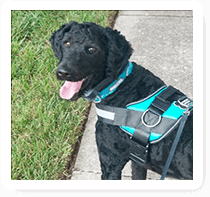 Best Harness Ever!
DANA D.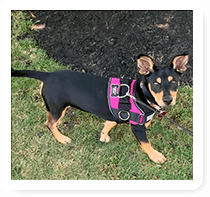 No more wrestling with our puppy!
BRIAN B.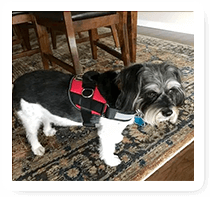 My girl LOVES this harness!
ASHLEY C.

Additional Information 
If you're looking for a color that will look great on all dogs, our Teal Dog Harness may be the perfect fit. This bright color is perfect for spring and summer, but will pop year-round, too. The addition of reflective material along the front chest, as well as reflective stitching along the body, ensure your dog will be seen no matter the time of day or night. 
Both heavy duty and extremely comfortable, this teal harness will be the last one you ever need to buy (unless you want more colors for every season!). We specially designed our harnesses to withstand even the strongest pullers and lined the interior with fleece to prevent chafing. No matter if your dog is big or small, we have a large size range to accommodate them all. With six current sizes, our no-pull teal harness can fit dogs ranging from 4lbs to 140lbs. 
If you have ever struggled with harnesses, those days are behind you. Our easy-on, easy-off harnesses go on in mere seconds and adjustments are easy. Simply slide it on, get a good fit on the chest plate/strap, and close the buckle. Multiple points of adjustment make it as easy as putting on a seat belt. And unlike other harnesses, the straps won't dig into the dog's armpit.
Teal Dog Harness Features 
- Multiple points of adjustment ensure a perfect fit, eliminating the possibility of escape
- Increased nighttime visibility
- Effective side ring attachment eliminates pulling
- Match your dog's gear with the 2 in 1 dog leash/seat belt in the color teal 
Confused on what size to pick? Use our sizing guide below:
For size 'XS', dogs should weigh between 5-9 lbs and have a chest size of 12-17". Suitable breeds include Chihuahuas, Yorkies, Pomeranians, and Small Puppies.
For size 'S', choose this for dogs weighing 10-19 lbs, chest 17-22". This fits Mini Schnauzers, Shih Tzu, Bichon Frise, and Maltese.
Size 'M' is ideal for dogs weighing 20-40 lbs with a chest size of 23-28". This includes breeds like Pugs, French Bulldogs, and Corgis.
Size 'L' is for dogs weighing 40-60 lbs, chest size 28-33", fitting breeds like Australian Shepherds, Basset Hounds, and Standard Poodles.
For size 'XL', select this for dogs weighing 60-85 lbs, with a chest size of 33-38". Breeds like Labs, German Shepherds, and Golden Retrievers fit into this size.
Lastly, size 'XXL' is for dogs weighing 85-140 lbs, chest size 38-44". Breeds in this category include Rottweilers, Tibetan Mastiffs, and Bullmastiffs.