Best Harness for Anxious Dogs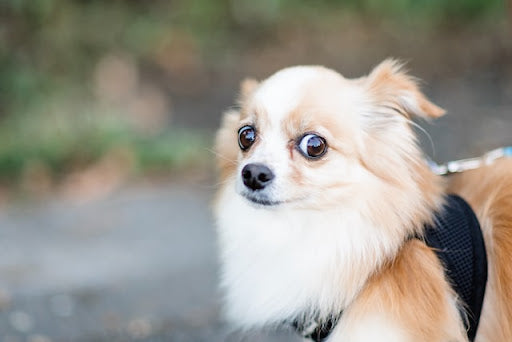 Dogs can have anxiety, just like humans. However, since dogs can't speak to us the same way that people can, it can be difficult to understand their behaviors and get to the root of their anxiety. 
What is Dog Anxiety?
Dog anxiety can affect all breeds of dogs and all ages. You may find your new puppy has anxiety, or your older dog may seem more stressed as they age. If left untreated, anxiety can result in behavioral issues and other problems. 
Wondering whether your dog might have anxiety? There are some signs to look for. The most common signs of anxiety in dogs include trembling, tail-tucking, hiding, panting, escape behaviors, and pacing.
If your dog suffers from anxiety, there are a variety of tips and tricks you can try to help your dog. For example, if your dog has severe separation anxiety when you leave, you may want to try crate training. 
If, on the other hand, they get anxious leaving the house on walks, you will want to invest in an anxious dog harness. Keep reading to learn about anxious dog harnesses and why the right harness can make a difference in your dog. 
How to Choose an Anxious Dog Harness
If your dog gets extra anxious when they leave the house, they may have fear-related anxiety. This can be caused by loud noises, strangers, new environments, or specific situations and surfaces. 
Sometimes dogs only have a temporary reaction–such as puppy anxiety. When you bring a new puppy home, it is common for the puppy to be nervous until he adjusts to the new home. Other times, the anxiety–and reaction–is more severe. 
Anxious dogs can become a flight risk, so it's important to choose the right harness for an anxious dog. Here are some of the things to look out for and why Joyride Harness is the best choice for walking an anxious dog.
1. Choose the Right Size Harness
One of the most important factors in choosing an anxious dog harness is the size. This will ensure you avoid the slip when you are walking an anxious dog. There is nothing worse than having an already anxious dog slip out of the collar or harness. Unfortunately, this is how dogs get lost every day. 
Before you take your anxious puppy or dog on a walk, you want to make sure you have picked the right size harness for your dog. Use a measuring tape to measure your pup's girth (the largest portion of their chest). Compare the measurement with the harness size chart. You can also choose a harness based on weight.
At Joyride, we make a wide range of sizes to fit every shape and size of dogs, from XS to XXL. You can use our Joyride Harness Perfect Fit Finder if you need help finding the right fit. 
2. Choose a Secure Harness
Apart from the size, you also want to ensure you have a proper secure-fitting harness to keep your pup safe. Joyride Harnesses have multiple adjustment points so you can get a perfect fit no matter your dog's proportions. 
Putting on the Joyride Harness is super easy, so you don't have to spend a long time fighting with your dog. Whether your dog is long and lean or thick and barrel-chested, Joyride Harness is the best harness for dogs with different body types and shapes. 
3. Choose a Comfortable Harness
Sometimes dogs are "gear shy," and they get anxious when you try to put their harness on or get nervous while they are wearing it. There are many reasons for this. Sometimes ill-fitting harnesses will cause discomfort. Your pup may even associate negative experiences with wearing their harness.
If your dog is afraid of wearing a harness, either because of negative associations or gear shyness, you can build up positive associations to make it a more pleasant experience! Start by rewarding your puppy whenever they get close to the harness. Keep rewarding until your dog has a positive conditioned emotional response to seeing/wearing the harness. 
At Joyride, we want our harnesses to be comfortable for your pup to prevent any kind of discomfort. That's why we line our harnesses with a soft fleece to prevent chafing. If your puppy has anxiety with walking, an uncomfortable harness will only make it worse. 
Joyride Harness for Anxious Dogs: Reviews
Whether you're dealing with puppy anxiety or a nervous senior, Joyride Harness is the best option for safe and comfortable walks. But you don't have to just take our word for it! Here are real customer reviews from happy pet parents with anxious dogs. 
Shannon M. - ⭐⭐⭐⭐⭐/5
I have struggled getting a traditional harness on my dog and he would become anxious. JoyRide Harness is so easy to use and my dog allows me to put it on him without fussing at me!
Amanda B.- ⭐⭐⭐⭐⭐/5
Oh my Allie girl, my rescue puginese. The most anxious and extreme puller! This harness was legit magic. I've been using the side hooks to help train her to stop the pulling and it actually works! She also seems less stressed, she's been terrified of harnesses I'm assuming from her past experiences with previous owners but she's like a different dog with this. Cannot stress enough how happy I am that she's finally more comfortable while walking!
Dorothy V. - ⭐⭐⭐⭐⭐/5
Oliver seems less anxious when he is wearing the harness! Have ordered one for my daughter's larger puppy! 🐕
Shop Joyride Harness Today
Does your new puppy have anxiety? Is your rescue taking a long time to adjust to neighborhood walks? We can help! 
No matter your fur baby's age or the reason for their anxiety, Joyride Harness is a safe and secure option that will keep you and your pup happy! You don't need to look any further for an anxious dog harness. 
For more doggie photos and pup-related fun, follow us on Instagram at @joyrideharness.
Share this post