Picking the Right Dog Harness Size For Your Dog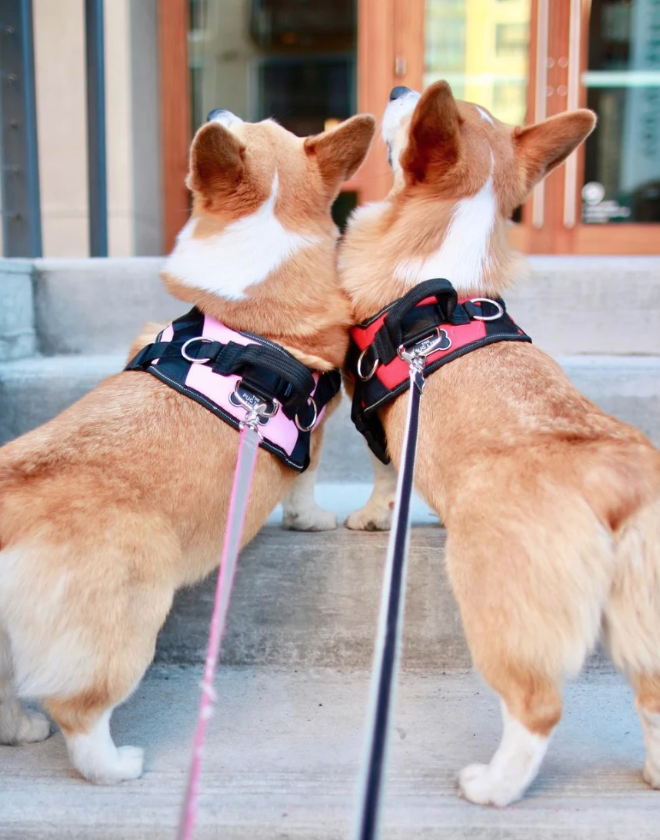 Taking your dog for a walk is one of the most impactful bonding activities that occurs between humans and dogs. It becomes one of your favorite parts of the day and it is surely something your dog gets excited about too. Since dogs are social animals with some breeds originating from pack mentalities, walking is more of a treat to them when there's a companion involved. That's you. 
There are so many different dog walking accessories and options available in the market right now, and the dog walking tool or accessory you decide on is purely at your discretion. Some dog owners prefer using a collar, but for those who prefer dog harnesses or are considering dog harnesses, Joyride Harness is here for you.
Before we walk you through how to pick the right dog harness size for your dog, let's go over the reasons why dog harnesses are beneficial for dog walks and your dog's overall health. 
First off, collars can result in long-term, harmful damage to your dog's trachea. When dogs tug when you're out for a walk and they're wearing a dog collar, a lot of pressure goes around your dog's neck. When that pressure is constantly applied around the neck, it can result in damage to the trachea, which can lead to tracheal collapse and can lead to the worst result imaginable for your dog: death. Using a harness is the solution to avoiding damage to the trachea or potential tracheal collapses. Harnesses are available in different makes and designs in the dog market, and Joyride Harness is one of the leading harnesses in customer satisfaction.
Why is this? Joyride Harnesses are designed with the purpose of alleviating and eliminating excessive pulling you experience when you're out for a walk with your dog. The way the harness is built provides comfort for your dog, doesn't apply pressure to the neck, and three rings are available as options for you to clip to which is great for training your dog or for use if your dog heels on a certain side on walks. 
With the Joyride Harness, you have more potential of creating a stronger, trusting bond between human and dog when you're out on walks. Instead of being constantly tugged and led by your dog, using the harness helps develop a companion (or partner-like) relationship which shows as your dog walking alongside you instead of walking ahead of you. 
Our harnesses at Joyride Harness are easy to get on and off, comfortable for all breeds of dogs, and loved by over 10,000 happy customers.
Shelley F. - ⭐⭐⭐⭐/5
"This plaid harness (small) is easy to put on my 14 lb rescue who's a little wild!! He settles down and walks nicely in this harness. He was also diagnosed with a collapsed trachea. Walking him on a collar and leash would make him cough and choke but with this harness on he can breathe freely since there is no pressure on his throat. This harness is very well made and stays in place. Great harness and will be the only one I'll buy again!!"
On to the purpose of this blog post: Helping you pick the right dog harness size for your dog!
What You Will Need:
Scale to weigh your doggo

Measuring tape to measure your dog's girth
There are two ways of determining which size harness to order from our website. You can either use your dog's weight as a reference point when looking at the size offerings using our Dog Harness by Weight chart, or you can measure your dog's girth (around the chest) and refer to the Dog Harness by Girth Measurement chart! If you're concerned about your dog's breed or unique shape affecting the size options, we recommend starting with the weight chart and double checking with the girth measurement chart just to be 100% certain.
Choosing the Right Dog Harness Size with the Weight Chart
If you don't have a weight readily available, go ahead and pull out a scale at home. If your dog doesn't fit on the scale, an alternative solution is to step on the scale while holding them. After you take the total weight of yourself and your dog, subtract your own weight from the total. There are also dog supply stores and dog specific stores that may have a dog scale available for your use.
After you determine your dog's weight, you can find the weight ranges and the sizes applicable to those weights using this chart.
Choosing the Right Dog Harness Size with the Girth Measurement Chart
Using a soft measuring tape…
Place the end of the measuring tape between the dog's shoulder blades

Wrap the measuring tape around the largest portion of the dog's chest

Read the girth measurement and match to the sizing chart below
If you don't have a measuring tape on hand, here's what you can do…
Take your dog's leash and carry out the steps above

Use a piece of tape to make necessary marks

Measure the leash using a regular ruler or mobile device ruler
Just as you would with the weight chart, take the girth measurement of your dog and refer to the girth measurement chart to see which sizes work for their measurement.
Alternatively, you can seek assistance for both weight and girth measurements from your local veterinarian's office. 
This is just a sampling of tips we offer at Joyride Harness. You can find more tips and tricks and how-tos for caring for your dog on our blog at this section. Feel free to leave a comment with tips you're looking for! Purchased a Joyride Harness for your dog? Share with us on Instagram by posting using the tags @JoyrideHarness and #JoyrideHarness for a chance to be featured!
Share this post