See The Joyride Harness In Action: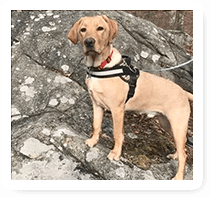 Making life much easier for everyone!
ANGIE W.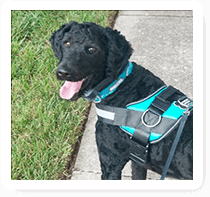 Best Harness Ever!
DANA D.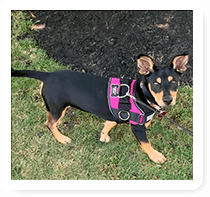 No more wrestling with our puppy!
BRIAN B.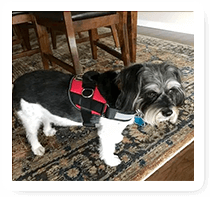 My girl LOVES this harness!
ASHLEY C.
Spring Plaid Dog Harness Additional Information 
Does spring cleaning mean your dog needs a new harness? Whether you're looking to replace an outgrown size or simply want to add to your dog's wardrobe, this dog harness will add the perfect pop of color. Our vivid green spring harness features a bright plaid pattern that is perfect for all times of the year and all coat colors. 
At Joyride, we never put style over substance, which is why our no-pull spring dog harness is as tough as it is attractive. Heavy duty yet lightweight, our harnesses are designed with heavy pullers in mind. Our revolutionary side-ring technology is one of the best ways to train your dog not to pull. When you attach your leash to one of the side rings and your dog starts to pull forward, they will instead spin around and face you. Over time, your dog will learn that pulling gets them nowhere.
A harness is only a great one if your dog enjoys wearing it. The Joyride Harness spring dog harness is one of the most comfortable harnesses you'll find, thanks to breathable materials and a soft fleece lining. Our harnesses won't chafe, which means a more comfortable walk for your best friend. 
If you've fought to try to get your dog to wear a harness in the past, try Joyride. Our Spring plaid dog harness goes on in mere seconds and is super adjustable, ensuring a perfect fit no matter your dog's breed or build. With six sizes to choose from ranging from XS to XXL, our bestselling harnesses can accommodate dogs 4lb to 140lbs. From Yorkies to Mastiffs, our spring dog harness has got you covered. 
Spring Plaid Dog Harness Features
-Heavy-duty fabric and hardware to last the life of your dog
-Reflective stitching increases nighttime safety 
-3 side rings for a customized walking experience
-Compatible with our dog seat belt 

If you like our spring dog harness, you might also like our fall plaid dog harness, lavender plaid dog harness, and blue plaid dog harness.
Confused on what size to pick? Use our sizing guide below:
For size 'XS', dogs should weigh between 5-9 lbs and have a chest size of 12-17". Suitable breeds include Chihuahuas, Yorkies, Pomeranians, and Small Puppies.
For size 'S', choose this for dogs weighing 10-19 lbs, chest 17-22". This fits Mini Schnauzers, Shih Tzu, Bichon Frise, and Maltese.
Size 'M' is ideal for dogs weighing 20-40 lbs with a chest size of 23-28". This includes breeds like Pugs, French Bulldogs, and Corgis.
Size 'L' is for dogs weighing 40-60 lbs, chest size 28-33", fitting breeds like Australian Shepherds, Basset Hounds, and Standard Poodles.
For size 'XL', select this for dogs weighing 60-85 lbs, with a chest size of 33-38". Breeds like Labs, German Shepherds, and Golden Retrievers fit into this size.
Lastly, size 'XXL' is for dogs weighing 85-140 lbs, chest size 38-44". Breeds in this category include Rottweilers, Tibetan Mastiffs, and Bullmastiffs.