See The Joyride Harness In Action: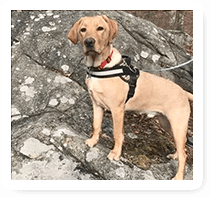 Making life much easier for everyone!
ANGIE W.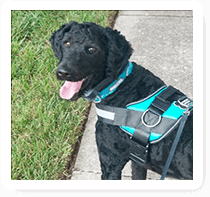 Best Harness Ever!
DANA D.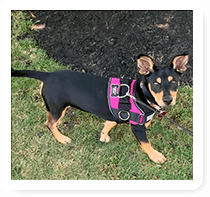 No more wrestling with our puppy!
BRIAN B.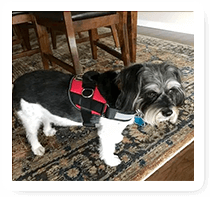 My girl LOVES this harness!
ASHLEY C.

Blue Plaid Dog Harness 
Our high-quality Blue Plaid Dog Harness is a prime example of how heavy duty dog gear can still be stylish. Long gone are the days where strong and dependable dog gear were only available in drab solid colors. If you are looking for a colorful dog harness that can stand up to heavy pullers and the wear and tear of adventure, there is no need to look any further. 
We construct our no-pull harnesses of durable, quality materials that can withstand the daily rigors of your fur baby's life. Is your dog a heavy puller? No matter his or her size, our blue plaid harness is up to the task. We construct these harnesses using multiple points of adjustment and the revolutionary side-ring technology–if your dog tries to pull, he/she will instead spin around and face you. We find side ring attachments to be much more effective than front clip harnesses. 
While our vest-style harnesses are built tough, they remain soft enough for use on all kinds of dogs, including toy breeds and even older dogs and service dogs. A soft fleece lining prevents chafing and irritation to sensitive skin. 
Blue Plaid Dog Harness Features: 
- Easy-on/easy-off style can be put on in seconds 
- Multiple points of adjustment can custom fit most breeds of dogs
- Reflective stitching means more visibility on night walks for increased safety and peace of mind
- Three attachment points customize your walking experience and can be used with a safety seat belt

For other colorful dog harness options, you may be interested in our Rainbow Dog Harness and our Tie Dye Dog Harness.
Confused on what size to pick? Use our sizing guide below:
For size 'XS', dogs should weigh between 5-9 lbs and have a chest size of 12-17". Suitable breeds include Chihuahuas, Yorkies, Pomeranians, and Small Puppies.
For size 'S', choose this for dogs weighing 10-19 lbs, chest 17-22". This fits Mini Schnauzers, Shih Tzu, Bichon Frise, and Maltese.
Size 'M' is ideal for dogs weighing 20-40 lbs with a chest size of 23-28". This includes breeds like Pugs, French Bulldogs, and Corgis.
Size 'L' is for dogs weighing 40-60 lbs, chest size 28-33", fitting breeds like Australian Shepherds, Basset Hounds, and Standard Poodles.
For size 'XL', select this for dogs weighing 60-85 lbs, with a chest size of 33-38". Breeds like Labs, German Shepherds, and Golden Retrievers fit into this size.
Lastly, size 'XXL' is for dogs weighing 85-140 lbs, chest size 38-44". Breeds in this category include Rottweilers, Tibetan Mastiffs, and Bullmastiffs.