This Dog Harness Works For Cheetahs, Too! | Exclusive Interview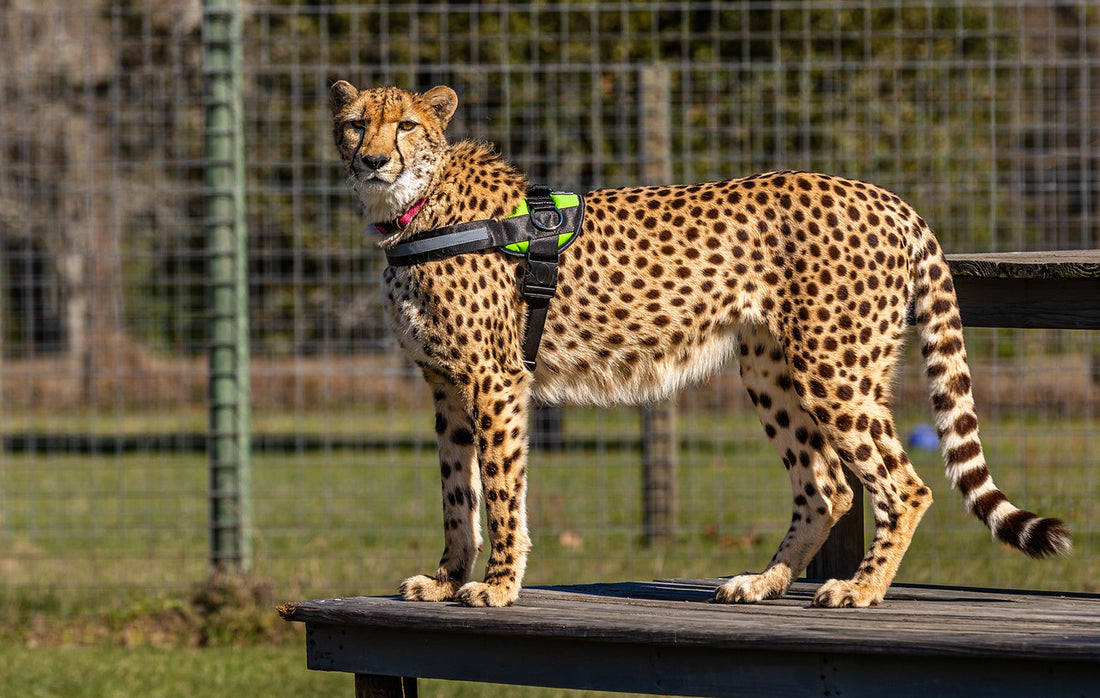 Every day, we receive numerous dog harness reviews for the Joyride Harness on our website. We thought we saw it all: dogs (of course) wearing our harnesses, cats wearing our harnesses, bunnies wearing our harnesses, pigs wearing our harnesses, but what we saw before 2019 wrapped shocked us. One of our team members sent us a photo of a cheetah walking while wearing - you guessed it - a Joyride Harness. It was some added sunshine to our day.
Our curiosity obviously peaked. We reached out to the reviewer of the Joyride Harness to learn more through an interview. Christine is an employee who works with cheetahs at Carson Springs Wildlife Conservation Foundation in Gainesville, Florida. The foundation has an impressive pedigree and following and their mission is to preserve wild animals in their native habitats, an effort we can get behind!
"We do this through educating the public, preserving genetic lines of endangered animals and [donating] portions of our income to the best conservation programs in various countries," Christine shared with us. 
She continues, "We have a very unique facility. Totally supported 501(c)(3) foundation by individual donations. No state or federal funding. No paid administration. My husband Barry and I donate our full time unpaid 7 days a week and land to the Foundation. We only give guided tours by professional zoologists and people can get very close to the animals. We think we are a very unique facility with large natural enclosures. Our reviews on places like Tripadvisor and Google say it all."
Christine at Carson Springs Wildlife first learned of the harness prior to our transition to the name Joyride Harness. She saw an advertisement on Facebook and the easy on and off quality the harness had was the most appealing to what they needed which led to the purchase of the harness for a cheetah to wear. 
We asked Christine more about the cheetahs in her care.
"Breeding cheetahs is very difficult and it had been a 6-year project for us. Through several hurdles, we finally got a pregnancy from a female Cammie imported from South Africa. She is named after my husband's friend Cameron Mathison (TV actor). I am superstitious until babies are born but for some reason I thought if one is a female I'm going to keep her and name her Tuesday. Names just pop into my head and just liked the name. She was born on Wednesday." 
Aside from the easy on and off quality that the Joyride Harness provides, Christine finds great use of the harness because of the secured strength of its make while being comfortable for the cheetahs to wear. 
This is just one instance of animals aside from our fur baby dogs wearing the Joyride Harness. Take a look at some of the other interviews we've had with customers who caught us by surprise!
We thank Christine at Carson Springs Wildlife for the exclusive interview and giving us the opportunity to learn more about their organization and the animals that reside there! 
Are you using the Joyride Harness for an animal that isn't a dog and want to share your story? Leave us a review on our site or post on social media using the tags @joyrideharness and #JoyrideHarness for a chance to be interviewed!
Photos courtesy of Carson Springs Wildlife
Share this post