Featured Friend: Bella the Pig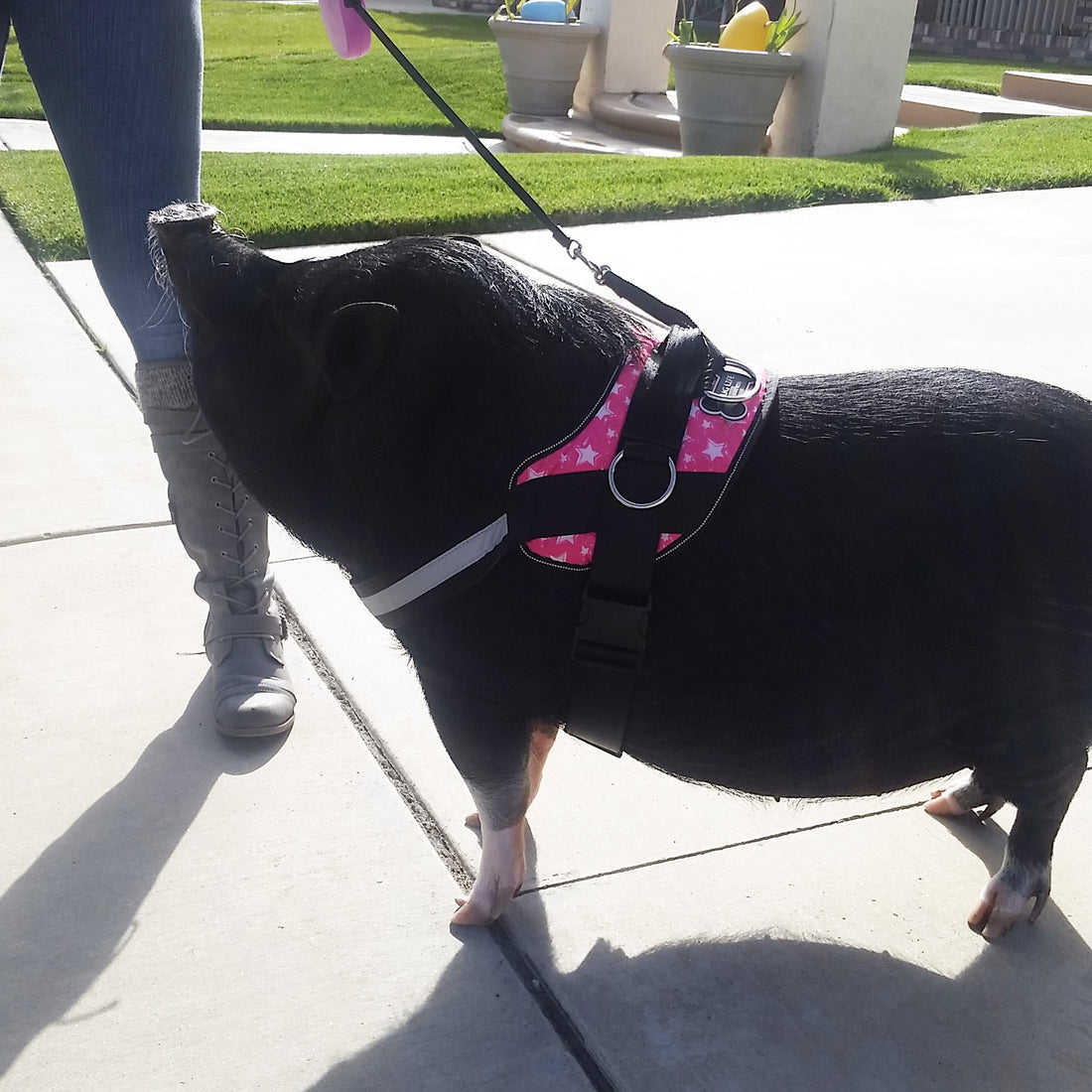 We just spent the last hour reading up on reasons why pigs are pretty much...well, pink dogs. They're intelligent, they are incredibly playful, they love soaking up the sun, and they love belly rubs. Sometimes you even want to *boop* the nose as one does with dogs.
Imagine the stroke of happiness experienced when going over customer submitted reviews and finding a PIG in the mix with all of the other standard furbabies we see on a day to day basis.
You're probably thinking what's a pig doing in JoyrideHarness reviews? Well, friends, the pig in question was wearing a Joyride Harness. Obviously we wanted to learn more so we reached out to the human parents to get more information on this beautiful pig in a pink harness! We successfully connected with Bryan and there was so much to learn.
Bella became part of the family quickly. Bryan always wanted to get a pig, so when Nicole saw an ad for piglets that were being rehomed, they went and picked up Bella. We should note that Nicole is a huge Harry Potter movie fan, so because Bella had an all black coat and a white spot on her head, they named her after the Dark Lord's right-hand woman. Bella's full name is Bellatrix LeSwine. 
This little love bug has quite the rotund chest girth, according to Bryan. Being 44 inches around the chest, Bella is rocking a 2XL harness. We asked how the Joyride Harness is working out for Bella in comparison to other walking accessories.
"She fought every attempt with the many collar versions we tried - plus, due to a pig's unique neck size / girth, it was difficult to find a collar that stayed on her head," Bryan shared with us.
"She would simply pull out of them. Dog harnesses were either to small or choked her. With any Pot Bellied Pig, the trick is Cheerios. So when we got the Pug [Life] Harness and used Cheerios as our coaxing agent - she had no problem with us putting it on her, as it was fast and easy. After a few walks, Bella would then go open the closet, drag her harness into the living room and squeal at us so that she would get her walk."
When Bella isn't walking around in her Joyride Harness, you're more than likely to catch her catching some warm rays by the pool. Bryan calls her Suntan Piggy!
We hope to see more pigs rocking the Joyride Harness, and whether or not that comes to fruition, we'll always remember our first. Thank you so much to Bryan, Nicole, and Bella!
Want a chance to share your story of your furbaby forever friend? Fill out this form for a chance to see your story shared on our blog and/or share photos with us on Instagram by tagging
@j

oyride

harness
.
Share this post