Featured Friend: Miss Lucy the Rabbit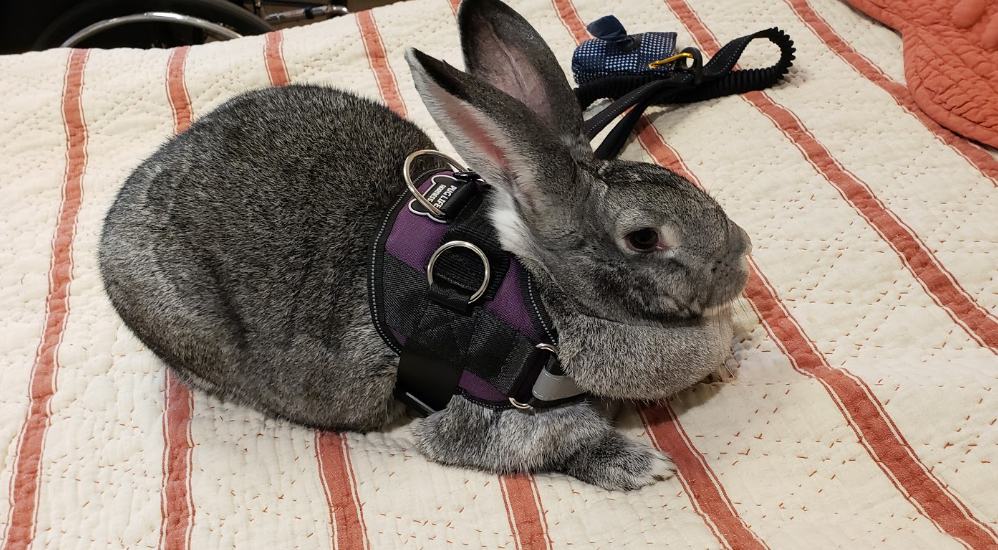 We receive product reviews for our harnesses that range in different breeds of dogs. What you may not know though is that we also get our fair share of reviews for the harness on other critters we adore. Have you ever seen a rabbit wear a walking harness? We haven't...until now.
This month's Featured Friend has a hop in her step and the most adorable whiskers in town! Everyone? Meet Miss Lucy the Rabbit!
Miss Lucy is a Flemish Giant Rabbit who weighs in at 13 pounds at the age of 1. According to her momma Elizabeth, the growth won't stop there. She's expected to reach 20-25 lbs! Talk about a snuggle bunny.
Lucy became part of Elizabeth's world when she and her husband drove two hours to a breeder's home in Rhode Island. She's been a part of the family since March 1, 2018, so we offer our congratulations on the recent furrever home anniversary!
Being an indoor bunny, Elizabeth sought out ways she could bring Lucy out and about. Harnesses generally don't work for this fur baby, but the Joyride Harness? It works like a charm for our Featured Friend. Prior to the Joyride Harness, Elizabeth had to put together a stroller for Lucy since she had such disdain for other harnesses.
Now that she has the harness, things are much different!
Elizabeth shared with us, "The Joyride Harness is the ONLY one that worked, because it goes on so easy - rabbits are timid animals even though trained."
Though most of the love comes from their household, Lucy is adored by so many others outside of the home. Elizabeth works in hospice care, and sometimes brings Lucy along to visit her clients at nursing homes or at their own home. Clearly Lucy has a fan club because whenever Lucy isn't with Elizabeth, her clients ask when Lucy will be coming back!
We would too if we were around this fur baby! She immediately captured our hearts upon first look at the review we received.
When Lucy isn't traveling or making visits with Elizabeth's to her clients, you'll more than likely find her eating apples, fresh dill, mixed greens, yogurt candy kisses, and of course hay!
Thank you so much for being our Featured Friend of the Month, Lucy!!
--
Want a chance to share your story of your furbaby forever friend? Fill out this form for a chance to see your story shared on our blog and/or share photos with us on Instagram by tagging @joyrideharness.
Share this post