The Best Heavy-Duty Leash For Big Dogs & Pullers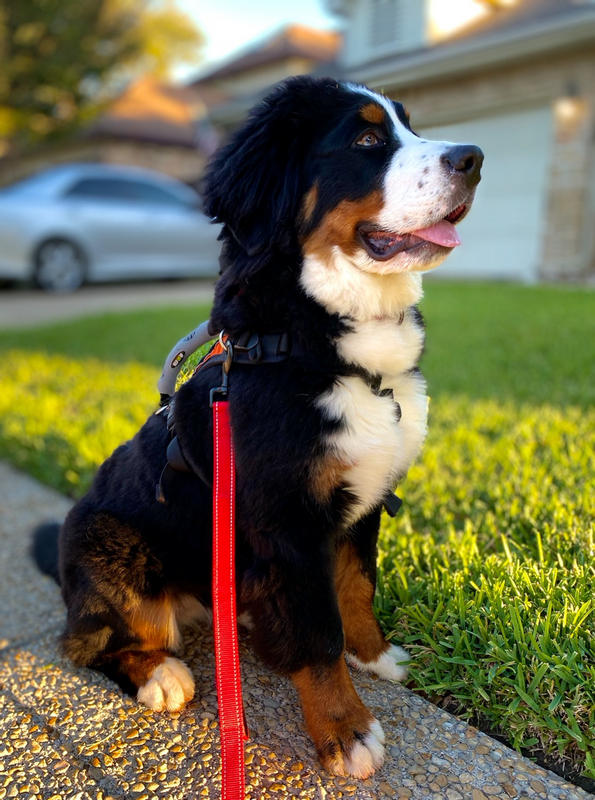 The big dogs are on the move and walks feel like a struggle. What kind of walker is your dog? Are they big and strong or do they pull the heck out of you on walks?
Chances are you're working to improve your walking experience with your dog because they're showing how strong or messy they are on their walks.
That shows through your sore arms when they pull and when you don't know where to walk next because your leash is in tangles.
It is possible to regain control of your walking time. Better yet, it's possible to improve your walking experience with your dog so that they walk with you rather than walk you. When you have a fur baby that's ready to burn their energy, satisfying their minimum walking requirements is the way to go but it doesn't have to be at your expense. You get the most out of walks with your dog when you have the proper walking gear and accessories.
You're in the right place!
Luckily, Joyride Harness is a popular solution for troublesome dog walks and there are so many dog parents nationwide who want to share this excitement with you. Between our easy-to-use harnesses and our leash options, you're all set.
We talk
a lot
about our harnesses. What about the leashes?
How do the leashes fare with big dogs and pullers? Specifically, how does the Joyride Harness Heavy-Duty Leash fare with big dogs and pullers?
Let's talk about the benefits before Joyride Harness customers share their experiences!
What are the benefits to this leash?
2 HANDLES

- This dog leash dual handled with Black Padded Handles has been specifically designed with 2 handles, one at the end of the leash at 6ft and another 1ft from the clip. Keep your beloved 4-legged companion safe at all times!

GREAT CONTROL

- Use the long leash for casual walks, extended sniffing, and loose leash walking; use the shorter leash for busy sidewalks, bike paths, and crowded areas that require that you have instant, up-close control of your dog. Control Dominance and aggression if you are training them.

TRAFFIC PADDED DOG LEASH with CLOSELY STITCHED HANDLE

- to prevent your dog's feet from getting tangled in the traffic leash.

MEDIUM TO LARGE DOGS

- This dog leash with padded handles can be used for medium to large dog breeds, but may also work for some smaller dog breeds as well.

PREMIUM QUALITY

- We take pride in the high quality of our dual handle dog leash, which has been manufactured with top-quality materials.
What's the verdict with dog parents?
We've shared with you countless fur baby owner reviews from customers who shared their experiences with our harnesses, but now let's get a look at what our customers are saying about the Heavy-Duty Leash!
Colleen M. - ⭐⭐⭐⭐⭐/5
"​​We love the Joyride Harness and Heavy-Duty Leash. Our girl loves to hunt and this has been such a help in getting her not to pull us down!"
Debbie R. - ⭐⭐⭐⭐⭐/5
"Walking our 143 Lb Danish Mastiff Otto is sooo much easier now with the Heavy Duty dog leash with the 2nd handle! Otto walks under control now and he responds more effectively. Thank you!"
Cheri C. - ⭐⭐⭐⭐⭐/5
"It's the only leash I'll use for now on! I may be buying them for friends this Christmas. My girl is 67 lbs at 6 months and I need to be prepared incase she see's a squirrel or bird. I'm still training her so when needed I'll grab the shorter handle to make sure I can control her. The grip is padded and comfortable. No leash burn. Try it!"
Nancy B. - ⭐⭐⭐⭐⭐/5
"I absolutely love this dog leash! It makes 100% difference in me being able to walk my dog. I cannot walk my dog with out it! I highly recommend it especially for medium to large dogs! I also recommended for seniors to buy."
Kristina M. - ⭐⭐⭐⭐⭐/5
"The new harness fit great and my dog was very excited to go for a walk the moment I opened the package and he saw what was in it. He loves that the leash is longer than his old one and I like having the second hand loop for extra control."
Francis G. - ⭐⭐⭐⭐⭐/5
"I have a very strong pitbull that loves to pull. I have had other leashes that actually caused hand injuries or were not strong enough to hold her. My new Heavy-Duty Leash from Joyride Harness is the best leash I've ever purchased and the handle so very agile, soft, and comfortable yet strong and durable. I would recommend it to everyone who has a large strong breed."
Mary E. - ⭐⭐⭐⭐⭐/5
"We have muscular bulldogs who get so excited on walks its like being pulled by sled dogs. This is a wonderful, Heavy-Duty Leash, and the lower handle is perfect when passing other dogs or a dog is off-leash in your area."
These are just a few of our customers' submitted reviews. You can view all submitted reviews by checking out this page. You'll find a healthy combination of honest reviews! Bonus? You can search by breed with our updated review features! We also have more blog posts that round-up reviews based on different dog types for your convenience.
Additionally, if you have sizing questions you can always reach our team through the contact form on our website if the sizing charts provided on this page do not suffice! You'll find two charts available for sizing reference based on weight and girth measurements.
Want more? Feel free to follow us on Instagram at @joyrideharness and take a look at more furbaby photos! New to Joyride Harness and need some help picking the right size for your doggo? We have a detailed informational blog post that you can check out: Click Here To View
Share this post