Best Camo Harness For Dogs | Joyride Harness Reviews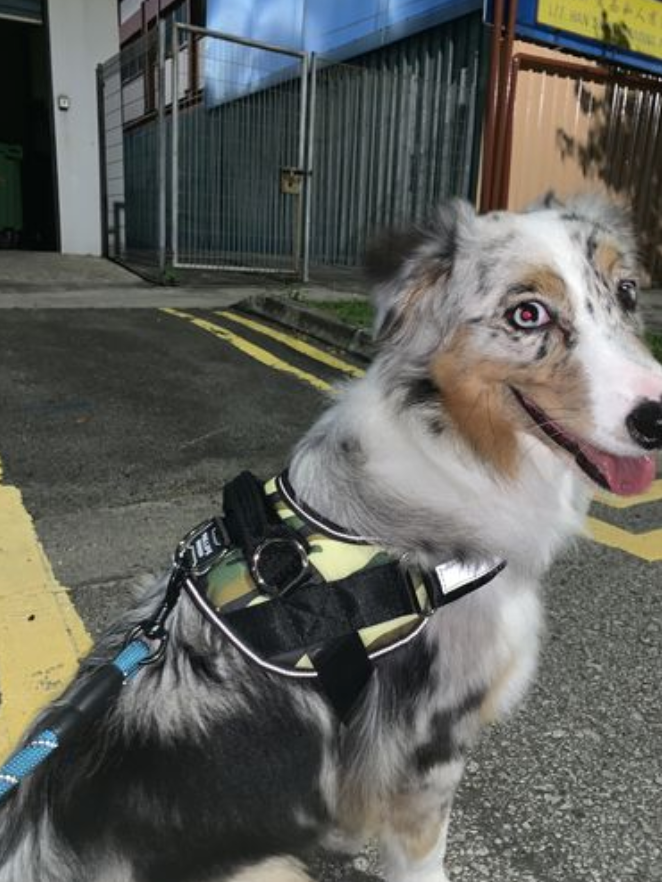 Looking for the right harness design for your fur baby? Great news! Joyride Harness and the minds behind it are always scheming up new designs for the fashion forward - or fashion furrward. We consider the trends in fashion and apply them to the doggo universe at Joyride Harness, so when you land on our site, you'll see that not only do we have various colors for you to pick from but we have numerous designs available. Right now, the most popular of the designs is the Joyride Harness Limited Edition Fall Plaid dog harness, but you know what the runner up is?
You've guessed it by the title! The Joyride Harness Limited Edition Camo dog harness.
To show you how our customers are enjoying this design, we've rounded up customer submitted reviews to share with you. These reviews can be viewed in full at this link.
Chandler C. - ⭐⭐⭐⭐/5
Size/Color: Large 
"The harness was VERY surprising. The quality was very good! I expected something very thin, made cheaply, and not worth the price they charge. It's not like that at all. It's very well made, has great padding, and not something you'd expect to get from some Instagram advertisement. You won't be disappointed! My girl Harley is 16.5 weeks old so I got a size that I'd think she'd be in when full grown so I didn't give this 5 ⭐️ ⭐️ ⭐️ ⭐️ ⭐️'s because I haven't had it that long and it's fitting a little big now, but I'm fairly certain it will prove time last. If you're on the fence then give it a shot. You won't be disappointed!"
Abby B. - ⭐⭐⭐⭐⭐/5
Size/Color: Extra Large 
"My dog lives [loves] this harness. I struggled to walk him on a collar, and he hated the face harness. I put the Joyride Harness [Joyride Harness] on him and he is like a completely different dog on walks now."
Pamela G. - ⭐⭐⭐⭐⭐/5
Size/Color: Medium
"This is the 2nd harness I have ordered - as our pup grew the 1st one became a bit tight.  It's so easy to use, quick to put on, and accommodates the huge mane our dog has. It's also great looking, I highly recommend."
Riane L. - ⭐⭐⭐⭐⭐/5
Size/Color: Medium
"Immediately an improvement in her walk like magic. Much better control and somehow she heels better. Truly impressive. And it looks so good on her!"
These are just a few of our customers' submitted reviews. You can view all submitted reviews by checking out this page. You'll find a healthy combination of honest reviews! We also have more blog posts that round up reviews based on different dog types for your convenience.
Additionally, if you have sizing questions you can always reach our team through the contact form on our website if the sizing charts provided on this page do not suffice! You'll find two charts available for sizing reference based on weight and girth measurements.
Want more? Feel free to follow us on Instagram at @joyrideharness and take a look at more furbaby photos! New to Joyride Harness and need some help picking the right size for your doggo? We have a detailed informational blog post that you can check out: Click Here To View
Share this post