Best Winter Dog Harness Styles | Joyride Harness Customer Reviews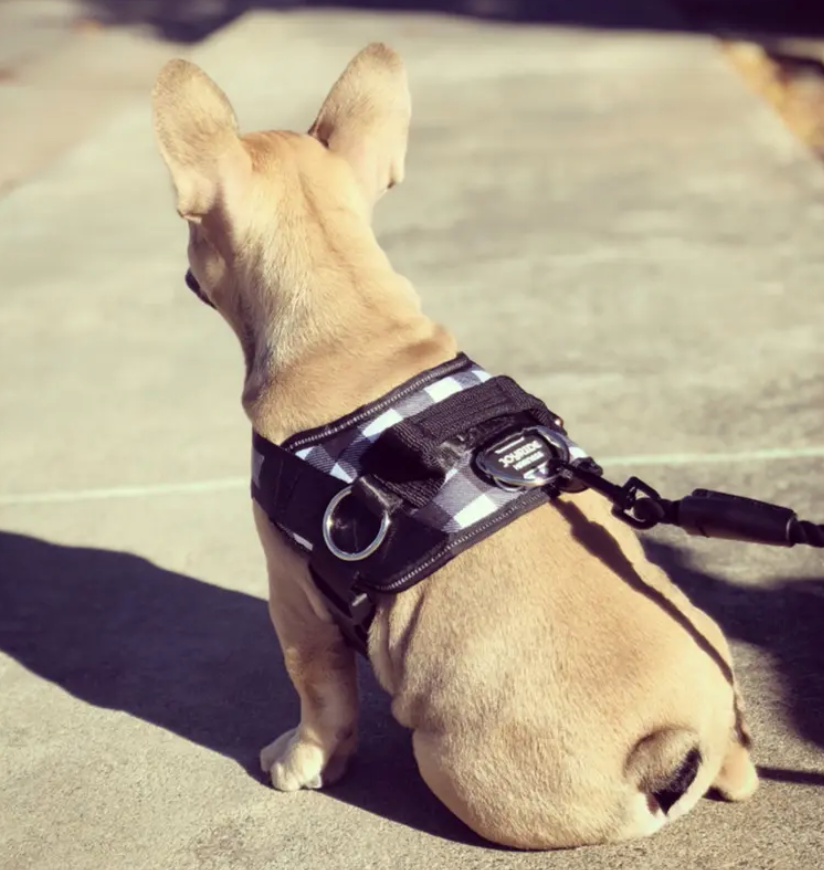 While Joyride Harness's main priority is to create a dog harness that is safe and secure for dogs, we find joy in releasing different, fashionable designs.
Every year, we release new winter harness designs that are perfect for dressing up any pup during the cold, holiday season. You can even slide the harness over their dog coats and jackets before you head out for a walk. They can work together!
We know that choosing a design can be a challenge though. 
That's why we've rounded up some of our customers' reviews of winter Joyride Harness designs so you can see how they're enjoying it.
"I ordered 2 of the same style (black and white plaid) in both a small and medium since my little guy is still a puppy (14 weeks). The small fits him perfectly right now. Since the harness is adjustable in 2 places, he will be able to grow with it until he's an adult and will likely fit in the medium. It's very well made and designed. I will be purchasing again."
Angela W. - ⭐⭐⭐⭐⭐/5
Style: Fall Plaid
"We LOVE the Joyride Harness! We've been taking our two dogs to the park a lot lately as we've found they don't like being cooped up with us so much during the pandemic. We can easily put them on without any struggle and they're so comfortable on them. They don't get choked when they pull on the leash from excitement to get where we're going! And, the harnesses are SO CUTE!! We got the fall plaid ones to match my own winter accessories. 🐶❤️🐶"
Melanie W. - ⭐⭐⭐⭐⭐/5
Style: Green Plaid
"This harness is exactly what my beagle needed. The old harness was so hard to put on. Now it's so easy. And the green plaid looks great with his red and white coloring."
Charles F. - ⭐⭐⭐⭐⭐/5
Style: White Plaid
"Very good looks good fits well. I had a stroke a few years ago and am pretty much one handed but I can put this harness on and off with ease."
Jennifer C. - ⭐⭐⭐⭐⭐/5
Style: Red Plaid
"The harness is cute with the plaid design, so easy to put on, and seems very well made and durable."
These are just a few of our customers' submitted reviews. You can view all submitted reviews by checking out this page. You'll find a healthy combination of honest reviews! Bonus? You can search by breed with our updated review features! We also have more blog posts that round up reviews based on different dog types for your convenience.
Additionally, if you have sizing questions you can always reach our team through the contact form on our website if the sizing charts provided on this page do not suffice! You'll find two charts available for sizing reference based on weight and girth measurements.
Want more? Feel free to follow us on Instagram at @joyrideharness and take a look at more furbaby photos! New to Joyride Harness and need some help picking the right size for your doggo? We have a detailed informational blog post that you can check out: Click Here To View
Share this post