Best Walking Harness For High-Energy Dogs | Joyride Harness Customer Reviews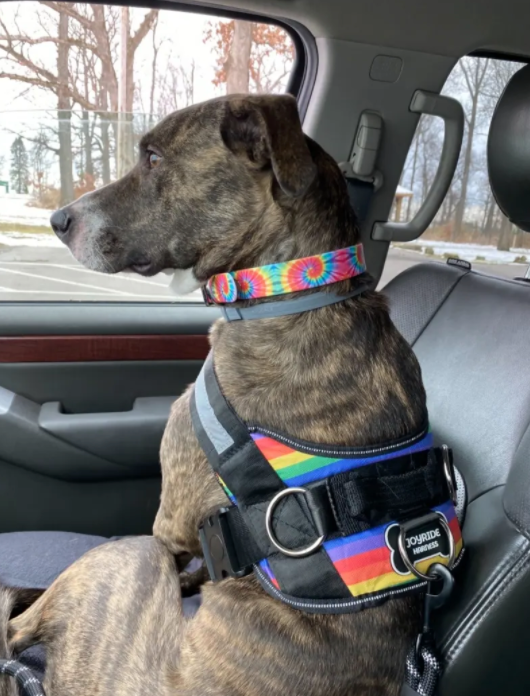 Are you walking into the new year with your dog, or are you being pulled?
High-energy dogs can be a challenge when it comes down to going for walks. You're doing your best to keep up, you feel like you're trying to resist your dog's pulling with the leash constantly, and your arm sockets are worn out. 
With the Joyride Harness, customers have observed changes in their high-energy dog's walking behaviors. For some owners and their dogs, the changes are noticed immediately. With others, it may take time to adjust but owners notice that the behaviors are minimizing. 
The reviews you are about to read come from real Joyride Harness customers who submitted through our website. In these reviews, they share their experience with the harness and how their high-energy dogs are faring with the walking accessory change!
Amanda S. - ⭐⭐⭐⭐⭐/5
"Our dog is high energy and strong... and on the bigger side. She gets very excited and can be difficult to put a harness on. The Joyride is super easy to use and feels sturdy. Our dog is a puller and the side rings are a nice option for that. Overall, very happy with the overall design and function of this harness."
Robin M. - ⭐⭐⭐⭐⭐/5
"My large dog is a shepherd/lab mix and she has a lot of energy! She's normally taking me on walks with our previous harness, but this one works great to help prevent that pulling!! It is super easy to put on and take off and equally easy to adjust for proper fit. I absolutely love how cute it is on her too! The chest band in the front really seems to help with the pulling, where our last harness did not have that. Would definitely recommend!"
Jaclyn J. - ⭐⭐⭐⭐⭐/5
"Very pleased with this harness! Doesn't totally eliminate pulling by my strong & persistent beagle — but reduces pulling and provides good control. Easy on/off, looks great, and fits more securely than more complicated harnesses out there."
Susan M. - ⭐⭐⭐⭐⭐/5
"Small fits perfectly on my 17 pound Jack Russell. The harness is much sturdier than the one I was using, and the design keeps my stubborn Jack Russell in it even when he tries to pull backwards. Previous harnesses have been easy to back out of. It is quite easy to put on, just over his head, and he waits patiently to hear the buckle click as he was trained with his other harness. I feel more confident walking him with security, without damaging his throat because he is very high energy."
These are just a few of our customers' submitted reviews. You can view all submitted reviews by checking out this page. You'll find a healthy combination of honest reviews! Bonus? You can search by breed with our updated review features! We also have more blog posts that round-up reviews based on different dog types for your convenience.
Additionally, if you have sizing questions you can always reach our team through the contact form on our website if the sizing charts provided on this page do not suffice! You'll find two charts available for sizing reference based on weight and girth measurements.
Want more? Feel free to follow us on Instagram at
@joyrideharness
and take a look at more furbaby photos! New to Joyride Harness and need some help picking the right size for your doggo? We have a detailed informational blog post that you can check out:
Click Here To View
Share this post