Best Dog Harness For Shelties | Joyride Harness Customer Reviews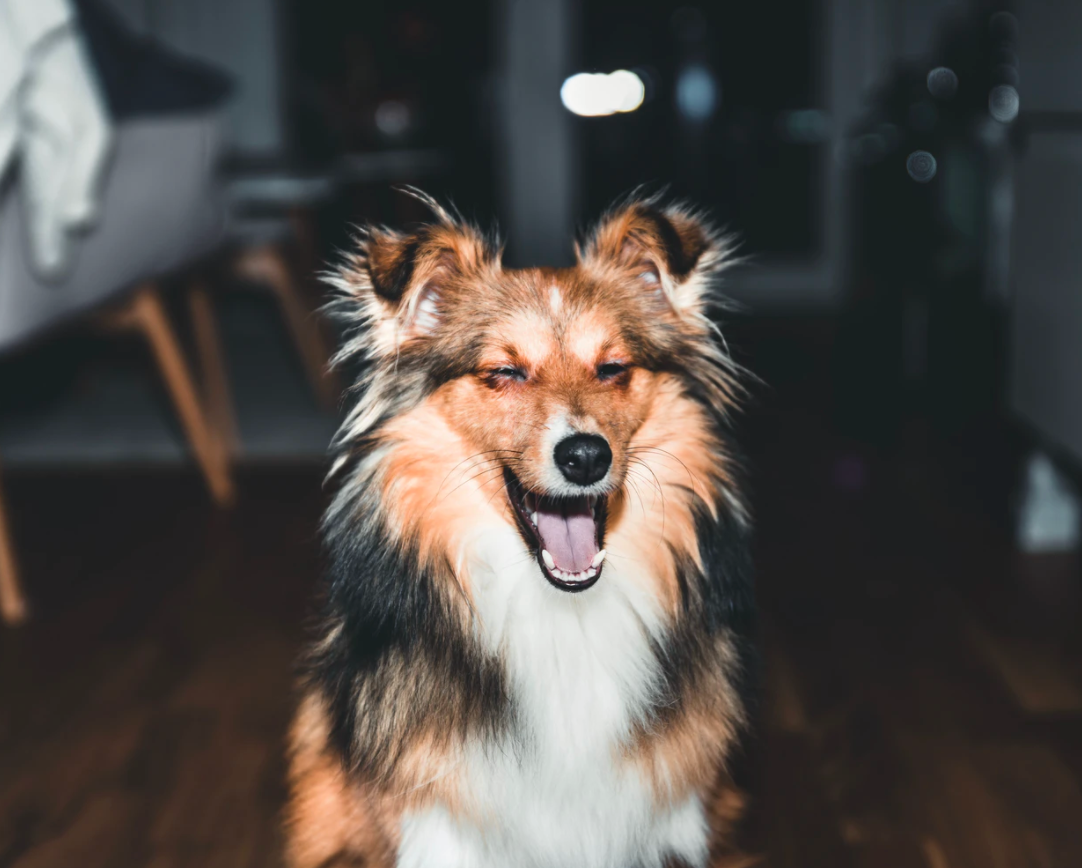 Shetland Sheepdogs, or Shelties, are affectionate, loyal, and playful dogs originating from the Shetland Islands of Scotland. Shelties were originally named Shetland Collies, but it caused controversy with Rough Collie breeders at the time, so the name was then changed formally.
These obedient herding dogs are extremely intelligent, quick, and active and tend to chase anything that moves. Because of this trait, Shelties need a lot of training before they can be trusted off-leash. This active breed should get at least one hour of exercise daily in addition to mental stimulation. This means that if you bring home a Sheltie puppy, you can expect to go on a lot of walks. 
Shelties are a sensitive breed that does better with positive training methods. Like with other dog breeds, not only can Shelties wear harnesses, but in most situations, you will be encouraged to walk your Sheltie on a harness, especially if they are a heavy puller. By using a carefully designed no-pull harness for Shelties, such as the Joyride harness, you can teach them how to behave on a leash without harsh corrections. Harnesses are also ideal for use with a seat belt tether when traveling by vehicle.
Benefits of a Joyride Harness for Shelties
When choosing the best harness for Shelties, you want to go with one that is comfortable and can accommodate their long double coat. Shelties are not very big dogs, but their fluffy coats can be deceiving. Make sure the harness you choose isn't too tight and can adjust to the perfect fit to ensure your pup doesn't escape on a walk. To determine what size harness you should get for your dog, check out our size charts. You can choose a harness size by your dog's weight or by their girth measurement. 
While Shetland Sheepdogs' impressive coat can be an obstacle when it comes to collars and step-in harnesses, that isn't a problem with Joyride Harness's easy-on/easy-off design. Here are all the benefits of a Joyride Sheltie harness: 
Durable quality that is machine-washable 

Doesn't add pressure to the dog's neck, minimizing the risks of tracheal collapse

Secure buckle to prevent escapes

Better control of pullers (no-pull dog harness)

Works great with 2-in-1 Leash & Seatbelt Combo for car rides

Three rings for different leash and seat belt attachment points

Can still be worn with a dog collar

Lightweight but with plenty of padding for comfort

Breathable mesh for long walks

Reflective straps and stitching for night visibility
Joyride Harness for Shelties Reviews
This dog breed is known to be a loving, family-companion type of dog breed, and we see it through the reviews we see at JoyrideHarness.com!  If you have a Sheltie and are looking for a dog harness, read over some of these customer-submitted reviews on why pet parents just like you believe Joyride is the best harness for Shelties. If you want to find more reviews from Sheltie dog parents, our Reviews page has a search bar you can use to search by breed.
Bill and Rosa A. - ⭐⭐⭐⭐⭐/5
"Our Sheltie "Wendie" is very high energy and we are team truckers by trade so we need to keep her on the lease. We didn't like her head and neck getting pulled on hard when she ran out of lease, the Joyride harness has fixed that issue. Plus she doesn't pull against us as bad now. Thanks for a great product."
Wendie is wearing a Joyride Harness in the color pink.
Karen S. - ⭐⭐⭐⭐⭐/5
"This is the first time wearing it, just after opening the package and making two small adjustments to chest and belly strap. We love how easy it is to put on over her head.  Much easier than the other types of harnesses we have used. Zoe is a two year old "Sheltie", and weighs 22 lbs. The medium size fits well over her abundant fur, and doesn't pull at any of it as we put it on or off. Whew! We don't have to chase her anymore, and the additional left and right attachment rings help us make obedience corrections as needed."
Zoe is wearing a Joyride Harness in the color purple. 
Nancy R. - ⭐⭐⭐⭐⭐/5
"I have not had a harness that worked until this one.My Sheltie even sits for me to put it on.She can get out of it but Not as fast as the others.It is a keeper."
Nancy's Sheltie is wearing a red Joyride Harness.
Kathey P. - ⭐⭐⭐⭐⭐/5
"Willie Nelson is a 37 pound Sheltie and we purchased a medium harness. It's a perfect fit. He loves it. It is so easy to put on and take off.  We've had other harnesses in the past and they are a pain to put on. Our dogs have had to step into them and get straps connected to be secure. With this harness we just place around the neck and click closed. We will never buy another type of harness. Also purchased the leash with the extra handle near the dogs back.  Very safe, efficient and we are extremely happy with this."
Willie Nelson is wearing a red Joyride Harness and matching red leash.
Alex P. - ⭐⭐⭐⭐⭐/5
"My 2nd Joyride Harness…after my Sheltie puppy grew out of the 1st! Feels secure and well-made for sure. Love the leash too…it has a night-headlight reflective strip for safety and a seat belt clip for car rides to the park!"
Alex's Sheltie puppy is wearing a red Joyride Harness with a 2-in-1 leash with seat belt buckle.
Shop the
Best Dog Harness For Shelties
These are just a few of our customers' submitted reviews. You can view all submitted reviews by checking out this page. You'll find a healthy combination of honest reviews! Bonus? You can search by breed with our updated review features! We also have more blog posts that round up reviews based on different dog types for your convenience.
Joyride Harness Reviews For Small Dogs
Joyride Harness Reviews For Big Dogs
If you're ready to make walks with your Sheltie easier and more enjoyable, you can shop our wide range of high-quality dog tools and accessories. Our bestselling no-pull dog harness is available in over 35 colors and patterns, ranging from Luxe black to Rainbow. 
Additionally, if you have any questions about our products, you can reach our team through the contact form on our website. Want more? Feel free to follow us on Instagram at @joyrideharness and take a look at more furbaby photos! We love sharing photos of our furry customers wearing their Joyride Harness gear! 
Want more? Feel free to follow us on Instagram at @joyrideharness and take a look at more furbaby photos! New to Joyride Harness and need some help picking the right size for your doggo? We have a detailed informational blog post that you can check out: Click Here To View
Share this post