Best Dog Harness For Rescues | Joyride Harness Customer Reviews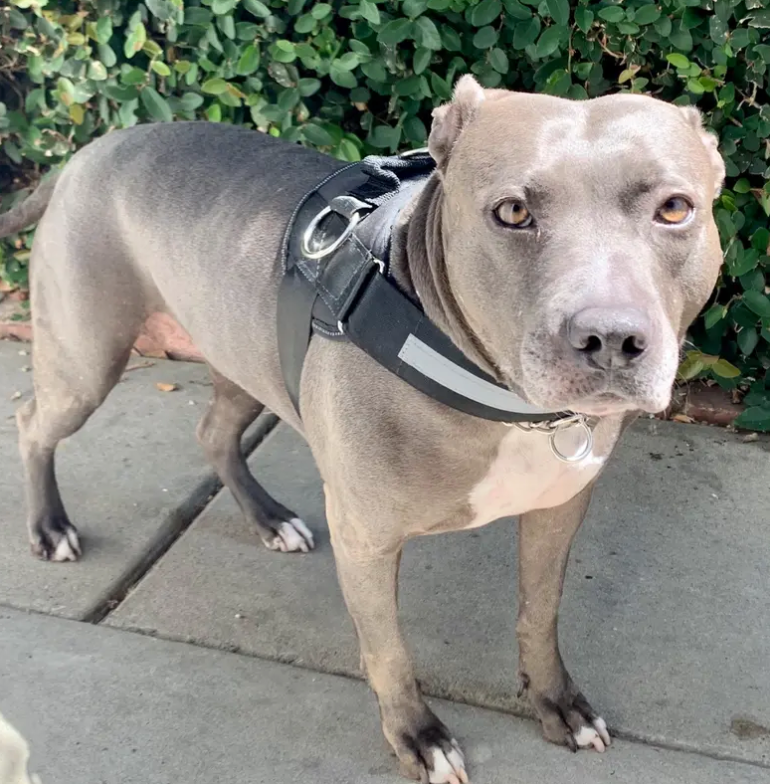 Adopting a dog? When adopting or fostering a dog, the key is patience, love, safety, and security. Some rescue dogs may need training while others may have conditions that need accommodating. For these customers, Joyride Harness was the perfect fit to handle their newly adopted fur babies. 
What you're about to read are customer-submitted reviews that can be found on the Reviews page of our website, curated specifically from customers who have rescue dogs in their families. Learn what makes Joyride Harness the best dog harness for rescues!
Marydale L. - ⭐⭐⭐⭐⭐/5
"I have purchased several harnesses from different resellers, and by far this one best fits my dog. The harness is very adjustable so it can fit a wide variety of dog shapes and sizes. It is also the best design for control while out [and] about with my dog. He is a rescue pet and needs a lot of training, so this harness is working very well for our family."
Rochelle B. - ⭐⭐⭐⭐⭐/5
"Our dog Florence is a rescue who was severely burned on her legs and regular harnesses really hurt her so this one is comfortable and she doesn't pull. It's easy to use and gentle on her skin! She loves it and so do we! ❤️"
Jennifer W. - ⭐⭐⭐⭐⭐/5
"My rescue Chihuahua is really awful. Not his fault, but its so frustrating. I couldn't get a harness on him if my life depended on it. He would attack, bite, snarl, lunge, bite some more.. and I'm the one he likes! A friend mentioned the Joyride Harness. I watched several videos. I was skeptical. My poor little dog has been so traumatized. But I figured we had nothing to lose & I bought the Rainbow in XS. I've had that Joyride harness on & off every day for 2 weeks now! He kinda hates the over the head thing but I'm fast. We are now going for walks! After almost six years!! My 5 pound attack monster loves to go for walks and he is so perfect on a leash. He can walk for miles! Im so so so glad I got this harness."
Jo S. - ⭐⭐⭐⭐⭐/5
"Great harness!! Easy to put on and off. My rescued dog has stooped front shoulders from a neck shoulder injury in her past and arthritis. I have been through three other harnesses. It doesn't put as much pressure on her neck area as the others. Getting another one soon."
Mike H. - ⭐⭐⭐⭐⭐/5
"I have a rescue pit bull that is pretty sketchy about me putting a collar around her neck. After the first couple uses, she walks right into the harness and we both love it! I feel so much more secure with the harness than a regular collar and I'm not worried about her getting injured with the harness like I am with a choke chain collar. It's built super solid and it was so easy to adjust for a perfect fit! I've tried other harnesses but none compare to the Joyride harness. I highly recommend!!!"
These are just a few of our customers' submitted reviews. You can view all submitted reviews by checking out this page. You'll find a healthy combination of honest reviews! Bonus? You can search by breed with our updated review features! We also have more blog posts that round-up reviews based on different dog types for your convenience.
Additionally, if you have sizing questions you can always reach our team through the contact form on our website if the sizing charts provided on this page do not suffice! You'll find two charts available for sizing reference based on weight and girth measurements.
Want more? Feel free to follow us on Instagram at @joyrideharness and take a look at more furbaby photos! New to Joyride Harness and need some help picking the right size for your doggo? We have a detailed informational blog post that you can check out: Click Here To View
Share this post