Best Dog Harness For Poodles | Joyride Harness Customer Reviews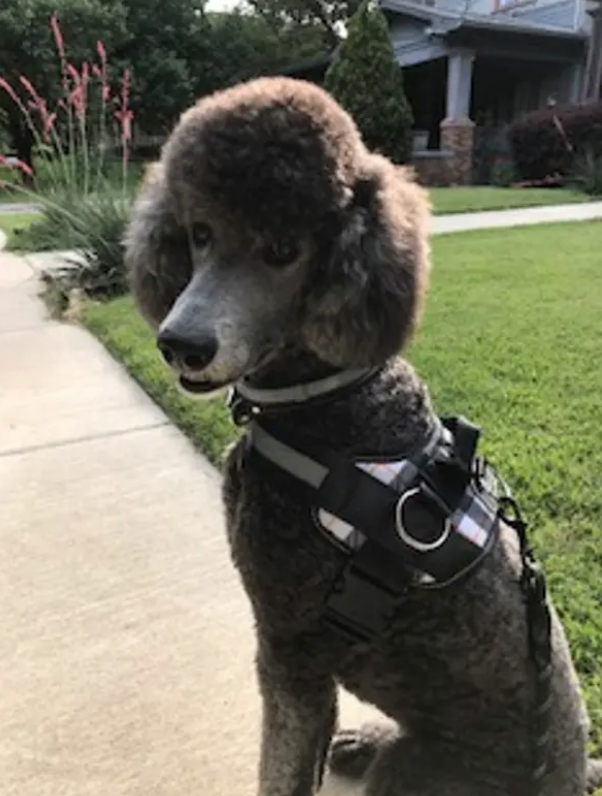 Elegant and poised, the Poodle is a delightful dog breed that is seen in many varieties including miniature poodles and toy poodles. They're also known as a great family dog because of their intelligence, energetic and fun dispositions, and they enjoy being around people for the most part. 
But that energy needs to go somewhere! Walks, playtime, the works. It is recommended that poodles are walked 20 to 60 minutes every day at a brisk pace. Are you gearing up for a walk with your poodle? You might be looking at the next gamechanger, improving the quality of your walks.
Here is a roundup of some of our poodle customers! These dog parents are loving their Joyride Harness for their poodles. See what they have to say about their experience!
Marjorie B. - ⭐⭐⭐⭐⭐/5
"I purchased two of the Joyride Harnesses and a dual leash for our two elderly little poodles. They took to them immediately after never having used a harness! The harnesses are incredibly simple to put on and off. What a wonderful product with excellent customer service!"
Howard K. - ⭐⭐⭐⭐⭐/5
Review written from the perspective of Howard's dog: "I'm a Standard Poodle and love to pull. The Joyride Harness controls my pulling and I get to Sturt my thing. Mucho compliments!!"
Dana G. - ⭐⭐⭐⭐⭐/5
"Both of my dogs (a Jack Russell and Poodle) LOVE these harnesses. Previously it was such a chore to get their leashes or harnesses on. Now it's super easy. And both dogs are far more comfortable and secure walking. And they're even better behaved! Excellent product. Amazing construction. Very happy."
Kristine K. - ⭐⭐⭐⭐⭐/5
"We love this harness! It fits our puppy perfectly! He is a mini poodle that is about 10# so we weren't sure which size but went with the XS because he is pretty thin and compact. We love it, easy to put on and take off, the material is very good quality and it looks so good on him!"
Susan C. - ⭐⭐⭐⭐⭐/5
"As soon as our harness arrived, I began fitting our 5-month-old red Standard Poodle puppy Harley. I found it so easy to put on and make the size adjustments. It was easier than adjusting his collar. We are using the side clip for our walks and he is very responsive with less pulling. He is very comfortable and eager to have it put on for walks."
These are just a few of our customers' submitted reviews. You can view all submitted reviews by checking out this page. You'll find a healthy combination of honest reviews! Bonus? You can search by breed with our updated review features! We also have more blog posts that round-up reviews based on different dog types for your convenience.
Additionally, if you have sizing questions you can always reach our team through the contact form on our website if the sizing charts provided on this page do not suffice! You'll find two charts available for sizing reference based on weight and girth measurements.
Want more? Feel free to follow us on Instagram at @joyrideharness and take a look at more furbaby photos! New to Joyride Harness and need some help picking the right size for your doggo? We have a detailed informational blog post that you can check out: Click Here To View
Share this post