Best Dog Harness For Escape Artists | Joyride Harness Customer Reviews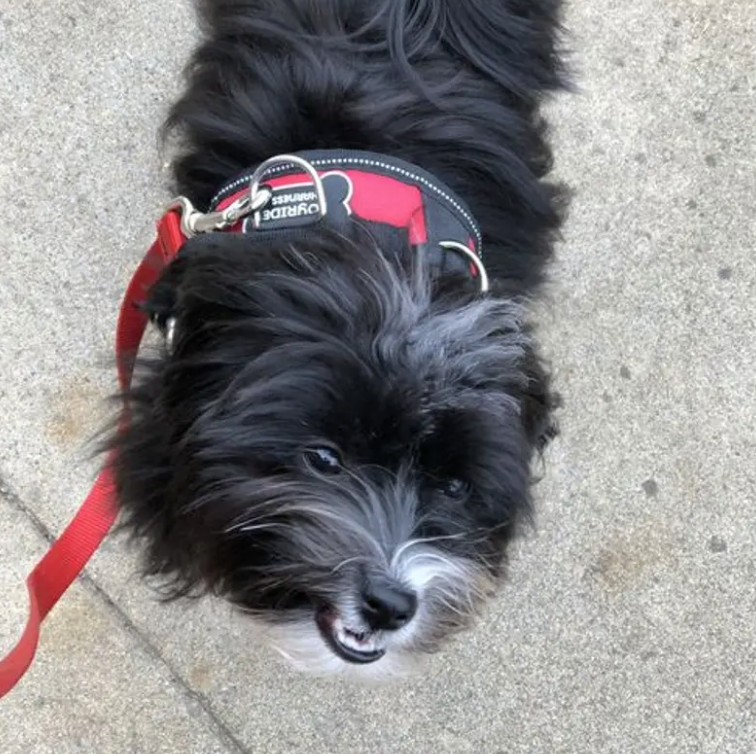 You know them best; your little Houdini with paws. Finding the right walking accessories for the dogs that know how to make their escape on walks can be stressful. You want safety and security for your dog while you enjoy your daily walks with them, and thousands of customers have found satisfaction with their Joyride Harness.
The reviews you're about to read may sound familiar! They might describe your own dog. These customer submitted reviews are curated to showcase the Houdinis of the nation who have yet to make their greatest escape with the Joyride Harness.
Heather C. - ⭐⭐⭐⭐⭐/5
"I really do love this harness. It is SO simple to put on, which is huge for me because in the past I've always struggle a little bit with harnesses. The quality is amazing and the colors are very vibrant. I love the reflective strip and the handle. I have a little escape artist dachshund and the Joyride harness really makes me feel a lot more comfortable with her being secure. I had a couple issues with the fit for my extremely short legged baby, but when I reached out to the company they not only responded with advice that worked, they were super helpful with other recommendations to keep my pup safe. It felt like they actually cared about my concerns...not your average company!"
Maria B. - ⭐⭐⭐⭐⭐/5
"My husband and I are very happy we got a Joyride harness for our six-month-old Havanese puppy Gracie.  She took to it right away and actually seems to enjoy wearing it.  There is no more choking sound when she tears off at lightning speed toward something interesting.  We do feel she pulls less overall, but she is still full of puppy energy and spontaneity.
We had bought and returned three harnesses previously.  The first relied entirely on Velcro.  Gracie's long hair got caught in between Velcro pieces, and she was out of the harness in seconds.  She is an escape artist.  The second harness was so complicated that we couldn't figure it out at all!  The third we could not adjust to fit Gracie properly.  
The Joyride Harness is very easy to put on and adjust.  A harness finally fits our puppy.
She weighs 8 pounds now, so we got the X-Small. She is very little under that copious hair.  At checkout we were given the opportunity to buy a second harness.  That was very convenient for us.  We project Gracie will grow to be about 12 pounds, so we bought a second harness in size Small."
Michelle D. - ⭐⭐⭐⭐⭐/5
"So easy to put on! She won't back up and slide out of it! No more escape artist!!"
Carly A. - ⭐⭐⭐⭐⭐/5
"2 harnesses in, we realized Dan needed something much more durable, that would last. He's an escape artist so when he goes out in the yard, he has to wear his lead and he needs a harness that will hold up to his full speed when he sees a cat or squirrel! This harness holds up and the ease of putting it on definitely helps our routine with the two dogs -- plus, he looks so handsome in it! I've already recommended it to all of my dog parent friends :)"
Tracy P. - ⭐⭐⭐⭐⭐/5
"At just 16 weeks, our Sophie is the great escape artist. She is also a puller (she tracks everything in our yard). We decided to give this harness a try because the harness we had just wasn't working. Up until last night at doggie training school, she had never gotten out of it, but she did figure it out. I would like to say that I believe this is operator error (not tight enough) and not the harness itself. She is still pulling, but it is easier to control the pull. We love how easy it is to get on her. The other harness was a challenge trying to not get bit while putting her legs through the holes. We were so happy with the durability of it. It is well made! This harness is worth the money. Sophie is 22 lbs and she is in a medium. Thank you for making a great harness!"
These are just a few of our customers' submitted reviews. You can view all submitted reviews by checking out this page. You'll find a healthy combination of honest reviews! Bonus? You can search by breed with our updated review features! We also have more blog posts that round-up reviews based on different dog types for your convenience.
Additionally, if you have sizing questions you can always reach our team through the contact form on our website if the sizing charts provided on this page do not suffice! You'll find two charts available for sizing reference based on weight and girth measurements.
Want more? Feel free to follow us on Instagram at @joyrideharness and take a look at more furbaby photos! New to Joyride Harness and need some help picking the right size for your doggo? We have a detailed informational blog post that you can check out: Click Here To View
Share this post