Best Dog Harness For Boston Terriers | Joyride Harness Reviews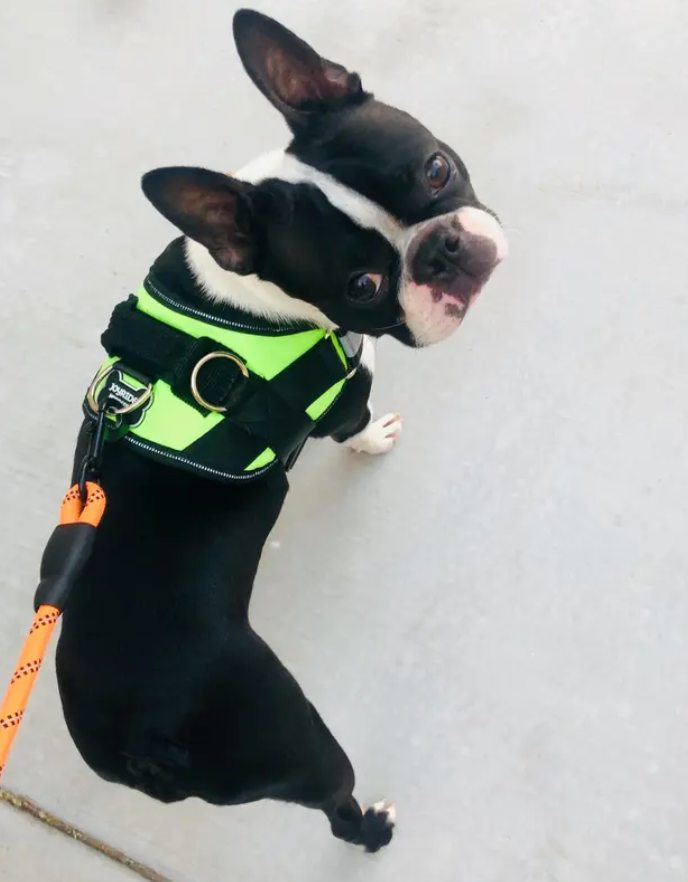 It comes as no surprise that finding the right fit of harness for smaller dog breeds like the Boston Terrier can prove to be a challenge at times. Boston Terriers are known to be small, dainty and compact breeds but they also sport broad chests. 
This factor can make the hunt for the perfect harness more difficult than usual. Another factor that comes into play is accommodating the brachycephaly Boston Terriers have. They have flat noses and narrow air passages making it difficult to use collars since they often can block breathing passages. 
Joyride Harness  prides itself on being flexible for different breeds including Boston Terriers. Thanks to the range of sizes available and the adjustable straps to bring the closest fit to form, the best harness for Boston Terriers might be in front of you! Are you a Boston Terrier furrever parent? We've gathered some reviews and testimonials from customers submitted to our website to give you an idea of what the Joyride Harness could be like for your Terrier fur baby.
Chenee M. - ⭐⭐⭐⭐⭐/5
Size/Color: Medium - Green Joyride Harness
"Our new Boston Terrier loves his Joyride Harness! We as owners find it easy to get the harness onto our pups body and it feels sturdy on our walks. I also love the bright colors that they come in. Thank you Joyride! The Marx Family"
Mary B. - ⭐⭐⭐⭐⭐/5
Size/Color: N/A - Fall Plaid Joyride Harness
"Everyday I walk 4 to 5 miles for my health. Now that I have this trendy adorable halter for my Boston Terrier it is a quick snap (literally) and we are off. In just a few days she has learned "heal, loose walk, stop, & turn." The halter makes it so easy and she loves it. Now that I know it's perfect, next she needs the Burberry leash! This is the best harness I have ever bought. (And there have been tons.)This is the last one I'll ever need for our precious pup!"
Susan L. - ⭐⭐⭐⭐⭐/5
Size/Color: N/A - Red Joyride Harness
"Our  Boston Terrier puppy was a little unsure , and wouldn't move at first when we put it on. She is still getting used to it. She knows when we grab it to go out she's either riding in her dog car seat tethered in, or going for a walk. The middle leash ring works great as we are still leash tracing her & she can't bite it. The handle works to help hold her at the vet while waiting,& assists in lifting her."
Karen C. - ⭐⭐⭐⭐⭐/5
Size/Color: Medium - Blue and Camo Joyride Harness
"We have 4 of the medium size halters for our adult Boston Terriers - 1 each for home & 1 each for our RV. Unfortunately we lost one our older dogs this spring, so got a new Boston puppy. I purchased a small size for him, did not realize how small he would be. The new extra small fits him perfect for now. He looks so cute in his little camo Joyride! We absolutely love these harnesses for our Boston. They are the only harness that we have found that prevents the choking if they pull too hard. Also, very sturdy. Will never buy another harness for our Bostons."
These are just a few of our customers' submitted reviews. You can view all submitted reviews by checking out this page. You'll find a healthy combination of honest reviews! Bonus? You can search by breed with our updated review features! We also have more blog posts that round up reviews based on different dog types for your convenience.
Additionally, if you have sizing questions you can always reach our team through the contact form on our website if the sizing charts provided on this page do not suffice! You'll find two charts available for sizing reference based on weight and girth measurements.
Want more? Feel free to follow us on Instagram at @joyrideharness and take a look at more furbaby photos! New to Joyride Harness and need some help picking the right size for your doggo? We have a detailed informational blog post that you can check out: Click Here To View
Share this post