The Best Harness for Cavalier King Charles Spaniels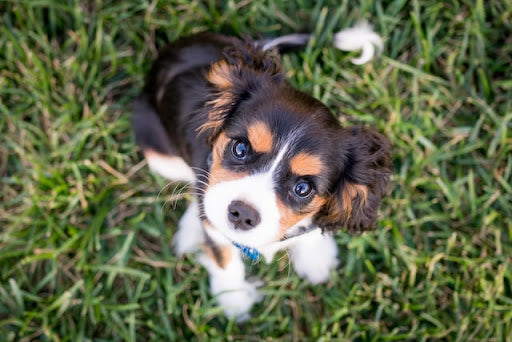 The Cavalier King Charles Spaniel (CKCS) is a loving, notable family dog with a long, flowy coat of fur and standing at about 13 inches high, if that high. These short fur babies are known to be intelligent, adoring, and loyal to their owners and family. 
According to the American Kennel Club (AKC), "Cavaliers may be aristocrats, but they gladly descend from their royal high horse for a backyard frolic or a squirrel chase. They get along nicely with children and other dogs. Adaptable Cavaliers do equally well with active owners and homebodies' they can be upbeat athletes or shameless couch potatoes, depending on an owner's lifestyle."
Joyride Dog Harness for Cavalier King Charles Spaniels
If you find your Cavalier pup is quite the opposite of a couch potato and has a lot of energy to spare, walks are going to be frequent to ensure the health of your fur baby. Walks are an important staple in any dog's life, no matter the breed. When you're walking a Cavalier, however, you might run into some challenges with walking gear and walking accessories. 
It is better to walk your dog on a harness instead of a flat collar, especially if they are a heavy puller or have breathing issues. Because Cavalier King Charles Spaniels are a brachycephalic breed (shortened snouts/flat faces), they can be predisposed to breathing difficulties. Frequent pressure on a collar can lead to tracheal collapse or other issues. 
Even though Cavaliers are small, they have a lot of spunk that can lead to lots of leash pulling when out and about. If you're looking to stop your Cavalier from pulling, invest in a good no-pull harness. The Joyride Harness has side ring attachments, so if your dog tries to pull, they will actually spin around and face you. This will teach them that pulling gets them nowhere. 
Why Joyride is the Best Harness for Cavalier King Charles Spaniels
Cavaliers have an impressive coat that can also be an obstacle when it comes to collars and step-in harnesses. That's one of the many reasons Joyride Harness is the #1 Cavalier King Charles Spaniel dog harness pick.
The Benefits of Joyride harness: 
Durable quality that is machine-wash safe

No pressure around the dog's neck, minimizing the risks of tracheal collapse

Secure buckle

Better control of pullers (no-pull dog harness)

Works great with 2-in-1 Leash & Seatbelt Combo for car rides

Three rings for different leash and seatbelt attachment points

Can still be worn with a dog collar

Lightweight but with plenty of padding

Breathable mesh for long walks

Reflective straps and stitching for night visibility
Getting the most efficient walking experience with Joyride Harness is all in the fit! To find the right size dog harness for your Cavalier King Charles, follow our two size charts. You can use our "By Weight" size chart, or you can use our "By Girth" size chart. 
When you receive your harness in the mail, the first thing you'll do is put it on your Cavalier, buckling one strap behind their front legs (under their chest) and using the velcro strap across the front of the dog's chest. You'll then turn your focus to the adjustment straps. The durable mesh design of the harness allows you to tighten the straps at the adjustable points to mold to a perfect fit of your Cavalier. In the case that you got the wrong size harness for your Cavalier, exchanges are FREE (for U.S./domestic only). You can find more information on exchanges at this link.
Why Cavalier Owners Love Joyride Harness
While we think Joyride is the best harness for Cavalier King Charles Spaniels, you don't just have to take out word for it. Here we're sharing with you real Joyride Harness customer testimonials explaining why this is the best dog harness for cavaliers. Cavalier puppy owners and adult Cavalier owners, take a look at these!
Debra S. - ⭐⭐⭐⭐⭐/5
"I ordered the medium star pink all-in-one harness for Lady, our 32 pound King Charles Cavalier because it looked so strong and beautiful and had a handle.  We are not disappointed!!  She is very active when not napping.  We don't worry about her backing out of the harness and the handle is very helpful in assisting her in and out of the truck for her beach playtime. While wearing the harness she can easily still hunt for anything that blows in the wind." 
Gail S. - ⭐⭐⭐⭐⭐/5
"My Cavalier, Bentley, loves this Harness. It's so much more comfortable than others and I love the fit & quality. I bought a purple size M as he's a large Cavalier. It gives him plenty of room. Thank you for a great product!"
Jeanne M. - ⭐⭐⭐⭐⭐/5
"My cavaliers think they are sled dogs in Alaska. They pull and pull and if they see a neighbor it's even worse.  Since wearing the Joyride harnesses, they are much calmer walking. It's a pleasure to take them for walks now with their cute harnesses."
Pat B. - ⭐⭐⭐⭐⭐/5
"I love the Joyride Harness.  We love our walks and especially at night with the reflectors on the harness.  Reggie looks adorable in his harness and I have total control over my 6 month old Cavalier who's nickname is Rocket Man, because he is always going at full speed.  I highly recommend Joyride Harness.  I will always have one on Reggie!  Thank you for making this harness."
Reggie is wearing the Joyride Harness in Fall Plaid.
Anita V. - ⭐⭐⭐⭐⭐/5
"This harness is not only perfectly functional, it is very attractive receiving many compliments. Apollo is our 10 year old Cavalier King Charles. If you're hesitating in buying this harness, please don't. You will not be disappointed! It is so well-made and I am certain that you will just love it and so will your fur baby!" 
Try Joyride Harness for Your Cavalier
These are just a few of our customers' submitted reviews on why Joyride Harness is the best harness for Cavalier King Charles Spaniels. You can view all submitted reviews by checking out this page. You'll find a healthy combination of honest reviews! Bonus? You can search by breed with our updated review features! We also have more blog posts that round-up reviews based on different dog types for your convenience.
Joyride Harness Reviews For Small Dogs
Joyride Harness Reviews For Big Dogs
Want more? Feel free to follow us on Instagram at @joyrideharness and take a look at more furbaby photos! 
Many Cavalier owners and trainers do not recommend letting your Cavalier King Charles Spaniel off leash in an area that is not contained. Although they are a companion breed, they still have spaniel (hunting dog) instincts that may cause them to chase after moving objects like small animals and even leaves. Keep your Cavalier safe and close with Joyride Harness today! 
Share this post