The Best Harness For Frenchies - Joyride Harness Reviews & Testimonials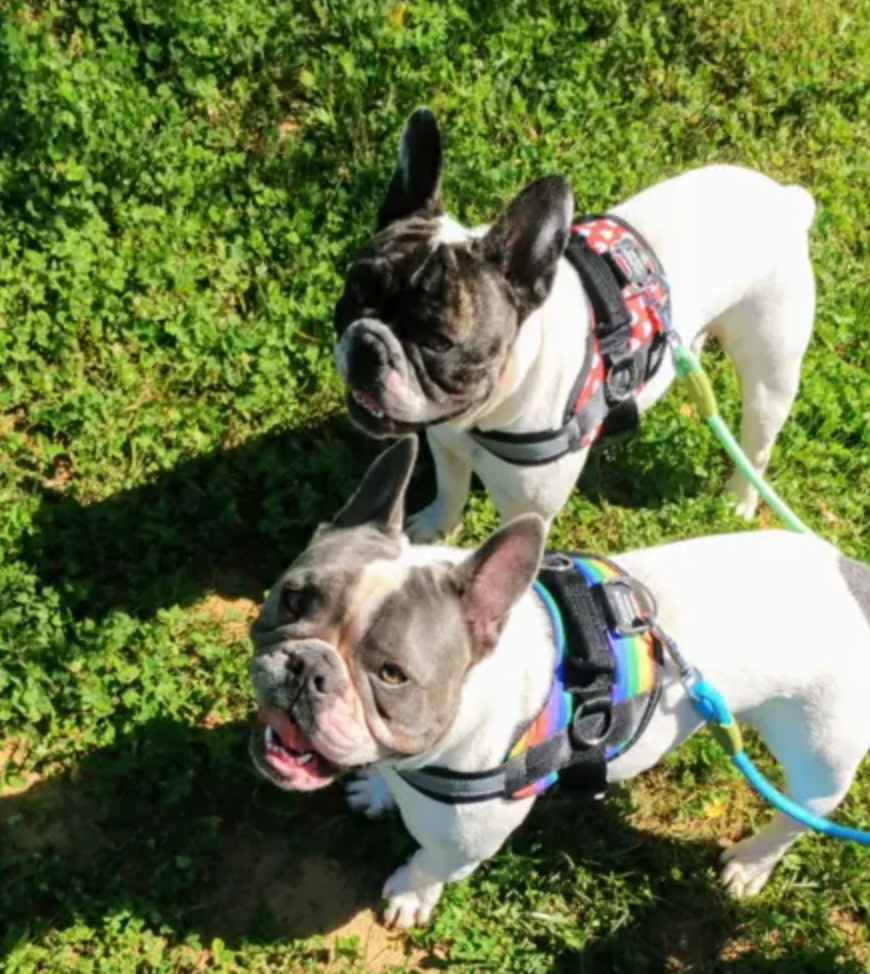 If there's any struggle that French Bulldog owners know, it's finding the right walking gear for their oddly-shaped chests. Maybe "oddly-shaped" isn't the right word for it, but any person who has held or been around a Frenchie knows that their chest girth to height ratio might not fare well with size charts for a lot of harnesses.
With Joyride Harness, that's a different story. And, as always…
It's all in the fit!
You can use our "By Weight" size chart or you can use our "By Girth" size chart. When you receive your harness in the mail, the first thing you'll do is put it on your French Bulldog, buckling one strap behind their front legs (under their chest) and using the velcro strap across the front of the dog's chest. You'll then turn your focus to the adjustment straps. The durable mesh design of the harness allows you to tighten the straps at the adjustable points to mold to a perfect fit of your Frenchie.
In the case that you got the wrong size harness for your Frenchie, exchanges are FREE (for U.S./domestic only). You can find more information on exchanges at this link.
This dog harness is perfect for all sorts of French Bulldogs: rescue dogs, agility dogs, guide dogs, watchdogs, French Bulldogs that might run after a squirrel and you need a handle to hold them back. The design of the dog harness relies on a proper fit or barely snug fit to ensure the dog's comfort and restrict them from making a great escape.
What are the other benefits to this harness?
Durable quality that is machine-wash safe

No pressure around the dog's neck, minimizing the risks of tracheal collapse

Secure buckle

Better control of pullers (no-pull dog harness)

Works great with 2-in-1 Leash & Seatbelt Combo for car rides

Three rings for different leash and seatbelt attachment points

Can still be worn with a dog collar

Lightweight but with plenty of padding

Breathable mesh for long walks

Reflective straps and stitching for night visibility
But what's the verdict with French Bulldog parents?
We've shared with you countless dog owner reviews from customers with puppies, small dogs, health issues with concerns of their dog's neck, small dogs and big dogs that pull, service dogs, and more. Now, we're sharing with you real Joyride Harness customer testimonials explaining why this harness is the best harness for French Bulldogs. French Bulldog puppy owners and adult French Bulldog owners, take a look at these!
Susan I. - 
⭐️⭐️⭐️⭐️⭐️/5
"Great! We bought a harness for all 5 of our dogs. They all fit perfectly and work great. They are very easy to put on our dogs - important when you have 5."
Kasey M. - 
⭐️⭐️⭐️⭐️⭐️/5
"I ordered 2 of the same style (black and white plaid) in both a small and medium since my little guy is still a puppy (14 weeks). The small fits him perfectly right now. Since the harness is adjustable in 2 places, he will be able to grow with it until he's an adult and will likely fit in the medium. It's very well made and designed. I will be purchasing again."
Theresa G. - 
⭐️⭐️⭐️⭐️⭐️/5
"My Frenchie looks so handsome in his harness! Very functional & no rubbing irritation marks at pressure points! Strongly recommend. 😋"
Jenna B. - 
⭐️⭐️⭐️⭐️⭐️/5
"I really enjoyed using the harness. There aren't a lot of harnesses that fit my tiny 6 lb frenchie and this fits her great! Loved it!"
Tracey F. - 
⭐️⭐️⭐️⭐️⭐️/5
"So easy to get on and off. I love the design ..pattern and reflective pieces. My Frenchies are comfy & happy❤🐾"
Michele R. - 
⭐️⭐️⭐️⭐️⭐️/5
"I have a Frenchie and went through a lot of harnesses before trying the Joyride. I now own 5 in various patterns! My Frenchie is a puller and this harness truly goes across her chest instead of her neck!!"
These are just a few of our customers' submitted reviews. You can view all submitted reviews by checking out this page. You'll find a healthy combination of honest reviews! Bonus? You can search by breed with our updated review features! We also have more blog posts that round-up reviews based on different dog types for your convenience.
Additionally, if you have sizing questions you can always reach our team through the contact form on our website if the sizing charts provided on this page do not suffice! You'll find two charts available for sizing reference based on weight and girth measurements.
Want more? Feel free to follow us on Instagram at @joyrideharness and take a look at more furbaby photos! New to Joyride Harness and need some help picking the right size for your doggo? We have a detailed informational blog post that you can check out: Click Here To View
Share this post