The Best Dog Harness For Boxers! Joyride Harness Customer Testimonials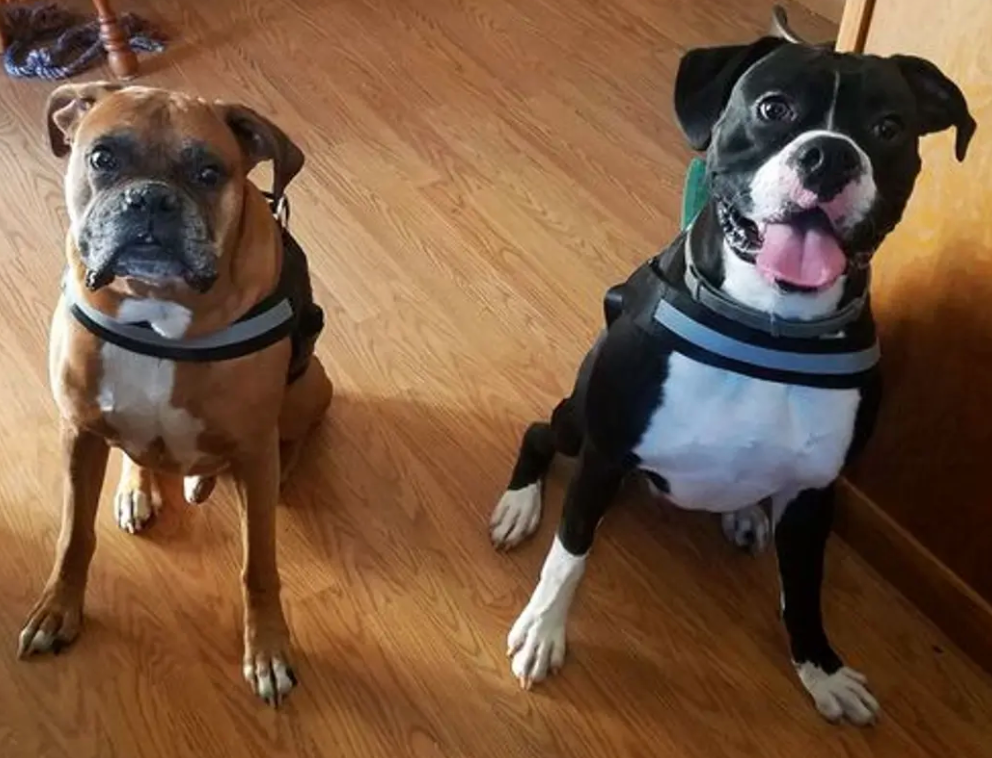 Searching for the best dog harness feels like a tedious task especially when it comes to certain breeds. Boxers, for example, are energetic dog breeds with broad or uniquely shaped chests that can pose some challenges when it comes to searching for the right dog harness size.
This is where Joyride Harness steps in to offer relief to boxer dog owners nationwide! Shopping online for the best dog harness for your boxer is now easy with Joyride Harness because of our customer service and our resources on our website that can help you determine the best size for your boxer.
You can use our "By Weight" size chart or you can use our "By Girth" size chart. As far as shopping for boxers goes though, we recommend going by girth size chart since the most common pain points is finding the right size for your boxer's large or broad chest. When you receive your harness in the mail, the first thing you'll do is put it on your boxer, buckling one strap behind their front legs (under their chest) and using the velcro strap across the front of the dog's chest. You'll then turn your focus to the adjustment straps. The durable mesh design of the harness allows you to tighten the straps at the adjustable points to mold to a perfect fit.
In the case that you got the wrong size harness for your boxer, exchanges are FREE (for U.S./domestic only). You can find more information on exchanges at this link.
What are the other benefits to this harness?
Durable quality that is machine-wash safe

No pressure around the dog's neck, minimizing the risks of tracheal collapse

Secure buckle

Better control of pullers (no-pull dog harness)

Works great with 2-in-1 Leash & Seatbelt Combo for car rides

Three rings for different leash and seatbelt attachment points

Can still be worn with a dog collar

Lightweight but with plenty of padding

Breathable mesh for long walks

Reflective straps and stitching for night visibility
But what's the verdict with Boxer dog parents?
We've shared with you countless dog owner reviews from customers with puppies, small dogs, health issues with concerns of their dog's neck, small dogs and big dogs that pull, service dogs, and more. Now, we're sharing with you real Joyride Harness customer testimonials explaining why this harness is the best harness for boxers. Boxer puppy owners and adult boxer owners, take a look at these!
Andrea D. - ⭐⭐⭐⭐⭐/5
"With Boxers (and I'm guessing any deep, barrel-chested breeds), it's really hard to find a harness that actually fits the way it's supposed to. They either droop and hang in the front, rub their poor arm-pits raw, belt around belly/chest constricts and slides, or they can just flat out back out of them. But this harness is perfect! By adjusting the front chest strap you can keep the belly/chest strap where it needs to be. The handle is perfect for our 9-year-old Boxer who needs help getting in the car sometimes, and for our young Boxer girl who just can't stop the urge the chase squirrels. 🐾🐶"
Pearl E. - ⭐⭐⭐⭐⭐/5
This harness fits perfect on my boxer babies. The female is 11 months and the male is 1 year 4 months and about 60 lbs each. The XL fits perfect with plenty of room to grow. They love it and so do I!
David S. - ⭐⭐⭐⭐⭐/5
"We have been using the harness for about a week now and we are very pleased with them. We have a 5-month-old Boxer that can be a hand full on a leash. This harness really helps!"
Kate P. - ⭐⭐⭐⭐⭐/5
"As advertised. So easy to fit. Works like a charm for my 6-year-old Boxer who just wants to pull. It's a new walking experience for us!"
Dina D. - ⭐⭐⭐⭐⭐/5
"I'm on my second harness. I would never buy another brand. I have a one-year-old Boxer who is super strong and this helps tremendously with pulling. I have full control over him with this harness."
Social Chatter!
These are just a few of our customers' submitted reviews. You can view all submitted reviews by checking out this page. You'll find a healthy combination of honest reviews! Bonus? You can search by breed with our updated review features! We also have more blog posts that round-up reviews based on different dog types for your convenience.
Additionally, if you have sizing questions you can always reach our team through the contact form on our website if the sizing charts provided on this page do not suffice! You'll find two charts available for sizing reference based on weight and girth measurements.
Want more? Feel free to follow us on Instagram at @joyrideharness and take a look at more furbaby photos! New to Joyride Harness and need some help picking the right size for your doggo? We have a detailed informational blog post that you can check out: Click Here To View
Share this post