How To Help Your Dog In Case of Emergencies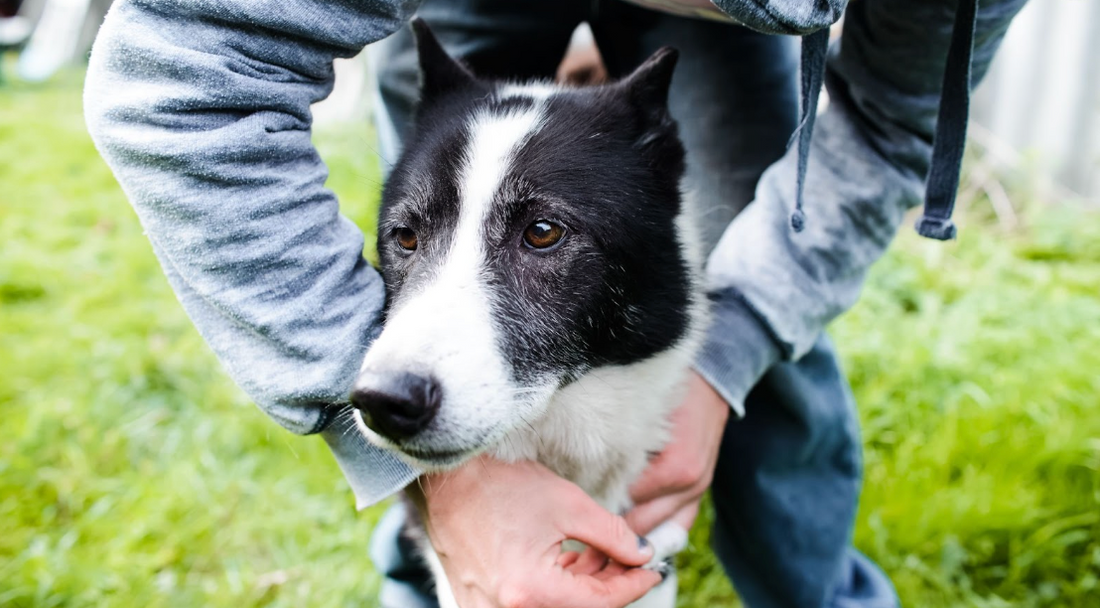 In case of emergencies, take this blog post with you.
We're dog parents just like you. So we understand how high your heart rate climbs when your dog takes an unexpected visit to the vet. We know what it's like to get anxious at the thought of our dogs in any form of trouble or danger.
Let's take that time you spend worrying and put it towards being prepared.
How can you help your dog in case of emergencies? What should you do to prepare for disasters and unwanted situations?
Here are some of our favorite tips for dog disaster readiness.
1. Place signage at main doors and windows for firefighters.
In the worst-case scenario that you are not home are incapacitated during a fire, you can't speak up for your dogs' safety. Thankfully, there are stickers and decals that you can place on your doors, windows, glass, and solid surfaces that can save your dog's life during a fire.
These signs usually say something like "Dog Inside" or "Pet Alert" and are easily found on popular websites like Amazon and Etsy. It's important to get more than one of these to post around your house just in case an entryway is missed when firefighters arrive.
Note: If you have more than one pet, you can find signage that lets you write in more details about the pets inside your home. These can notify firefighters of how many pets are inside, what kind of pets they are, and more.
2. Prepare a go-bag for your dog in case of disasters.
With natural disasters being so unexpected, there's no "I'll pack on Friday" or "I can do that tomorrow". It's not uncommon to hear about families and their pets forced out of their homes. It's a struggle to care for pets when facing disasters, so why make it even more of a struggle by not being prepared?
Put together a bag of essentials for your dog(s) in case of emergencies and if there's ever a time you need to evacuate. What can go inside this go-bag? Here are some starting essentials:
Food and water 

Portable

water bowl

Cloths and towel(s)

Booties

Winter coat (this is all-year preparedness)

Treats for comfort

Potty pads

Poop bags
3. Keep a pet first aid kit stocked.
Include this in your emergency go-bag, too. First aid kits for pets can be found in your local stores and online, easily accessible for pet parents! Inside these first aid kits is everything you'd find in a regular kit but with ointments that are pet-safe.
These kits may also come with precision tools like tweezers, scissors, and cotton swabs. But these kits are for minor incidents. Deep cuts should be immediately treated by a veterinarian. 
4. Make an emergency contact list.
Who is your dog's main veterinarian? Who do they see when that veterinarian isn't in town? Who should they call if they can't get a hold of you?
These are questions to consider when building your emergency contact list.
Contact information that

you

need

Contact information that

others

need

(Optional) List 1 vet per surrounding county in the case you have to evacuate town
Make copies of this emergency contact list, include it in your first aid kit, or go-bag, and give it to whoever your dog is in the care of. 
5. Microchip your dog.
There are 3 reasons why you should microchip your dog.
Reason #1: You're more likely to be reunited with your dog if they get loose.

Reason #2: You keep your dog out of unsafe situations.

Reason #3: It provides a permanent form of identification.
According to Linwood Pet Hospital, "A study of more than 7,700 stray animals at animal shelters found that dogs without microchips were returned to their owners 21.9 percent of the time, while microchipped dogs were returned 52.2 percent of the time."
If you're considering getting your dog microchipped, which we highly recommend, you can read more about microchipping in this blog post.
6. Keep calm for the sake of your dog.
Your dog can sense when you're afraid or scared. Dogs are natural (e)motion detectors. So if you're on edge, chances are, they're going to be on edge too. 
Especially in situations of crisis, your dog's safety and security rely on keeping your cool. Take deep breaths and remember what's at stake so you can make calm, collected decisions.
7. Try the Pet First Aid app from American Red Cross.
We recently discovered that the American Red Cross has an app you can download. It offers answers to common questions along with suggestions on what to do.
Bookmark this blog post now! Share it with your friends and family who are dog parents.
For more doggie photos and pup-related fun, follow us on Instagram at @joyrideharness. And for a more detailed blog post about finding the best size dog harness for your pup, check out this blog post!
Share this post