Best Walking Harness For Strong Dogs | Joyride Harness Customer Reviews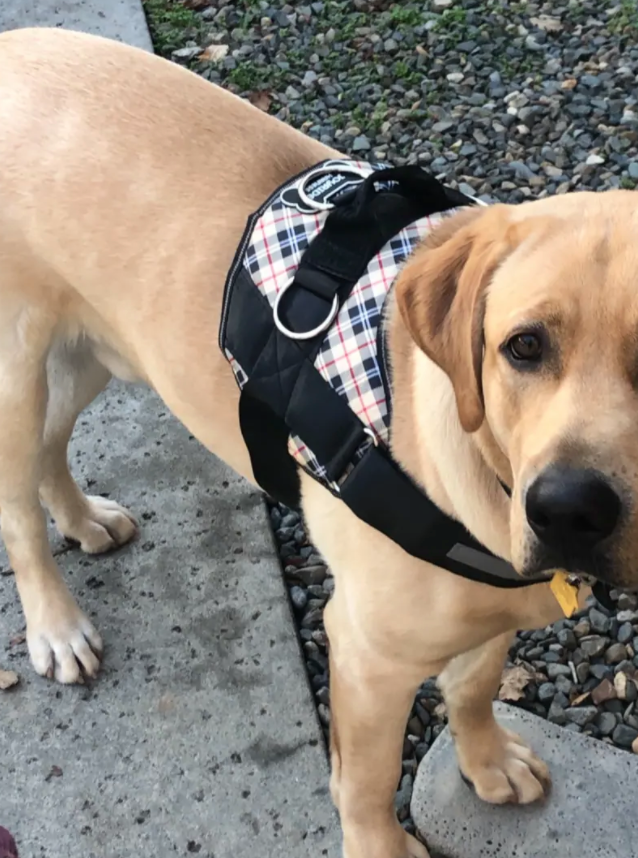 Walking with a dog who seems to be walking you instead? Walking with strong dogs might seem impossible at times, but it's 100% doable! 
It simply takes some patience and training, and the right walking accessories. In this blog post, we've rounded up customer submitted reviews from Joyride Harness customers who have strong dogs in their household. Learn more about how they're holding up with the new harness in these reviews.
Jennifer L. - ⭐⭐⭐⭐⭐/5
"I was worried because my Pitbull between sizes and still growing only 15 months old I sized up fits great with room to grow. I could see differences the first time we walked with her Pink Joy harness. She was more comfortable normally she would go low to the ground and I tell she didn't like the other harness to me it seemed to itch her. She loves this one no problem so easy to put on and no going low to the ground. She normally pulls she is a Bully very strong but the harness really seems to work. I will buy more and refer others to as well."
Susan M. - ⭐⭐⭐⭐⭐/5
"This is my 4 year old pitbull Roxy, she is hard headed, very strong and loves to pull. This harness is amazing 1 little tug she stops pulling plus i can pull her from the side when she decides she wants to go toward the park. I highly recommend this harness if your dog pulls. I used to walk her with a different harness and a choke chain, now its one harness."
Kristine K. - ⭐⭐⭐⭐⭐/5
"We love the joyride harness we have a 10 month old yellow lab that weighs 94 pounds and having the handle on top is very handy for controlling such a strong and large dog and the quality and print goes perfectly with his fur 😊 I would recommend the product."
Alice E. - ⭐⭐⭐⭐⭐/5
"I like it! Sturdy and holds my pup securely, he's strong and has broken buckles on other harnesses. I also like that it has reflective material on it when I walk in evenings This is a great buy!"
Jaclyn J. - ⭐⭐⭐⭐⭐/5
"Very pleased with this harness! Doesn't totally eliminate pulling by my strong & persistent beagle — but reduces pulling and provides good control. Easy on/off, looks great, and fits more securely than more complicated harnesses out there."
These are just a few of our customers' submitted reviews. You can view all submitted reviews by checking out this page. You'll find a healthy combination of honest reviews! Bonus? You can search by breed with our updated review features! We also have more blog posts that round-up reviews based on different dog types for your convenience.
Additionally, if you have sizing questions you can always reach our team through the contact form on our website if the sizing charts provided on this page do not suffice! You'll find two charts available for sizing reference based on weight and girth measurements.
Want more? Feel free to follow us on Instagram at @joyrideharness and take a look at more furbaby photos! New to Joyride Harness and need some help picking the right size for your doggo? We have a detailed informational blog post that you can check out: Click Here To View
Share this post