Best Halloween Dog Harnesses | Joyride Harness Reviews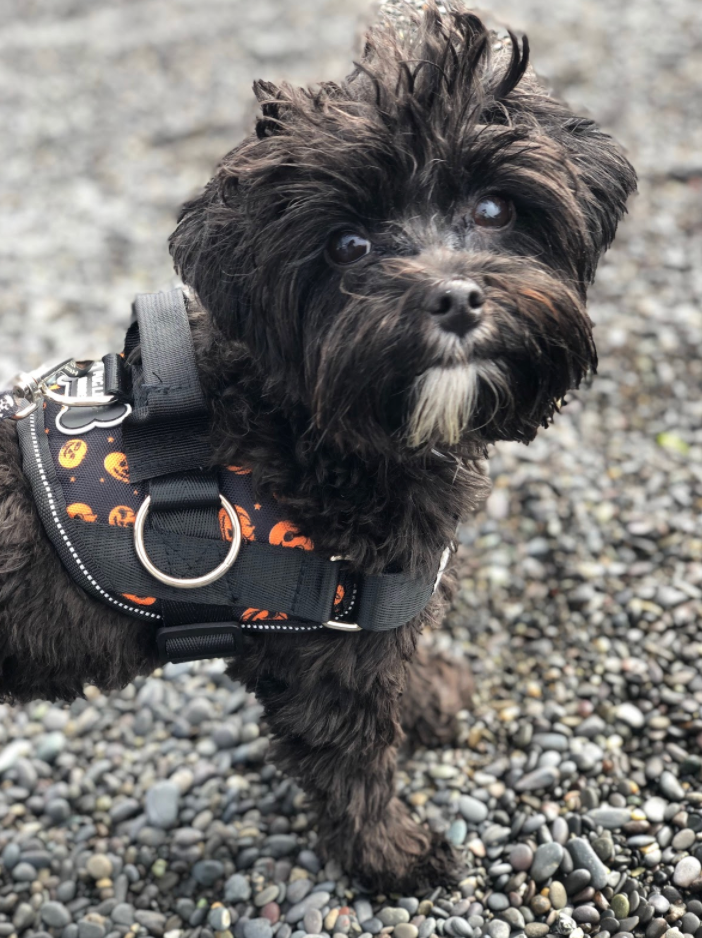 With spooky season and the fall coming up, now is the perfect time to consider the latest harness styles to casually dress your pooch for those October and November walks. Love Halloween? Then the designs and styles we have available here might be your dog's future everyday harness!
There's something you should know though… These designs are limited edition and are running low in stock. Don't fret! More designs are in the works and a few of these designs pictured here may make a comeback in the unforeseeable future. 
Take a look at what our Joyride Harness customers have to say about their Halloween dog harness selections!
John L. - ⭐⭐⭐⭐⭐/5
Size/Color: XL - Halloween Pumpkin Joyride Harness
"Our girl Pumpkin is striking in her pumpkin print Joyride XL Harness. She's a Shepherd/Lab mix, 60 pounds of walking fury in her new harness. So easy to put on, it's so simple and efficient. Good quality product. Even the local vet wanted to know where the harness came from and we gladly said Joyride!"
Carmen S. - ⭐⭐⭐⭐⭐/5
Size/Color: L - Halloween Skulls Joyride Harness
"This harness is SO easy to put on and take off. My corgi hates traditional harnesses and they never fit right. This harness is no fuss and helps stop her from pulling on walks. She seems much more comfortable in her Joyride harness! Plus the skulls match her "I do what I want" attitude."
Lisa M. - ⭐⭐⭐⭐⭐/5
Size/Color: Medium - Halloween Skulls Joyride Harness
"It's very sturdy and love the skulls. It fits very well will my favorite pirate theme. It's very fun 😊"
Tricia W. - ⭐⭐⭐⭐⭐/5
Size/Color: N/A - Halloween Skulls and Halloween Orange Plaid Joyride Harness
"ABSOLUTELY LOVE THESE HARNESSES, I OWN 7 DIFFERENT COLORS AND PATTERNS.  THE NEW FALL PLAID AND THE HALLOWEEN SKULLS ARE GREAT FOR OCTOBER. I FEEL SAFE WHEN ON WALKS KNOWING MY FUR BABIES WONT ESCAPE OUT OF THEM AND I GET SO MANY COMPLIMENTS."
These are just a few of our customers' submitted reviews. You can view all submitted reviews by checking out this page. You'll find a healthy combination of honest reviews! Bonus? You can search by breed with our updated review features! We also have more blog posts that round up reviews based on different dog types for your convenience.
Additionally, if you have sizing questions you can always reach our team through the contact form on our website if the sizing charts provided on this page do not suffice! You'll find two charts available for sizing reference based on weight and girth measurements.
Want more? Feel free to follow us on Instagram at
@joyrideharness
and take a look at more furbaby photos! New to Joyride Harness and need some help picking the right size for your doggo? We have a detailed informational blog post that you can check out:
Click Here To View
Share this post