Best Dog Harness For Yorkies | Joyride Harness Customer Reviews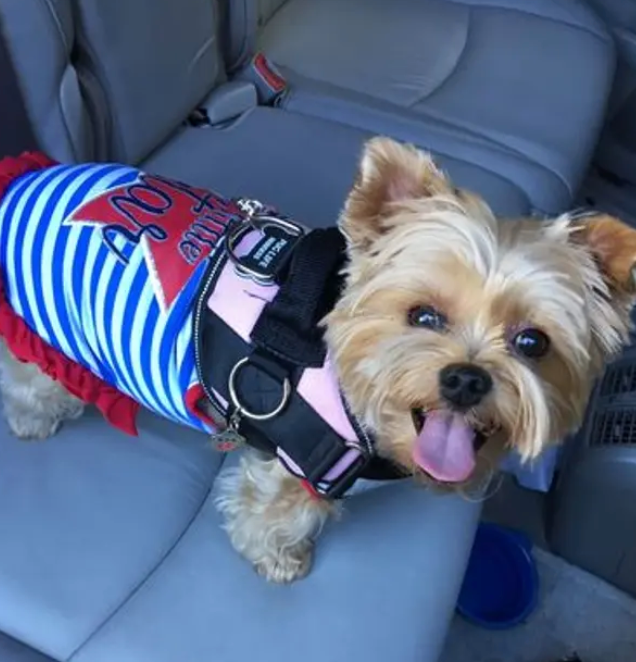 Small, shaggy, and lovable, Yorkies are a pup sized dog breed that's grouped as a hypoallergenic dog breed. While these pups may be on the smaller side of dog breeds, their love and personalities are giant!

When walking with these fur babies, you want a harness you can rely on for safety and security for their shorter stature. In this blog post, we've rounded up a number of customer-submitted reviews from dog parents with Yorkie fur babies detailing their experience with Joyride Harness.
Linda M. - ⭐⭐⭐⭐⭐/5
"Perfection! Couldn't be happier with this very well made, super easy on and off harness. My little 10-lb Buzz (Shorkie—Yorkie/Shih-tzu mix) looks so cute in it plus I don't worry about pulling his neck or his collar slipping off his head which has happened a couple of times because his head is really small—basically all fluffy fur). So much safer with this harness."
Joy V. - ⭐⭐⭐⭐⭐/5
"This harness is just like you promised on your website. My 13-year-old Yorkie just steps right into it, easy-peasy, and with her special seatbelt/leash, she is safe and sound in the front seat of my red convertible! We could not be happier!"
Carolyn S. - ⭐⭐⭐⭐⭐/5
"I ordered two, one for my yorkie that pulls really bad. She is like a squirrel on a string😄. This harness is making our walk much more desirable."
Kenneth W. - ⭐⭐⭐⭐⭐/5
"We love the red plaid for our new Yorkie mix rescue! He is a therapy dog who participates in reading programs at schools and libraries. He will look so handsome at his visits and on our many walks."
Debbie S. - ⭐⭐⭐⭐⭐/5
"This harness works great with my yorkie and with the added seatbelt, I feel really safe with her in the back on trips. She used to sleep on my lap but when I saw that harness and seatbelt, no more lap for her!  I also have a westie who would jump around while trying to put on her old harness but with the Joyride, so easy! I got the pink one size medium (she is a porker) so we match when we go out, I love pink. Thanks Joyride."
These are just a few of our customers' submitted reviews. You can view all submitted reviews by checking out this page. You'll find a healthy combination of honest reviews! Bonus? You can search by breed with our updated review features! We also have more blog posts that round-up reviews based on different dog types for your convenience.
Additionally, if you have sizing questions you can always reach our team through the contact form on our website if the sizing charts provided on this page do not suffice! You'll find two charts available for sizing reference based on weight and girth measurements.
Want more? Feel free to follow us on Instagram at @joyrideharness and take a look at more furbaby photos! New to Joyride Harness and need some help picking the right size for your doggo? We have a detailed informational blog post that you can check out: Click Here To View
Share this post