Best Dog Harness For Great Danes | Joyride Harness Reviews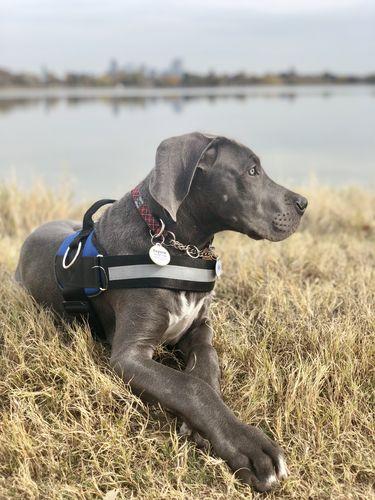 We constantly get questions regarding how compatible our harnesses are with certain dog breeds. That being said, we're here to clarify that Joyride Harness is a great option for Great Danes!
If you're a Great Dane fur baby parent, this description of the dog breed from American Kennel Club (AKC) might sound familiar to you:
As tall as 32 inches at the shoulder, Danes tower over most other dogs—and when standing on their hind legs, they are taller than most people. These powerful giants are the picture of elegance and balance, with the smooth and easy stride of born noblemen. The coat comes in different colors and patterns, perhaps the best-known being the black-and-white patchwork pattern known as "harlequin."
Despite their sweet nature, Danes are alert home guardians. Just the sight of these gentle giants is usually enough to make intruders think twice. But those foolish enough to mistake the breed's friendliness for softness will meet a powerful foe of true courage and spirit. Patient with kids, Danes are people pleasers who make friends easily.
For such a dog, a sturdy and secure harness is the way to go. Not only that, but a harness that is easy to put on and take off is incredibly helpful for Great Dane parents! We've rounded up customer submitted reviews from Great Dane fur baby parents to show you how the Joyride Harness is faring with this large and amazing dog breed.
Jennifer F. - ⭐⭐⭐⭐⭐/5
Size/Color: XXL - Winter Plaid Joyride Harness
"I LOVE THIS HARNESS.  Oliver(Great Dane) quit pulling and I enjoy our walks now. It's so easy to put on and he loves to wear it. I think it makes him feel safe and secure.  This one comes with little lights but they don't fit on the larger D-rings.  He wears the XXL. He's 115lbs and has a deep chest. It also works with his jacket since it's adjustable. I really do love this product.  I used to have to walk him using a prong collar and he still pulled. I was so happy at how calm he was on our first walk with the harness."
Hilary S. - ⭐⭐⭐⭐⭐/5
Size/Color: N/A - Blue Joyride Harness
"Being that Eeyore is a Great Dane pup and a rapid growing pup, the Joyride harness has been easy to adjust for his rapid growth spurts. It's also, effortless to take on and off and well made! Makes it easy to keep up with my fast growing pupper!"
Missy W. - ⭐⭐⭐⭐⭐/5
Size/Color: N/A - Purple Joyride Harness
"I have a 9 Month old Great Dane and my Joyride harness is perfect! She is so large the handle on the top of the Harness is perfect and she walks so well with it. She seems like be comfortable in wearing it and isn't bothered by it and it is easy it put on and adjust. I was very happily. Surprised with the quality and fit and would recommend it to anyone waste iay those with giant breed dogs!"
Shanon V. - ⭐⭐⭐⭐⭐/5
Size/Color: N/A - Purple Joyride Harness
"Saylor is my adopted fur baby.  He was supposed to be a bigger collie/ black lab mix.  They left out the Great Dane (seriously). He was rescued two weeks before I had both legs injured in a freak gym accident.  I was afraid he'd be scared of not wheelchair,  leg braces,  etc., but he loved me through it.  He kept me going.  I HAD to get up to care for him at heart every two hours, but that's just about ALL I could do. Needless to say,  LOTS of training time was lost.  Now that I'm walking again (actually,  waddling with leg braces) ,  I needed a harness that allowed me some ease at controlling our pace. He puts his nose into the harness and he's ready to go! He's the one who rescued ME."
These are just a few of our customers' submitted reviews. You can view all submitted reviews by checking out this page. You'll find a healthy combination of honest reviews! Bonus? You can search by breed with our updated review features! We also have more blog posts that round up reviews based on different dog types for your convenience.
Additionally, if you have sizing questions you can always reach our team through the contact form on our website if the sizing charts provided on this page do not suffice! You'll find two charts available for sizing reference based on weight and girth measurements.
Want more? Feel free to follow us on Instagram at @joyrideharness and take a look at more furbaby photos! New to Joyride Harness and need some help picking the right size for your doggo? We have a detailed informational blog post that you can check out: Click Here To View
Share this post