See The Joyride Harness In Action: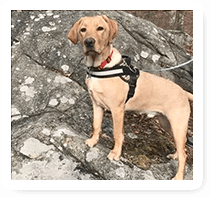 Making life much easier for everyone!
ANGIE W.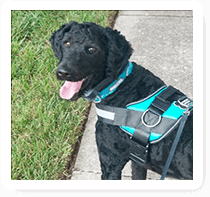 Best Harness Ever!
DANA D.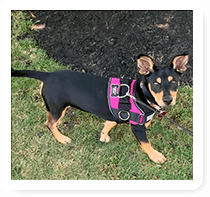 No more wrestling with our puppy!
BRIAN B.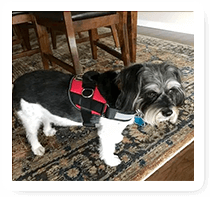 My girl LOVES this harness!
ASHLEY C.

Winter Trees Dog Harness Additional Information
While many dogs don't actually need sweaters when going outside, winter protection should be at the forefront of every pet parent's mind. Our winter dog harness won't just keep your pup safe this holiday season, it will also keep them stylish! 
This stylish winter dog harness features a gender-neutral red plaid background with a repeating white pine tree pattern. Perfect for the holiday season and all winter long, this dog harness is a great addition to your dog's wardrobe. 
Like with all Joyride Harness products, our winter trees dog harness is built as durable as it is pretty. Our harnesses are made with durable materials and hardware that can withstand even the strongest pullers. Whether your best friend weighs 4lbs or 140lbs, they can ride in style with Joyride. 
Winter means shorter days, but that doesn't have to mean fewer walks! As an additional safety measure, our harnesses have reflective strips and stitching to add visibility for nighttime walks. Multiple points of adjustment mean that you can get a perfect fit for your dog, no matter their body shape or breed. Even barrel-chested dogs can fit in our winter dog harness! 
If your dog is a puller, you're in luck! Just like our original no-pull harness, this winter trees upgrade features our revolutionary side-ring technology. If Fido tries to pull you forward, instead, he'll spin to face you. Joyride Harness is the perfect training tool to help your dog walk politely. 
Winter Dog Harness Features:
-Cute winter trees pattern suitable for all fur colors
-Durable fabric with fleece-lined interior for comfort
-Three attachment rings
-Compatible with our dog seat belt 
-Available in 6 sizes: XS-XXL
If you like our winter trees dog harness, you might also like our plaid Christmas dog harness, winter snowman dog harness, and holiday sweater dog harness.