If you love innovation as much as we do, then this 2 in 1 dog leash/seatbelt combo will be right up your alley. When something can perform more than just one function, that's just plain cool, and this product does just that.
Taking your fur baby to the park? Well, you're going to need your leash, of course, but what you may forget about is the importance of a seatbelt. Seatbelts are required by law because they save lives. You pamper your fur baby in every possible way, so don't skimp out here.
With this heavy duty dog leash/seatbelt combo, you're always prepared.

The best use for the seatbelt attachment feature on this leash is on a larger dog with a large dog harness ONLY. Do not clip this on to a collar as it may be a choking hazard and can be fatal in case of an accident since it's hooked to their necks. Harnesses only!

For smaller dogs under 25 pounds, we recommend them to be clipped into a dog car seat with their small dog harness. 
Features:
Convenient.

 

Stow away the seatbelt on this 

43" leash using our convenient velcro design. 

Use the alternate handle to enjoy a shorter lead of only 35". 
Built to last. These things are made durable and guaranteed to last. Made from heavy-duty nylon that is much thicker and more stronger than your standard leash.
Reflective material. Accidents happen and no fur baby is perfect. Should they ever get away from you late at night, you can feel a little better that there is reflect material sewn into this leash which will greatly enhance night-time visibility. 
Custom Area
Customer Reviews
Write a Review
Ask a Question
09/09/2022
Melissa K.

United States
07/06/2022
Christine C.

United States
Happy dog parents
We purchased this harness and leash combo for two reasons, We wanted to walk Huxley without being pulled and we wanted to be able to secure him on car rides. Not only is he more manageable on walks, but the seatbelt on the leash allows me to take him anywhere. Bonus: super easy to put on/adjust and IT GLOWS IN THE DARK!
06/17/2022
Karen A.

United States
Nice Leash!
Nice leash with a functional handle halfway down so you don't have to bend all the way down if you have a small/medium dog to make any behavior corrections. We haven't used the seatbelt attachment on the leash because it is for a larger dog, which may work for our Corgi when he is fully grown.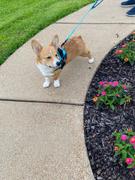 06/05/2022
Amy S.

United States
Great harness and leash combo, seatbelt not the best fit.
Love the harness and leash, helped stop pulling significantly. I like the padded handles and the short leash option for training my new 6 mo. old pup to have better leash manners. My only complaint is that the seatbelt buckle is too short when hooked to harness. It doesn't allow my dog to sit comfortably as it's pulling down and is difficult to unclip because there is so much tension on it.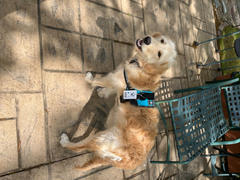 03/02/2023
Kathy T.

United States
Great Harness
I really like the easy of putting it on and off, if there was a concern it might the the buckle, it's pretty large and kind of heavy for my 16 pound schnauzer. I wish the buckle were smaller other than that I like the harness.
09/18/2022
Shelia L.

United States
Work Great!
When we travel it makes attaching the seat belt latch ti the seat belt and then when we want to leave the car we don't have to remember to attach the walking leash because it is all the same leash,
07/05/2022
Cindy D.

United States
Teal leash
This leash is too heavy for our little 9 lb dog