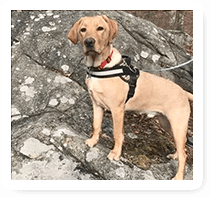 Making life much easier for everyone!
ANGIE W.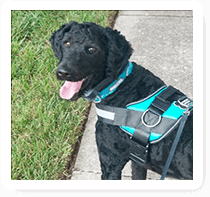 Best Harness Ever!
DANA D.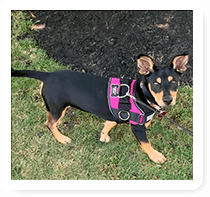 No more wrestling with our puppy!
BRIAN B.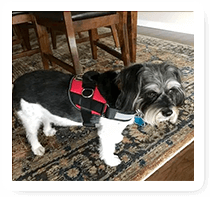 My girl LOVES this harness!
ASHLEY C.

If you love innovation as much as we do, then this 2 in 1 dog leash/seatbelt combo will be right up your alley. When something can perform more than just one function, that's just plain cool, and this product does just that.
Taking your fur baby to the park? Well, you're going to need your leash, of course, but what you may forget about is the importance of a seatbelt. Seatbelts are required by law because they save lives. You pamper your fur baby in every possible way, so don't skimp out here.
With this heavy duty dog leash/seatbelt combo, you're always prepared.

The best use for the seatbelt attachment feature on this leash is on a larger dog with a large dog harness ONLY. Do not clip this on to a collar as it may be a choking hazard and can be fatal in case of an accident since it's hooked to their necks. Harnesses only!

For smaller dogs under 25 pounds, we recommend them to be clipped into a dog car seat with their small dog harness. 
Features:
Convenient.

 

Stow away the seatbelt on this 

43" leash using our convenient velcro design. 

Use the alternate handle to enjoy a shorter lead of only 35". 
Built to last. These things are made durable and guaranteed to last. Made from heavy-duty nylon that is much thicker and more stronger than your standard leash.
Reflective material. Accidents happen and no fur baby is perfect. Should they ever get away from you late at night, you can feel a little better that there is reflect material sewn into this leash which will greatly enhance night-time visibility.