See The Joyride Harness In Action: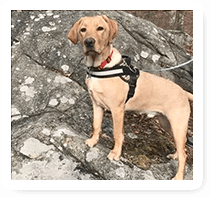 Making life much easier for everyone!
ANGIE W.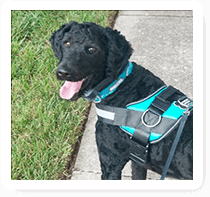 Best Harness Ever!
DANA D.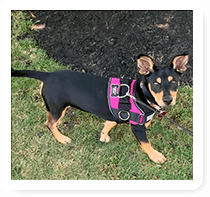 No more wrestling with our puppy!
BRIAN B.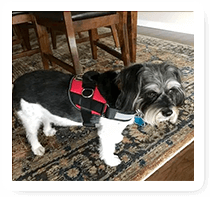 My girl LOVES this harness!
ASHLEY C.
Orange Plaid Dog Harness Additional Information 
Whether you're looking to improve your dog's fall wardrobe, want to remain visible on a hike, or simply love the color orange, this orange dog harness has got you covered. Featuring a stylish and gender-neutral orange and black plaid design, this harness will look great on dogs of all coat colors during Halloween Season and beyond. 
If you plan on taking your dog on a hike in the woods, it's a good idea to outfit your pup in an orange dog harness. Keeping your pooch in bright colors will help them stand out from the environment and keep them visible if hunters are in the area. And our orange plaid dog harness stands out in more ways than one! Whether you're hitting the trails or downtown, Joyride Harness will keep your dog comfortable, safe, and secure. 
Our plaid orange dog harness with a handle is best for dogs who are heavy pullers and best for dog owners who want a stylish option. Constructed using durable fabric and buckles, Joyride Harness can handle dogs from 4lb to 140lb! Heavy Puller? Use our revolutionary side rings to train your dog out of the habit. Going on a road trip? The back ring on this dog harness can be used with a dog seat belt tether to keep your fur baby safe in the car. With our orange dog harness with a handle, you can quickly grab or lift your dog for additional safety and control. 
Orange Dog Harness with a Handle Additional Features: 
-Visible orange dog harness with stylish pattern
-Heavy-duty materials with soft fleece lining 
-Revolutionary 3-ring system 
-Reflective material around the chest and head area increases nighttime visibility

If you love this orange plaid do No Pull Dog Harness | Best Dog Harness | Joyride Harness harness with a handle, you may also like our fall plaid dog harness, solid orange dog harness, and black and white plaid dog harness.
Confused on what size to pick? Use our sizing guide below:
For size 'XS', dogs should weigh between 5-9 lbs and have a chest size of 12-17". Suitable breeds include Chihuahuas, Yorkies, Pomeranians, and Small Puppies.
For size 'S', choose this for dogs weighing 10-19 lbs, chest 17-22". This fits Mini Schnauzers, Shih Tzu, Bichon Frise, and Maltese.
Size 'M' is ideal for dogs weighing 20-40 lbs with a chest size of 23-28". This includes breeds like Pugs, French Bulldogs, and Corgis.
Size 'L' is for dogs weighing 40-60 lbs, chest size 28-33", fitting breeds like Australian Shepherds, Basset Hounds, and Standard Poodles.
For size 'XL', select this for dogs weighing 60-85 lbs, with a chest size of 33-38". Breeds like Labs, German Shepherds, and Golden Retrievers fit into this size.
Lastly, size 'XXL' is for dogs weighing 85-140 lbs, chest size 38-44". Breeds in this category include Rottweilers, Tibetan Mastiffs, and Bullmastiffs.