See The Joyride Harness In Action: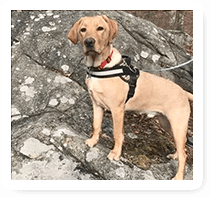 Making life much easier for everyone!
ANGIE W.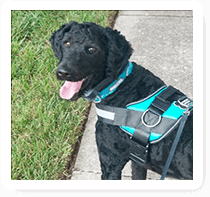 Best Harness Ever!
DANA D.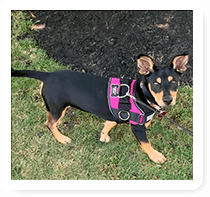 No more wrestling with our puppy!
BRIAN B.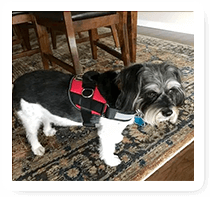 My girl LOVES this harness!
ASHLEY C.

Plaid Christmas Dog Harness Additional Information
Are you looking to add more festive options to your dog's wardrobe? The Joyride Harness Plaid Christmas Dog Harness is the perfect solution! Not only is the red, green, and white plaid perfect for the holiday season, it is also the safest option for your dog! 
Did you know it is better to walk your dog on a harness rather than a collar, especially if they are a heavy puller? Dog harnesses are a safer option for dogs because they don't put pressure on your fur baby's delicate neck/trachea. They are also a safer alternative when you need to restrain your dog in a vehicle with a dog seat belt. Thankfully, with Joyride Harness, our Plaid Christmas Dog Harness gives you a stylish option that you can match with the seasons. 
There's no need to settle for average with your fur baby: this Christmas Plaid Dog Harness is equally stylish and functional. Durable and made to last, our harnesses are built with strong, breathable materials for even the strongest pullers and are lined with soft fleece to protect sensitive skin. Your dog won't experience any chafing with Joyride! 
This Christmas Dog Harness is easy-on and easy-off, making it a quick solution for any breed and size.  Whether you have a Chihuahua or a Mastiff, our inclusive size range can accommodate dogs ranging from 4lbs to 140lbs. We know it can be hard finding cute accessories for larger dogs, that's why our Christmas Plaid Dog Harness is available in all sizes.  
With three rings for leash attachment, you have total control over how you walk your dog. The back point of attachment is perfect for using a dog seat belt to keep your fur-baby safe in the car while you travel. 
Plaid Christmas Dog Harness Main Features 
-Reflective material for increased nighttime visibility
-Multiple points of adjustment for a perfect fit
-Revolutionary side-ring technology prevents pulling
-Keeps pressure off your dog's neck
-Available in sizes XS to XXL
Looking for additional Christmas dog harnesses? You may be interested in our Winter Trees Dog Harness, Winter Snowflake Dog Harness, and Holiday Sweater Dog Harness. 
Confused on what size to pick? Use our sizing guide below:
For size 'XS', dogs should weigh between 5-9 lbs and have a chest size of 12-17". Suitable breeds include Chihuahuas, Yorkies, Pomeranians, and Small Puppies.
For size 'S', choose this for dogs weighing 10-19 lbs, chest 17-22". This fits Mini Schnauzers, Shih Tzu, Bichon Frise, and Maltese.
Size 'M' is ideal for dogs weighing 20-40 lbs with a chest size of 23-28". This includes breeds like Pugs, French Bulldogs, and Corgis.
Size 'L' is for dogs weighing 40-60 lbs, chest size 28-33", fitting breeds like Australian Shepherds, Basset Hounds, and Standard Poodles.
For size 'XL', select this for dogs weighing 60-85 lbs, with a chest size of 33-38". Breeds like Labs, German Shepherds, and Golden Retrievers fit into this size.
Lastly, size 'XXL' is for dogs weighing 85-140 lbs, chest size 38-44". Breeds in this category include Rottweilers, Tibetan Mastiffs, and Bullmastiffs.