What is the Easiest Dog Harness to Put on and Use?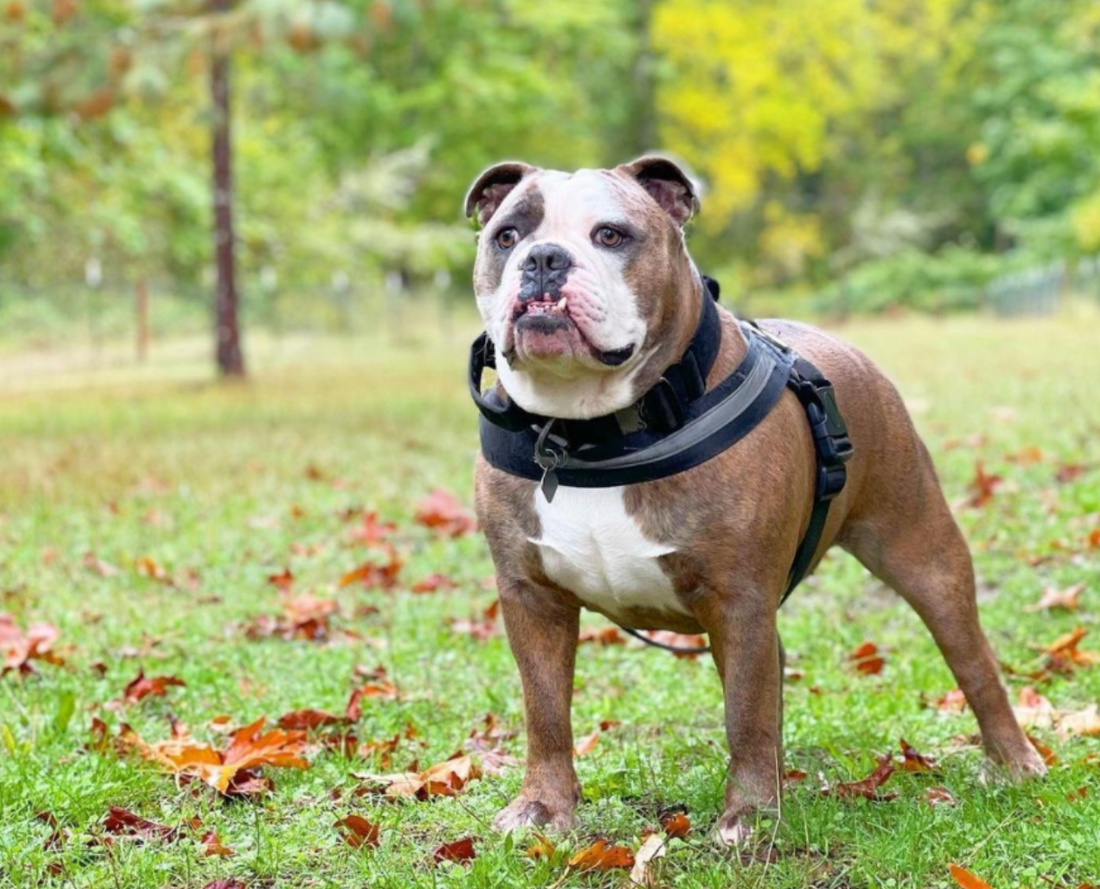 When taking your best doggie friend out for a walk, hike, or just on the town it's important to have them safe and secure. A properly fit harness is a great way to do that! Some of the benefits include: 
Comfort and safety.
A well-fit harness is snug and will feel much nicer to your pup. Additionally, it can help avoid the throat injury concerns that come along with walking on a collar. For example, pulling a leash when attached to your dog's neck can put tremendous strain that over time can result in an injury you may not be able to immediately detect.
Plus depending on your dog's breed or current health a collar can make health issues worse, such as tracheal collapse or ocular proptosis, a dangerous condition when the eyes bulge out.
Help prevent pulling and tangles.
By having more control over your dog's whole body, it is easier to control their movement. Instead of a single point of pressure pulling on the leash, it is distributed over their back and chest. And with the leash clipped at the top of the harness, it helps to keep any loose bits from winding around your pup's legs.
Keep dogs from slipping out.
When you size a collar to your dog, it is recommended that you should be able to fit one to two fingers between the collar and your pet's neck. After all, if it's too tight it can be dangerous. However, if a collar is loose a crafty pooch could manage to slip free and make a getaway, more worrisome without any tags.
A harness is a wonderful, comfortable, and can even be a fashionable way to enjoy time outside of the house with your dog regardless of where your adventures take you.
The Best of the Best
Joyride is one of the most popular harnesses on the market and has gotten wonderful reviews on how easy these harnesses are to use. This matters so much because the easier a harness is to use, the less stressful it will be for your dog, the less stressful it will be for you, and the faster you'll be able to get walking with your best friend!
To show some of the reasons that Joyride has been cheered for being rated among the highest, we've pulled some reviews that show just how simple they are to use.
Ursula B.
⭐⭐⭐⭐⭐/5
"Easy to adjust. Easy to put on and take off. My husky can escape most other harnesses. So far so good!  I like that it has options where you can attach the lead. Strong Velcro attachment on the front closure. Seems comfortable."
Holly W.
⭐⭐⭐⭐⭐/5
"We love that our puppy is so comfortable in this harness!  It's adorable and functions well.  We love that it's easily adjustable and that it keeps our babies neck from being choked while learning to leash walk!  Fantastic buy.  We will definitely be repeat customers.  We also love the leash/seatbelt combo!  So versatile and useful and makes us happy that Ari is safe in the car!"
Jessica S.
⭐⭐⭐⭐⭐/5
"I needed a harness for my dog due to her having degenerative disc disease in her neck and can no longer use a regular collar.  This harness is well made and very comfortable.  The leash having the seatbelt option is my favorite part because it keeps her safe in the car with the many trips we take to the vet for her therapy.  I highly recommend this harness and leash!"
Pam H.
⭐⭐⭐⭐⭐/5
"This is the 3rd harness I've bought from Joyride. I bought more in different colors because I like them so much! My dog was terrified of his old harness and hated putting it on, he LOVES his joyride harnesses! They fit really well and go over his head so easily and they're very durable he has had his first one for almost a year and it has no signs of wear or fading. They are also really cute on him he gets lots of compliments. Highly recommend! He is 28 lbs, got the Medium and it fits him great, it is very adjustable."
How to Measure Your Dog for a Harness
The most important part of getting the most out of your harness is having the right fit. After all, you want the best for your friend to get the best out of the experience a harness will give you! The following are our recommendations on measuring your dog to find the right size.
When sizing your pooch, we recommend the first thing you do is to weigh your pup. Weight is going to be your best measurement tool. If you find your friend between sizes and they have a

wider

chest and shoulders, go up one size. If they are between sizes and have a

narrower

chest and shoulders, go down one size.
To measure your dog's chest, first get a soft measuring tape. Find the thickest part of their chest and measure around it. If they are between sizes by their chest measurement, always go up a size!
How to Put On the Harness
Now that you know your pooch's size for harness, it's time to look at how to put the harness on!
Slip the walking harness over your dog's head. The harness will slide into place over your pup's chest.

Attach the buckle under the belly into the connector.

Adjust the size so the harness is snug but not so tight as to rub in places like their armpits.

Attach your leash at one of the several leash ring attachment spots, and get going!
And it's that simple!
To take a look at our sizing chart, go here! There are two charts available: one for weight and one for chest size.
If you have any questions about our harnesses, how to put them on, or anything else, you can reach our team through the contact form on our website. To take a look at more reviews and everything our customers have to say check out this page! 
For more doggie photos and pup-related fun, follow us on Instagram at @joyrideharness. And for a more detailed blog post about finding the best size harness for your pup, check out this blog post!
Instagram @neotheoldenglishbulldog
Instagram @thor_god_of_thunder_gsd
Instagram @gus_and_piper_englishgoldens
Share this post