What is the Best Dog Harness for a Shiba Inu?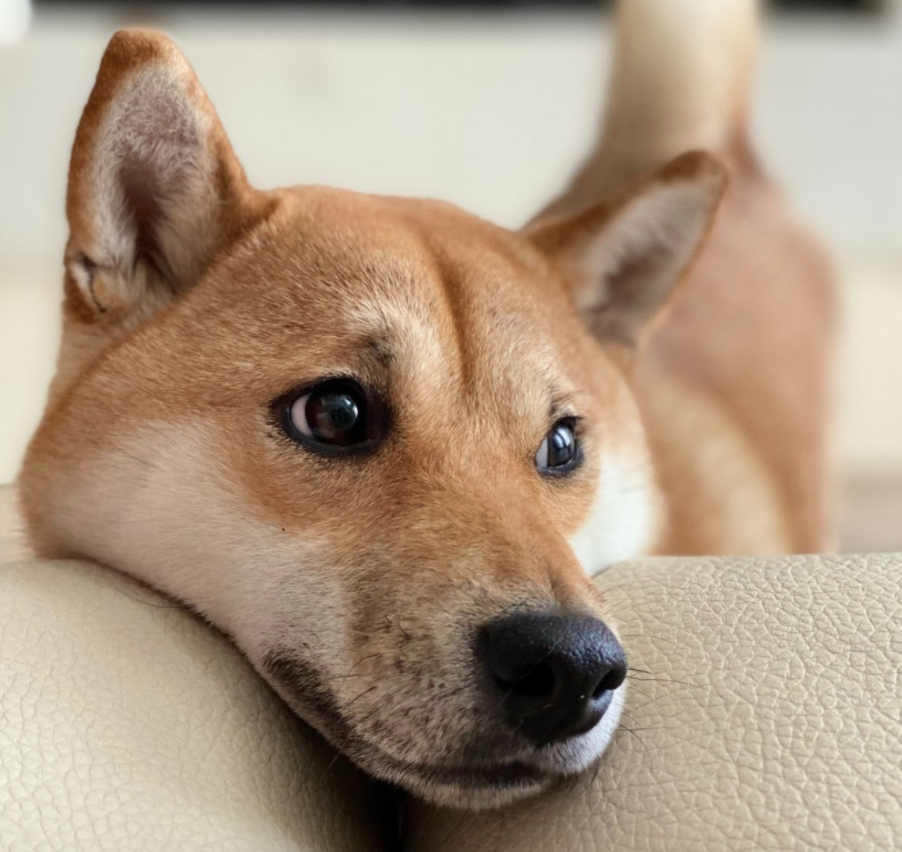 Many may recognize the adorable dog breed from the classic "doge meme." Wow! Much snacks! So Yum! They also became the face of the internet currency bitcoin, or dogecoin.
Although they've gotten more popular, they do have a few traits that can be a surprise to unsuspecting owners.
Shibas: a Comeback Tale
The shiba inu is an adorable and mischievous dog with an interesting history.
Originally from Japan, it is the smallest of the native breeds. Fully grown, males usually weigh 18 to 24 pounds and females normally come in at 15 to 20 pounds.
They come in six color variations: red sesame (or dark brown), sesame, black and tan, black sesame, cream, and red. And they are known for their fox-like looks with triangular heads and bushy, curled tails.
Shibas began as a breed as long as 9000 years ago. Artifacts from 300 BC showed that they were used for hunting small animals like rabbits, wild chickens, and foxes. In time, they were used in packs to hunt larger animals like wild boar and bears. They even worked their way into being loyal companions to samurai.
Then between 1912 and 1926, many western dogs were imported. People began breeding them with shibas until almost no pure dogs from the breed remained.
Scholars and hunters began working to save the Shiba and wrote a breed standard.
However in Japan after World War II, life was rough for both people and their pooches. There were food shortages and a post-war depression. Plus in the 1940s there was a huge epidemic of distemper, an incurable and fatal disease that affects dogs and other domestic animals.
It was up to a few who loved the unique dog to bring them back from the brink.
Carefully a breeding program was put in place, and all shibas today descended from the three surviving bloodlines: the Shinshu Shiba, the Mino Shiba, and the San'in Shiba.
In 1979 the first litter of shibas were born in the USA, and in 1992 they were officially recognized as a breed by the American Kennel Club.
A Huge Personality
Today they are the 44th most popular dog in America and the most popular breed in Japan, and it's easy to see why. With their cute faces and big personalities, they're hard to resist.
However, many may not realize just what they're in for when signing on as a shiba parent.
Noted as the most 'cat-like' of dogs, shibas are naturally energetic, independent, and stubborn.
There are certain behaviors many of them are known for that can be frustrating for owners, such as the 'shiba scream', climbing fences, and darting out the door.
Additionally, if not trained well they can become aggressive and reactive. It's noted that they do notoriously poorly in shelters where even the sweetest shiba can be overstressed and act out in fear.
Understanding how to interact with these lovable pups is the key to success.
They aren't 'people-pleasers' in the same way that other breeds might be. Their high intelligence and independence means you'll have to show them why they should do what you want.
Positive reinforcement is a great training style that has been shown to work over punishment. This is even more true for shibas. If they see you as someone who brings them good things, they'll want to listen to you. If they see you as someone who hurts them, though, you won't have their trust.
The Best Shiba Harness
Since they are such escape artists and also so energetic, taking them on regular walks is key. Not only do you build the bond with your fur baby but it helps to socialize them and get energy out in a controlled way.
Of course, you'll need the right tools to do this.
Joyride harnesses are built to fit securely and safely so that you can enjoy these outside times without worrying about your pup wiggling out of their collar or slipping away from a bad fit.
Here are a few things that shiba owners have had to say about the Joyride harnesses and how they've helped!
Scott A.
⭐⭐⭐⭐⭐/5
Great Harnesses
"We recently purchased 3 of these harnesses for our 3 Shiba Inu's. They are so easy to put on and remove. Sturdy construction. Very happy with the quality."
Angela S.
⭐⭐⭐⭐⭐/5
Finally found the perfect harness for my shiba!
"Easy to get in and stay on! And he looks adorable in this fun design!"
Angela B.
⭐⭐⭐⭐⭐/5
LOVE this harness!
"My aging Shiba Inu (13) has a collapsed trachea. We have tried every harness out there- website recommendations/pet store recommendations/to designer- and each still would irritate his neck causing a coughing fit. I ordered this harness 2 weeks ago and have not had a problem since. On top of that- It is by far the easiest to put on!"
It's always a good idea to research any breed before bringing them into your family, but if you're a die hard shiba-phile the Joyride harness is a perfect choice!
While you can search by breed, it is always recommended to weigh and measure your dog to find their exact size. To take a look at our sizing chart, go here!
If you have any questions about our harnesses, how to put them on, or anything else, you can reach our team through the contact form on our website. To take a look at more reviews and everything our customers have to say check out this page! 
For more doggie photos and pup-related fun, follow us on Instagram at @joyrideharness. And for a more detailed blog post about finding the best size harness for your pup, check out this blog post!
Share this post