The Most Comfortable Dog Harness You'll Find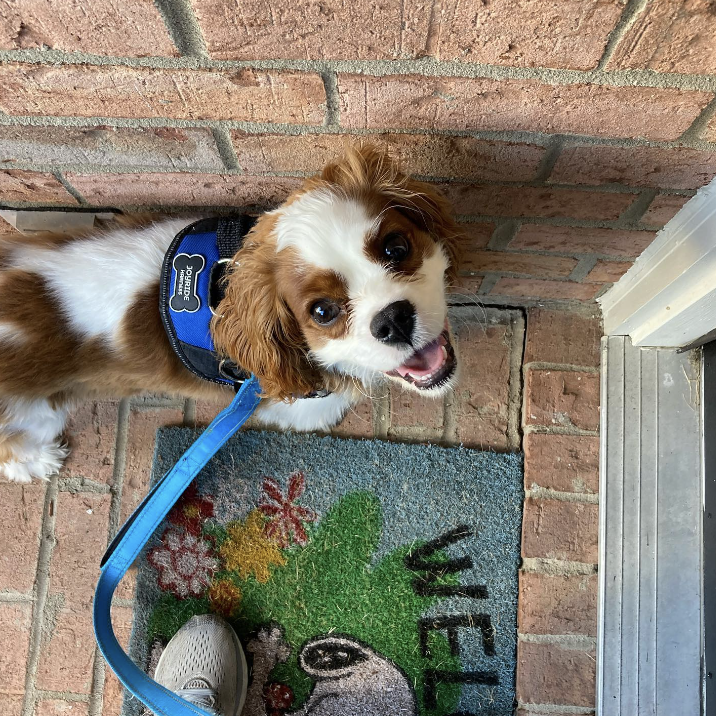 Sometimes it feels like you can't have it all when you're shopping for a dog harness. You want your dog to be secured, and well-controlled on walks, but you don't want to make them uncomfortable either. 
You can have all of the above with a dog harness, and it's with the Joyride Harness.
You don't have to sacrifice comfort to get something "that works". Comfort and security are at the top of the priorities when it comes to the design of the Joyride Harness.
What are the benefits to the Joyride Harness?
The list of benefits is endless! Dog parents love Joyride Harness for numerous reasons. If they're struggling with something on their walks, the Joyride Harness solves it. Here are the highlights:
The harness is made from durable, quality materials

Making it machine-wash safe!

There's no pressure around the dog's neck, minimizing the risks of tracheal collapse

Secure buckle

Better control of pullers (no-pull dog harness)

Works great with 2-in-1 Leash & Seatbelt Combo for car rides

Three rings for different leash and seatbelt attachment points

Can still be worn with a dog collar

Lightweight but with plenty of padding

Breathable mesh for long walks
What are dog owners saying about
Joyride Harness
and how do their dogs feel about it? Is it comfortable? Take a look at these customer-submitted reviews.
⭐️⭐️⭐️⭐️⭐️ Five-stars From Pup & Pup Parents
"Finally, a harness we all love! It is comfortable for our Westie, Max, and it has stopped him from pulling during walks. We do have to tighten it more than we thought we would, but that doesn't seem to bother him at all. The harness is well made and sturdy, the top handle and large rings are convenient, and the blue plaid looks great on him!" - Susan F.
⭐️⭐️⭐️⭐️⭐️ Perfect For My Pug
"My daughter suggested this harness after she got one for her lab, I ordered one for my sweet little pug and I am so happy that I did! So easy to get on and to adjust whenever I have to put her winter clothes on as well. She's much more comfortable in this than anything I was able to find in the stores and the red and white heart print is adorable!" - Jacqueline W.
⭐️⭐️⭐️⭐️⭐️ Comfortable Well-Made Harness
"This is the second Joyride Harness we have ordered. We previously ordered a harness for our other dog (Daisy who is boxer/pit rescue dog) and felt like it was sturdy, well constructed, and comfortable for her, so we ordered another Joyride Harness for our second (Lucy who is a lab/pit rescue dog). I also like having the handle so we can hold our girls in place when they are excited. Both are very strong muscular dogs and this these harnesses are heavy duty and comfortable at the same time." - Suzanne F.
⭐️⭐️⭐️⭐️⭐️ Fantastic
"We love that our puppy is so comfortable in this harness! It's adorable and functions well. We love that it's easily adjustable and that it keeps our baby's neck from being choked while learning to leash walk! Fantastic buy. We will definitely be repeat customers. We also love the leash/seatbelt combo! So versatile and useful and makes us happy that Ari is safe in the car!" - Holly W.
⭐️⭐️⭐️⭐️⭐️ Definitely Recommend
"Love it!! Looks great, sturdy and comfortable for Violet, and easy to take on and off. Love the three rings—makes the harness really versatile and functional with the seatbelt. Definitely recommend!!" - Anna A.
This dog harness is perfect for all sorts of dogs: rescue dogs, agility dogs, guide dogs, watchdogs, dogs that might run after a squirrel, and you need a handle to hold them back. The design of the dog harness relies on a proper fit or barely snug fit to ensure the dog's comfort and restrict them from making a great escape.
For more doggie photos and pup-related fun, follow us on Instagram at @joyrideharness. And for a more detailed blog post about finding the best size dog harness for your pup, check out this blog post!
Share this post