The Best Dog Harness With a Handle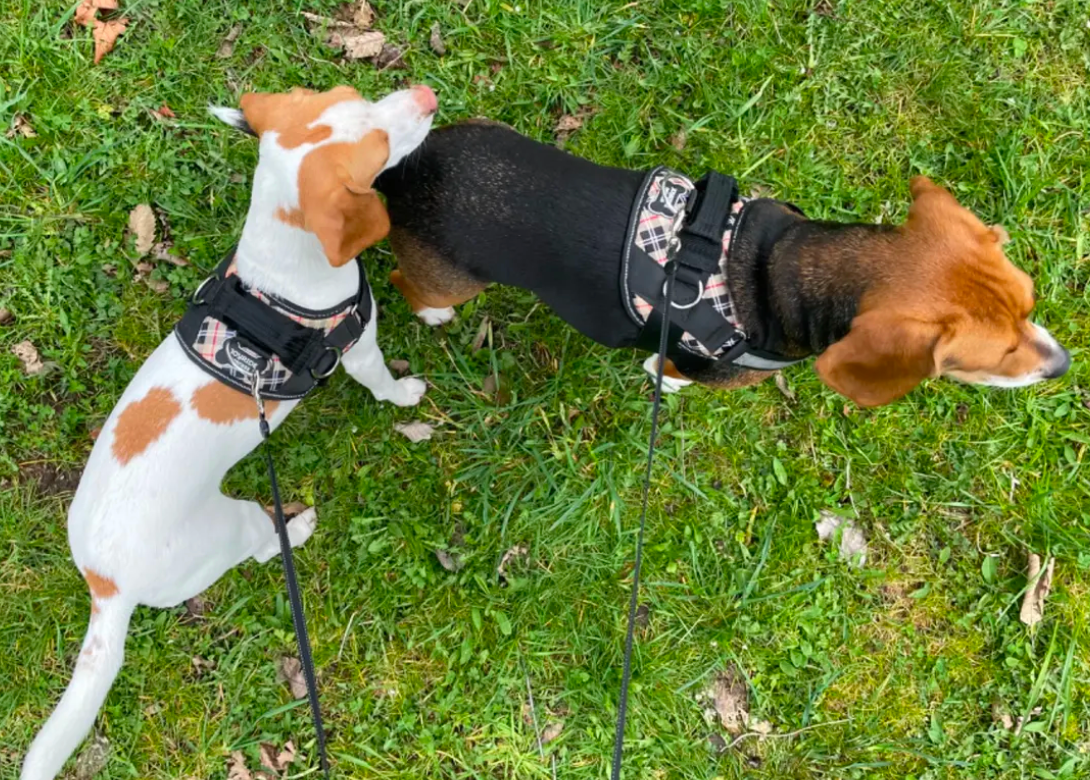 Shopping for a dog harness feels like looking for a needle in a haystack. It seems impossible to pick the perfect dog harness from all the Google search results.
But we can help narrow down the options for you.
When you're searching for a new dog harness for your pup, there are a number of boxes to check off before you make a purchase.
Is the

dog harness

easy to use?

Does the dog harness worsen walks?

Or does it improve the walks?

Is the dog harness heavy-duty but lightweight?

Can it be resized?

Does the dog harness have a

handle

?
Hold the phone.
You're wondering, Why do dog owners need to get their pooch a harness with a handle on it?
For dogs–big and small–dog owners should shop harnesses designed with a handle mostly for safety reasons.
Why use a harness with a handle for big dogs?
If your dog is a big fur baby, harnesses with a handle fixed to it like the Joyride Harness can help give you more control in situations needed.
No-Pull Dog Harnesses are designed to help alleviate and eliminate pulling but, when your dog spots a squirrel or another critter they want to run after, you can grab the handle for extra control.
Why use a harness with a handle for small dogs?
This applies to the big dogs as well, but for the small dogs especially, a harness with a handle can keep your fur baby out of unwanted situations.
Pulling your dog away from another dog that's showing them aggression

Keeping your dog from falling into a body of water

Lifting your dog to safety

Etc.
Why use a harness with a handle for senior dogs?
As your dog gets older and it gets harder to walk and roam, your dog might struggle getting up on furniture or into the car. You can use the handle on the Joyride Harness to give them guidance and assistance, lifting them where they need to go.
What are other dog owners saying about
Joyride Harness
and their experience with the handle grip? Take a look at these customer-submitted reviews.
⭐️⭐️⭐️⭐️⭐️ Comfortable, Well-made Harness
"This is the second Joyride Harness we have ordered. We previously ordered a harness for our other dog (Daisy who is boxer/pit rescue dog) and felt like it was sturdy, well constructed, and comfortable for her, so we ordered another Joyride Harness for our second (Lucy who is a lab/pit rescue dog). 
I also like having the handle so we can hold our girls in place when they are excited. Both are very strong muscular dogs and this these harnesses are heavy duty and comfortable at the same time." - Suzanne F.
⭐️⭐️⭐️⭐️⭐️ Great Product
"I love these harnesses - easy to put on, easy to control the dogs. As one of my dogs aged, the handle on the back was a great asset to help her get up and down. They get excited because they know when they see it, they're going on an adventure! I highly recommend them." - Melissa M.
⭐️⭐️⭐️⭐️⭐️ Great Harness
"This is soooo easy to take on and off when your dog wiggles and is excited to go for a walk. Seems very durable. I can literally pick my dog up by the handle." - Andrea O. 
⭐️⭐️⭐️⭐️⭐️ Absolutely Love This Harness
"We had to get a different harness for our 70lb dog due to vet recommendation, and decided to also get our 107lb dog a new one too. Our one pup Sadie only enjoyed her new pink one a few times before passing away from cancer a few days ago, but our big boy continues to love and enjoy his! Walking such a large dog is much simpler with this design. 
My husband likes the handle to help redirect attention if a squirrel walks passed us." - Jennifer J.
⭐️⭐️⭐️⭐️⭐️ Saved Ghillie's Life
"These are #'s 5 & 6 for us. I have recommended your harnesses to quite a few people and they have since bought their own. Your harness saved my Ghillie's life. We were up at the dog show in Duluth, MN. After showing all day (Ghillie did great) we went for a walk on one of the streets when a German Shepherd came at us from around the back of a house. 
I reached down and grabbed the handle of the harness and pulled her up and wrapped my body around her just as the dog hit me in the back driving me into the pavement. Ghillie was OK and the owner of the GSD caught her before any more damage could happen. Thank you for such a wonderful product!"
To take a look at our sizing chart, go here!
If you have any questions about our harnesses, how to put them on, or anything else, you can reach our team through the contact form on our website. To take a look at more reviews and everything our customers have to say check out this page! 
For more doggie photos and pup-related fun, follow us on Instagram at @joyrideharness. And for a more detailed blog post about finding the best size harness for your pup, check out this blog post!
Share this post