The Best Dog Harness To Stop Your Dog's Pulling & Train For Better Walks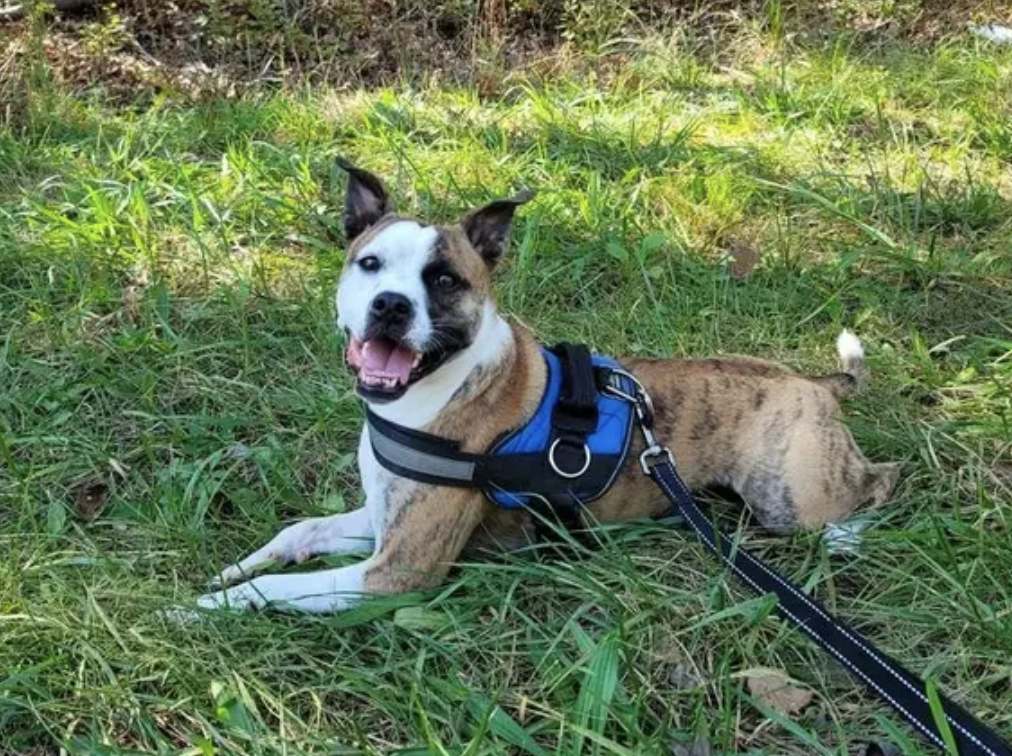 Are you looking for something that can help stop your dog's pulling and train them to walk with you and not walk you?
Keep reading.
There are so many harnesses out there that get the basics out of the way, but when you're ready to take things further and switch to a harness that helps your walks, Joyride Harness is the top choice for fixing pulling and training.
Countless dog owners nationwide agree that Joyride Harness is a quick fix to the troublesome pullers yanking away at your arms on walks. 
What are the benefits to this harness?
The harness is made from durable, quality materials

Making it machine-wash safe!

There's no pressure around the dog's neck, minimizing the risks of tracheal collapse

Secure buckle

Better control of pullers (no-pull dog harness)

Works great with 2-in-1 Leash & Seatbelt Combo for car rides

Three rings for different leash and seatbelt attachment points

Can still be worn with a dog collar

Lightweight but with plenty of padding

Breathable mesh for long walks

Reflective straps and stitching for night visibility
Wow!
That's the harness of a lifetime. And when you shop with Joyride Harness, you're covered for damaged and defective harnesses for 365 days. The only time you'll need to upgrade is when you need to upgrade to another size.
Joyride Harnesses work for the small fur babies and the big fur babies with sizes starting at extra small (XS) and going through extra-extra-large (2XL). Even better? Each harness has two adjustable straps, the girth strap you can expand or tighten so that you can get the most use out of your fur baby's harness. Heck! Maybe you won't even have to change sizes at all. 
But enough from us! You want the proof to the pudding of the no-pulling harness that is Joyride Harness. Here's what dog owners nationwide are saying about their experience with Joyride Harness.
The Reviews Are In!
"From the very first time we walked our boy using the Joyride Harness, our walks have been radically changed for the better! He used to pull a lot when we walked him, but no more! Truly amazing!! We love the Joyride Harness and so appreciate the ease of putting it on and taking it off. We purchased according to the size chart for our Aussie and the L fits perfectly. Thank you!!" - Theresa P. ⭐️⭐️⭐️⭐️⭐️
The Review Highlights:
Theresa's Aussie used to pull a lot

Joyride Harness helped stop it

Her Aussie wears a size Large (L)

The size chart on the site helped Theresa
"My 1-year-old White Shepherd pulled pretty strong. I was advised to get a choke chain collar, but I hated the idea of that. So, I started researching and came across the Joyride Harness. I gave it a try and it has changed the way we walk immediately. I could walk her with 1 finger. No more pulling, unless she sees a squirrel." - Claudia ⭐️⭐️⭐️⭐️⭐️
The Review Highlights:
Claudia's Shep had a strong pull

Other collars solutions sounded dangerous

Joyride Harness changed walks immediately

No more pulling
"We love this harness! This is the third one I bought because one was a gift for a friend's dog and the other two are for my dog Ginger because she has to have more than one harness right? Lol also when I ordered it I ordered the wrong size and I was so pleased with how quickly it took to be able to get the label to send it back to return it for the right size within a week it was done! I'm sure I'm gonna order her a couple more in different colors!!! Because we're crazy like that! Thank you for making it so easy to put on and off and control her pulling which she does not do anymore!" - Pamela M. ⭐️⭐️⭐️⭐️⭐️
The Review Highlights:
Pamela is a repeat Joyride Harness customer

Her dog Ginger has a few styles of Joyride Harness

It's easy to put on and take off

Exchanging sizes after ordering was easy

Because of Joyride, Ginger doesn't pull anymore
"Our little beagle is a handful! He is a puller! I believe he even developed a really bad cherry eye due to his aggressive pulling on the leash. This harness is a lifesaver. He looks comfortable, we can guide him without pulling on his neck. We had purchased another one where you have to put his legs in first and that was a headache. We purchased an expensive Kong one and had to cut it because he pulled his leg out and was stuck. This is so easy to put on and we all love it! Thank you so much!" - Josephine M. ⭐️⭐️⭐️⭐️⭐️
The Review Highlights:
Josephine's Beagle was a puller on walks

He pulled so much it caused strain on his eyes

Joyride Harness stopped the pulling and the pressure around his neck that was causing that strain

Josephine tried other harnesses but Joyride Harness is the easiest that works
This dog harness is perfect for all sorts of dogs: rescue dogs, agility dogs, guide dogs, watchdogs, dogs that might run after a squirrel, and you need a handle to hold them back. The design of the dog harness relies on a proper fit or barely snug fit to ensure the dog's comfort and restrict them from making a great escape.
For more doggie photos and pup-related fun, follow us on Instagram at @joyrideharness. And for a more detailed blog post about finding the best size dog harness for your pup, check out this blog post!
Share this post