Paw It Forward Spotlight: Appalachian Great Pyrenees Rescue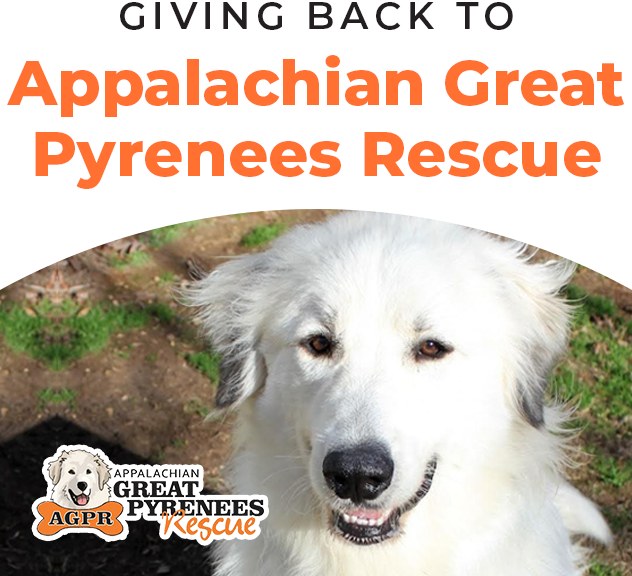 What Is Paw It Forward?
As dog owners, Joyride Harness seeks to help dogs by offering our shop of harnesses and activating what we call the Paw It Forward Initiative. It's been several years at least since the initiative began
The program was first launched in 2019 to assist non-profit organizations and shelters dedicated to the well-being of dogs nationwide. Joyride Harness has consistently set its mission to aid those fur babies in the world who need the most help, and through the Paw It Forward program, we donate harnesses to organizations and shelters that share the common cause.
Meet
Appalachian Great Pyrenees Rescue
The Appalachian Great Pyrenees Rescue Association, Inc (AGPR) has an active rescue group throughout the Commonwealth of Virginia. Appalachian Great Pyrenees Rescue has been rescuing and rehoming Great Pyrenees since the early 2000s. 
The rescue group volunteers provide necessary health care, ensure spay/neuter if necessary, and do our best to socialize and provide some training (including how to be a better leash walker).
The entire operation is made possible through an organized network of volunteers. Their site explains, "We are ALL volunteers who receive no compensation for our efforts other than educating the public, caring for Great Pyrenees dogs in need and helping to permanently place them in their forever homes. If we do not contact you immediately, please be patient because many of us have jobs, families and a limited amount of free time. Rescue emergencies always take priority."
Joyride Harness is just one of many donors, and through our Paw It Forward Initiative, we were able to ship a box of harnesses to Appalachian Great Pyrenees Rescue.
"We work with Great Pyrenees and Great Pyrenees mix dogs…from newborns to those who stay with us forever."
Why Great Pyrenees?
This breed faces the misfortune of having to be rescued for numerous different reasons. It's mostly that once the Pyrenees is no longer a pup, they're larger dogs. The persons caring for these dogs typically aren't prepared for their adult size, barking, shedding, or the costs needed to care for them. 
This joins the list of reasons why Great Pyrenees decide not to keep their dog, including neglect and abuse. 
They shared, "Adopting one of these special creatures that has been lost, turned in, or dumped by their previous owner is a generous act. Providing a loving home will lead to the lifelong devotion and loyalty of a grateful Pyr rescue."
A Joyride Rescue Story
Celeste Miller, an Appalachian Great Pyrenees Rescue representative, shared with us how Joyride Harness came at the right time. Here's their story:
I can personally share how the Joyride halter that I have has helped. 
I have a rescue from Appalachian Great Pyrenees Rescue…her name is Willow. We rescued Willow in 2017 to be a companion for our male Pyr rescue Simon.  
Based on a DNA test, Willow is ¼ husky (we had no doubt when we adopted her since we've had huskies and malamutes before). So a wonderful mix of independent-thinker and stubborn dog. 
We got the harness to help us with her walking…she would get to the end of the driveway and often refuse to go any further. 
Your harness helped her feel more secure (like she was being hugged) and gave us more control over her bouts of refusal. I have since used the same harness for some of the tougher female Pyrs at the rescue.  
The four girls who are currently using my harness are terrible on a leash and want to pull us down the gravel driveway and when they see deer, want to join them and take us with them.  The harness has been great in giving us more control.​​
How Joyride Harness Paws It Forward
Appalachian Great Pyrenees Rescue received a shipment of ten Joyride Harnesses to help the dogs in their care, whether it's an adoption transition, rescue, or taking the Pyrenees out for a walk. 
We're able to continue our donation efforts through our Paw It Forward Initiative, thanks to the continued support of our customers. 
Want to learn more about how you can support this shelter? You can find their links below.
For more doggie photos and pup-related fun, follow us on Instagram at @joyrideharness. And for a more detailed blog post about finding the best size dog harness for your pup, check out this blog post!
Follow Appalachian Great Pyrenees Rescue:
https://www.facebook.com/AGPRescue
https://agprescue.org/
Share this post