How to Find the Best Vet for You and Your Dog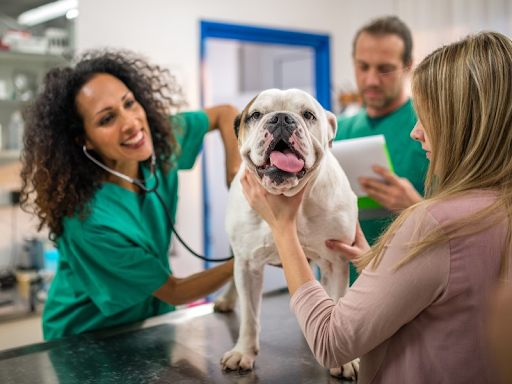 Welcoming a furry friend into your life comes with joyous walks, wagging tails, and lots of wet-nosed kisses. Yet, along with these delightful moments comes the vital responsibility of ensuring their health and well-being. Finding a good vet is a cornerstone in building a happy, healthy life for your four-legged family member. 
Whether you've got a brand-new puppy who needs to stick to a vaccine schedule, an adult dog requiring routine care, or a senior dog that may need extra attention as they age, the role of a veterinarian cannot be overstated. Of course, finding the right one is key! But how do you find a vet in the first place? And how do you know whether they will be the right fit for you and your dog? Don't worry! With this guide on how to find a good vet, we'll help you learn everything there is to know about how to find a good veterinarian. 
When to Start Your Search for a Vet
The best time to find a vet is before you even bring your new dog home. This proactive approach ensures that you are well-prepared for any health-related issues that may arise. 
Adhering to a vaccine schedule is of utmost importance for puppies to safeguard them from various diseases. The rescue or breeder you get your puppy from may even require you to see a vet once you bring your baby home. Likewise, adult dogs benefit greatly from regular check-ups, and senior dogs may require more specialized attention as they age.
Whether bringing home your first dog or relocating to a new area, beginning your search early gives you ample time to research and choose a good veterinarian who meets your standards. Remember, it's not just about the nearest vet clinic; you want to find someone you and your dog can trust and build a long-lasting relationship with.
Where to Look to Find a Vet
In the digital age, the first instinct might be to take your search online. While this is a good starting point, several other avenues exist to explore when trying to find a vet. 
Here are some resources you can use to find a veterinarian near you: 
Referrals from Friends and Family:

Word of mouth is a powerful tool. Ask around among your friends, family, or neighbors who own pets. They might have recommendations based on their experiences.

Social Media and Forums:

Join local community groups or forums where fellow dog lovers gather. They can provide many insights and suggestions on finding a vet in your vicinity.

Pet Welfare Organizations:

Reach out to local pet shelters or rescue organizations. They usually have a list of vet clinics they trust and collaborate with.

Pet Supply Stores:

Often, stores that supply pet products collaborate with vet clinics or know of good veterinarians in the area.
12 Tips for How to Find a Good Vet
Selecting a veterinarian is a personal and significant decision. Here are 12 things to consider when choosing the best vet for your pet:
Location

: Choose a vet that is convenient for you to get to, as this will make it easier to take your pup to appointments and quickly get them the care they need.

Hours

: Make sure the vet's hours of operation work for you and your life schedule. Some vets offer extended hours or 24/7 emergency care.

Services

: Consider the services that the vet offers. Some vets only offer basic care, while others offer specialized services like surgery or dentistry.

Experience

: Choose a vet experienced with your dog's breed and needs. This will ensure that the vet is familiar with your pet's specific needs.

Accreditation

: Look for a vet accredited by a reputable organization, such as the

American Animal Hospital Association

(AAHA). This means that the vet has met certain standards of care and quality.

Staff

: Get a sense of the staff's attitude and approach to animal care. Do they seem friendly and compassionate? Do they take the time to answer your questions?

Price

: Be sure to factor in the cost of care when choosing a vet. Some vets may be more expensive than others.

Communication

: Choose a vet who is good at communicating with you. This includes being clear about your pet's diagnosis and treatment plan, as well as answering your questions in a timely manner.

Pet's comfort

: Ensure your pet is comfortable at the vet's office. This includes being greeted by friendly staff and being in a clean and comfortable environment. Some vet offices are also

fear-free certified

and aim to reduce the stress of veterinary visits for your pet. 

Specialized care

: If your pet has a chronic condition or needs specialized care, you may need to find a vet who specializes in that area.

Visit the clinic

: Before making a decision, visit the clinic to assess the environment. Check for cleanliness, organization, and the general attitude of the staff towards pets and their owners.

Your gut feeling

: Trust your gut instinct when choosing a vet. If you are uncomfortable with a particular vet, don't be afraid to keep looking.
Find a Vet and Keep Your Dog Happy, Healthy, and Safe with Joyride
At Joyride Harness, we know that ensuring your furry family members receive the best healthcare is a top priority among pet parents. We all want what's best for our dogs, whether it's finding them the best veterinarian or keeping them safe and secure on the go. That's why we offer more than just best-selling dog harnesses. We want you to find a good veterinarian and learn how to take the best possible care of your dog. 
Our mission is to assist you in fostering a joyful, healthy, and fulfilling life for your canine companion, complemented by the peace of mind that comes from knowing you've made informed, loving choices for their well-being. Our blog is the ultimate resource for pet parents to find tips and tricks to ensure their beloved companion lives a life well-lived. Be sure to check back frequently for more information on how to become the best dog owner you can be! 
Share this post