How To Celebrate St. Patrick's Day When You're A Dog Owner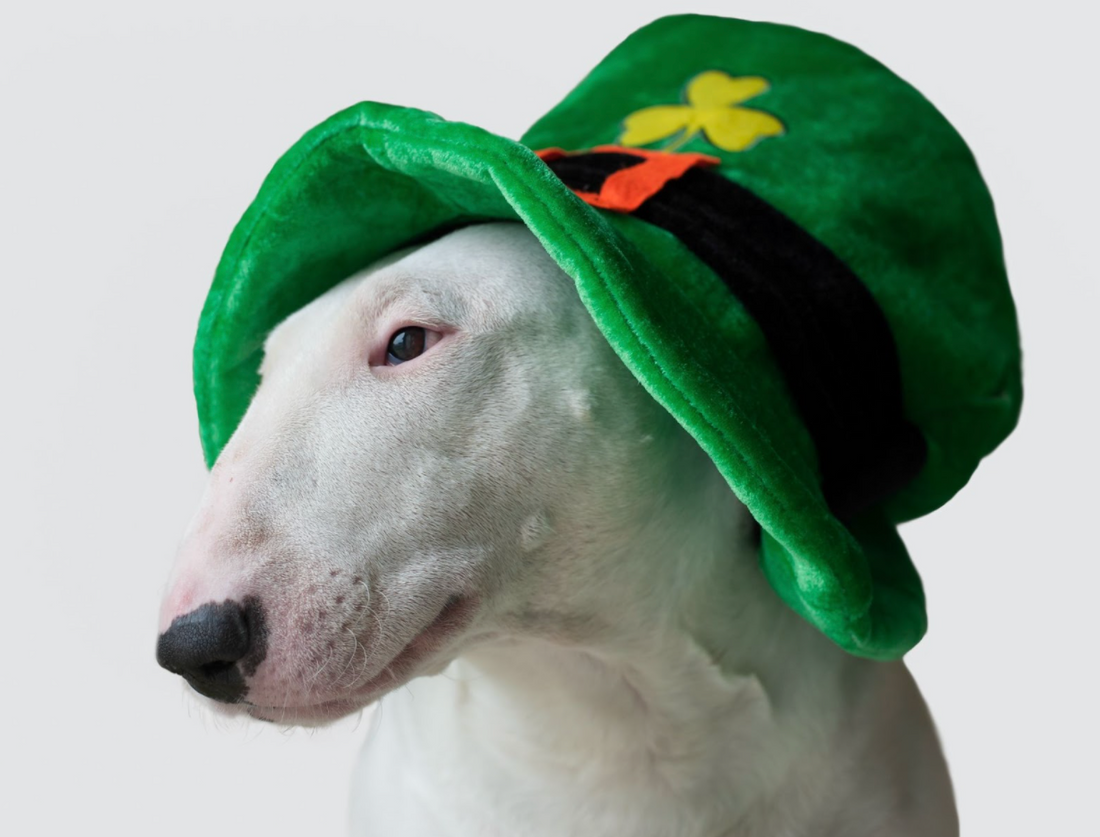 St. Patrick's Day is a time to eat, drink, and be merry (and lucky). 
Outside of dressing your dog in green, there are other ways to celebrate.
While you can't always bring your pup to the pub, we have some great tips for you on how you can celebrate the day of green (not Green Day, because that's a band and a completely different blog post) as a dog owner!
Celebration Tip #1: Get a Dog Sitter
So you're heading out. How long will you be gone? A few hours? All day? Overnight? 
If you're unsure, don't leave things up to chance, plan ahead so that your pup is cared for. If you can't have family or friends check in, we recommend getting a dog sitter!
Depending on where you place your inquiry, your dog sitter can do check-ins or even spend the night at your place to watch over your pup.
You'll want to find someone you trust to take care of your dog but also enter your residence. It's a scary thing to open your home to someone when you aren't there. Rest assured, there are options. 
Here are some resources for you to check out:
Trusted Housesitters

Care.com

Rover

Wag

Pet Backer
A lot of great sitters/walkers go fast, so be sure to jump on ASAP! We recommend looking at reviews for each as well as how many, if any, returning customers/clients they have. Some people also have special training so it can meet your needs. 
Before heading out, you should meet with one to several potential sitters before you hire them. This way you can explain your residence, your dog, and some tips with them. We also recommend writing up and printing a guide/resource for them because no one can remember every detail. Be sure to include contact information for you and anyone else you trust as well.
Celebration Tip #2: Dog Beer
You're most likely going to have at least one responsible drink with your friends, so why not also have one with your best friend?
They exist. 
One of them is Anheuser-Busch's Busch Dog Brew. No, your dog won't get drunk. This is an alcohol-free concoction that serves as the company's first beverage intended for animals.
According to the business, "Busch Dog Brew is an all-natural product and contains only fresh ingredients. Made with vegetables, herbs, spices, water, and pork broth to provide your best buddy with a nutritious and tasty snack that helps to promote a healthy digestive system. Bone broth is also a great way for dogs who struggle to eat solid food to get all of their extra nutrients."
Celebration #3: Yummy Treats for Home
There are a couple of treats to pair with the doggy beer (or on their own). 
The Staple Corned Beef
Most vets and dog trainers don't advise giving dogs table scraps as it can be fattening and encourage unwanted behaviors. But, like for humans, a treat is a once in a while thing, so bring your dog in on the fun.
Corned beef can be fatty and is loaded with salt, so you don't want to over do it. But honestly, the same holds true for most off the shelf dog treats. For most healthy dogs, a few scraps of corned beef won't hurt them. So have a little and share with your dog too!
Shamrock Treats
Below is a recipe for treats that are packed with healthy ingredients that are good for your dog. The recipe makes approximately 2 - 3 dozen treats depending on size of cookie cutter.
Ingredients
1/2 cup unsweetened applesauce

1 egg

1/4 cup peanut butter

1/2 cup loosely packed spinach leaves

1/2 cup water

2 cups whole-wheat  flour

1/4 cup cornmeal

1/4 cup quick cook oats
Directions
Preheat the oven to 350 degrees.

Chop spinach leaves fine. Mix or blend if possible. 

Add egg, peanut butter, applesauce, and water gradually. Then mix to combine. 

Add remaining dry ingredients and mix.

Turn dough onto a floured surface and knead, forming into a ball and flattening into a disk. 

Add additional flour as necessary if the dough is too sticky. 

Roll out to 1/4 inch thick and cut into shapes. 

Reroll scraps and repeat.

Place shamrocks on parchment or greased cookie sheet and bake 15 minutes - 25 minutes, according to the size of your treats and your oven. Watch and remove when slightly browned. 

Cool on a rack before sharing with pup. 

Store unwanted treats in a sealed container.
Celebration #4: Bring Your Dog to a Parade
If it's nice out and not too crowded, why not check out a St. Patrick Day parade? These are in public which usually means "Dogs welcome!"
However, be sure to remain hyper aware of the crowds (never risk your dog being trampled or feeling trapped) and conscious of the noise. Parades can be loud. Also, depending on the temper of your dog, this may or may not be a good choice. Please remember to look out for your dog and the people around you. Do what's best for your pooch, so this may or may not be a viable option.
Celebration #6: Dine Out with Your Dog
Take your dog out with you for a meal!
Use websites like Bring Fido to determine which restaurants allow dogs. If you're going away or just heading out, they also have options to look up hotels and events!
Our harnesses are great, comfortable ways to bring your dog with you – and they come in green!
Not every restaurant or bar is dog friendly, so be sure to call ahead to make sure that your furry friends are welcome. You may also want to call ahead to restaurants listed just to double check as what's online unfortunately doesn't always match up with current practices.
We hope these ideas help you. Happy celebrating.
For more doggie photos and pup-related fun, follow us on Instagram at
@joyrideharness
. And for a more detailed blog post about finding the best size dog harness for your pup, check out this
blog post
!
Share this post