Best Dog Harness For Hiking Trips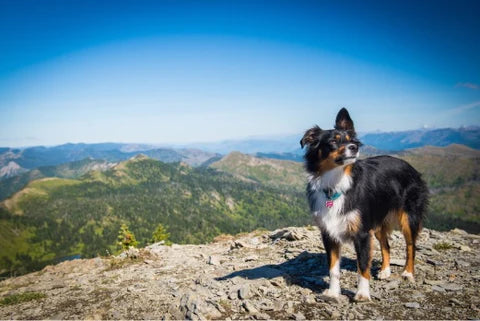 Is an adventure really complete without your best friend by your side? Hiking with your dog is one of the best ways to explore with our furry friends. But, it can be difficult with a dog that pulls, sprints, or becomes distracted by every squirrel they see. 
With the right harness, a dog can be the perfect companion for outdoor adventures. Dogs are always ready to go for a walk or hit the trail. A secure and durable harness is essential to make the most of those active, outdoor days. Hiking is great for a dog's health and having fun-packed days with your pup is a wonderful way to make memories and build a bond with one another. 
One of the most important things to remember when taking your dog on a hike is that they must remain on leash. Keeping your dog on leash not only keeps your dog safe, but it also shows respect for other hikers who may be afraid or allergic to dogs. Keeping your dog secure also ensures that wildlife is respected and unharmed by our doggies. 
Although some of us may want our dogs to roam free in the woods, it's in everyone's best interest to keep them secure with the proper harness. Unleashed dogs can quickly run off when tracking a scent and could disappear from your view very fast.
There are many reasons why hiking is better with the right harness!
The grip handle on the harness helps you support your dog while walking or pulling your dog out of unsafe situations.

Keep control of pulling which could be dangerous when hiking tough trails!

Made from durable, quality materials that won't get ruined by weather.

The harness is machine wash safe! Throw it in with your laundry after a dirty hike with no problems. 

Reflective straps and stitching for night visibility for hiking at dusk.

Three rings for different leash and seat belt attachment points.
There's no pressure around the dog's neck, minimizing the risks of damage to the neck

Secure buckle

Works great with 2-in-1 Leash & Seatbelt Combo for car rides

Can still be worn with a dog collar

Lightweight but with plenty of padding

Breathable mesh for long hikes


What do other pawrents have to say about Joyride Harness for hikes and long walks? Check out these reviews from customers!
⭐⭐⭐⭐⭐ Suzanne F.
This is the second Joyride Harness we have ordered. We previously ordered a harness for our other dog (Daisy who is a boxer/pit rescue dog) and felt like it was sturdy, well constructed, and comfortable for her, so we ordered another Joyride Harness for our second (Lucy who is a lab/pit rescue dog). I also like having the handle so we can hold our girls in place when they are excited. Both are very strong muscular dogs and these harnesses are heavy duty and comfortable at the same time.
⭐⭐⭐⭐⭐ Natasha W.
It is like my dog knew that it was intended for long walks. Without this harness our walks were very short, now we can return to long walks in the park.
⭐⭐⭐⭐⭐ Nicole L.
Absolutely no pull on two labs who pull! Easy on and off. Definitely a good purchase!
⭐⭐⭐⭐⭐ Aimee K.
My Frenchie may be small but she is very strong . When she spots a squirrel, lizard ,or a water spout she needs a joyride harness to hold her back without hurting her. It doesn't rub her skin and fits perfectly. She is 19lbs and fits a small dog perfectly.
⭐⭐⭐⭐⭐ Carrie L.
My one year old pug pulls so hard that he chokes himself - even while wearing a harness. 
We've tried numerous harnesses that either don't fit well or are challenging to put on (our pup doesn't like to stand still). His new Joyride harness is so easy to put on and now when he pulls he isn't choking himself. I highly recommend this harness!
Hiking is so much more enjoyable with your furry companion. And even more enjoyable with a harness that you can be confident in! Whether your dog is a seasoned hiker or new to the trails, Joyride Harness will take your adventures to the next level!
For more pup content and furry-friend fun, follow us on Instagram at @joyrideharness. For a more detailed blog post about finding the best size dog harness for your pup, check out this blog post!
Share this post