Best Dog Harness For Cold Weather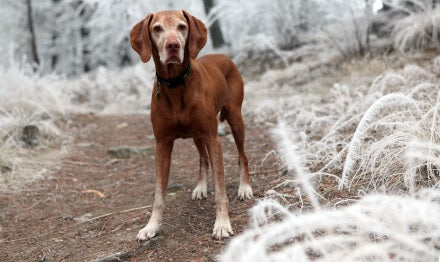 Even in the coldest months, most dogs still need their daily exercise. Sometimes, even those puppy dog eyes can't motivate us to bundle up and brave the slippery sidewalks. 
Although some dogs thrive in cold weather, most dogs don't favor snowy feet and brisk winter air. But, it doesn't have to be a struggle to embrace the cold and get outside! 
In chilly weather, feeling safe and secure is extremely important. A dog harness you can feel confident in makes a world of a difference for both you and your dog.
There are many reasons why colder climates call for a helpful harness.
The grip handle on the harness helps you support your dog while walking or pulling your dog out of unsafe situations.

Keep control of pulling which could be dangerous in slippery situations!

Made from durable, quality materials that won't get ruined by harsh weather.

The harness is machine wash safe! Throw it in with your laundry after a wet and muddy walk with no problems. 

Reflective straps and stitching for night visibility for those shorter winter days.

Three rings for different leash and seat belt attachment points.
What are other benefits to this harness?
There's no pressure around the dog's neck, minimizing the risks of damage to the neck

Secure buckle

Works great with 2-in-1 Leash & Seatbelt Combo for car rides

Can still be worn with a dog collar

Lightweight but with plenty of padding

Breathable mesh for long walks
What do other pup-parents have to say about Joyride Harness in cold weather? Check out these reviews from customers!
⭐⭐⭐⭐⭐ Theresa S.
I have several dogs. These harnesses are absolutely the best, easiest, most secure in the market. I've tried every harness available and can recommend these without question.
⭐⭐⭐⭐⭐ Christine C.
We purchased this harness and leash combo for two reasons. We wanted to walk Huxley without being pulled and we wanted to be able to secure him on car rides. Not only is he more manageable on walks, but the seatbelt on the leash allows me to take him anywhere. Bonus: super easy to put on/adjust and IT GLOWS IN THE DARK!
⭐⭐⭐⭐⭐ Wendy B.
We are still working with our Lab who pulls a lot on a leash, we got her at 2 yrs old and she'd never been leashed or tethered. Love the easy off easy on feature and appreciate the help and support your staff has provided in using it!
⭐⭐⭐⭐⭐ Kelly E.
The Joyride harness is stunning! Not only is it durable and clearly well made, it's incredibly user friendly! Our Lab/Hound mix puppy would cower whenever we would have to put her old harness on her - as it was such a hassle to get over her head. With her new Joyride - she loves it and it takes half a second to place over her head! Not to mention - a total game changer when it comes to mitigating her pulling! You have a customer for life! … perfect w/ a growing puppy!
⭐⭐⭐⭐⭐
Jacqueline W
.
My daughter suggested this harness after she got one for her lab. I ordered one for my sweet little pug and I am so happy that I did! So easy to get on and to adjust whenever I have to put her winter clothes on as well. She's much more comfortable in this than anything I was able to find in the stores and the red and white heart print is adorable!
⭐⭐⭐⭐⭐ Amy M.
I am a Rescue Foster Mom and this harness made quick work on a dog who had never been previously been on a leash. She went from scared to walking loose leash in no time! Love how quick and easy it is to put on and felt very secure in using it. Large size was perfect for the 40 pound hound and even for the 60 pound Great Pyrenees mix that I had next. Now need to buy the next size up for newest foster Cattle Dog/ Lab mix who is too broad. Also easily washes in the machine.
This dog harness is perfect for all types of dogs and seasons! Whether your dog loves the winter or dreads walks in cold weather, Joyride Harness will change the game no matter what. You'll feel more in control of your dog and more secure in those chilly conditions. 
For more pup content and furry-friend fun, follow us on Instagram at @joyrideharness. For a more detailed blog post about finding the best size dog harness for your pup, check out this blog post!
Share this post