Best Dog Harness For Barrel-Chested Dogs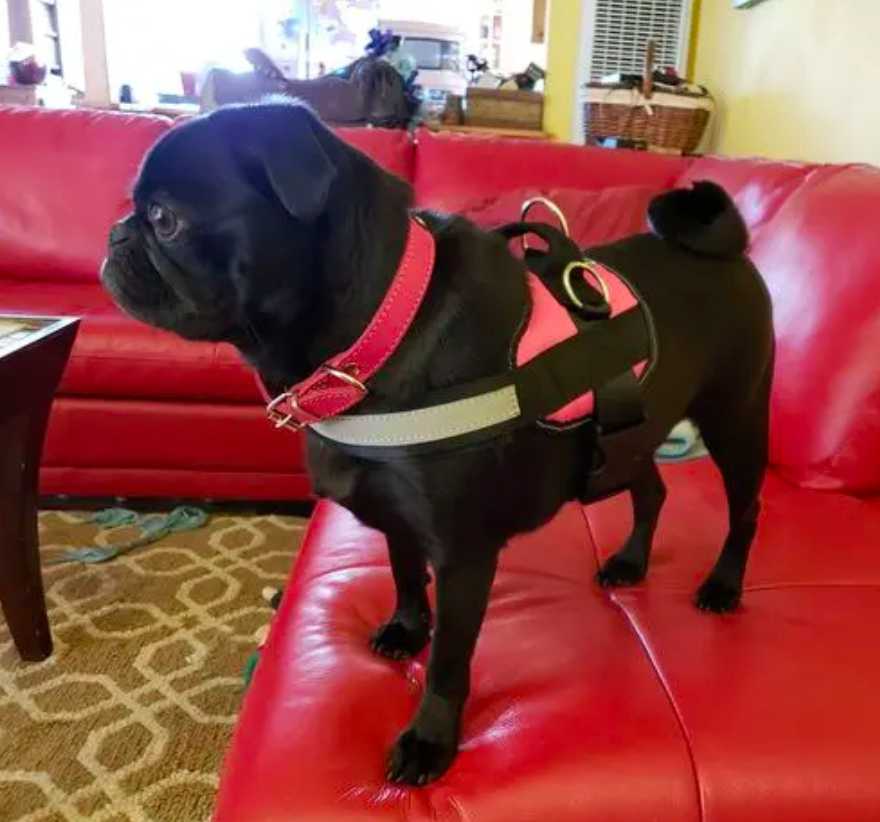 Your dog is an absolute unit. We're talking puffed-out chest, broad shoulders, and your dog is ready to go places.
But it's hard to find the gear to walk your dog with all the size restraints. Many dog owners in your shoes tried out several different harness brands with no luck before finding Joyride Harness. 
Why is it so hard to find a dog harness that fits barrel-chested dogs? We don't know, but we're here to fix that because Joyride Harness makes walking with barrel-chested pups a piece of cake.
When we created these harnesses, we considered all dog shapes and forms and worked in a design you can confidently add to your cart. 
What are the other benefits of this harness?
The harness is made from durable, quality materials

Making it machine-wash safe!

There's no pressure around the dog's neck, minimizing the risks of tracheal collapse

Secure buckle

Better control of pullers (no-pull dog harness)

Works great with 2-in-1 Leash & Seatbelt Combo for car rides

Three rings for different leash and seatbelt attachment points

It can still be worn with a dog collar

Lightweight but with plenty of padding

Breathable mesh for long walks

Reflective straps and stitching for night visibility
What are dog owners saying about this harness when it comes to their barrel-chested dogs? Here's what they
have to say
.
⭐️⭐️⭐️⭐️⭐️Perfect For Hard To Fit Breeds
"With Boxers (and I'm guessing any deep, barrel-chested breeds), it's really hard to find a harness that actually fits the way it's supposed to. They either droop and hang in the front, rub their poor arm-pits raw, belt around belly/chest constricts and slides, or they can just flat out back out of them. But this harness is perfect! By adjusting the front chest strap, you can keep the belly/chest strap where it needs to be. The handle is perfect for our 9yr old Boxer who needs help getting in the car sometimes and for our young Boxer girl who just can't stop the urge the chase squirrels."
⭐️⭐️⭐️⭐️⭐️A Pug's Struggle
"We have had such a hard time finding a good harness for her. Pugs are shaped like a barrel, so her collar always falls off. The harnesses we would get for her she was always able to get out of because they would slide right over her head, until now!! The Joyride Harness goes on easily and doesn't slide off. I don't have to worry about walking all 3 dogs together because I know she can't get out! It's GREAT!!!" - Constance G.
⭐️⭐️⭐️⭐️⭐️Absolutely Love It!
"The harness fits my dog very well. It's easy to put on and is easily adjustable. Other harnesses I have tried to use in the passed didn't fit my dog well. He is a mixed breed. He has a thick neck and is barrel-chested. But the Joyride Harness fits him perfectly! It's not too loose or too tight. Because it doesn't pull at his neck, he walks better with it. He doesn't pull as much as he use to. I love this harness!" - Devon P.
⭐️⭐️⭐️⭐️⭐️It Fit Perfectly!
"I had worried that this harness wouldn't fit in a medium as Diamond has a whippet-like barrel. It fit perfectly 'right out of the box"! I love it! And I think she does too! It only takes a second to slip it over her head and snap the belly strap! I'm looking forward to using the car seat belt as well! (She loves to ride in the car.) It looks like it just snaps right into the seat belt latch. Easy peasy!!" - Lucinda S.
This dog harness is perfect for all sorts of dogs: rescue dogs, agility dogs, guide dogs, watchdogs, dogs that might run after a squirrel, and you need a handle to hold them back. The dog harness design relies on a proper fit or barely snug fit to ensure the dog's comfort and prevent them from making a great escape.
For more doggie photos and pup-related fun, follow us on Instagram at @joyrideharness. And for a more detailed blog post about finding the best size dog harness for your pup, check out this blog post!
Share this post