9 Best Valentine's Day Gift Ideas for Dogs and Dog Lovers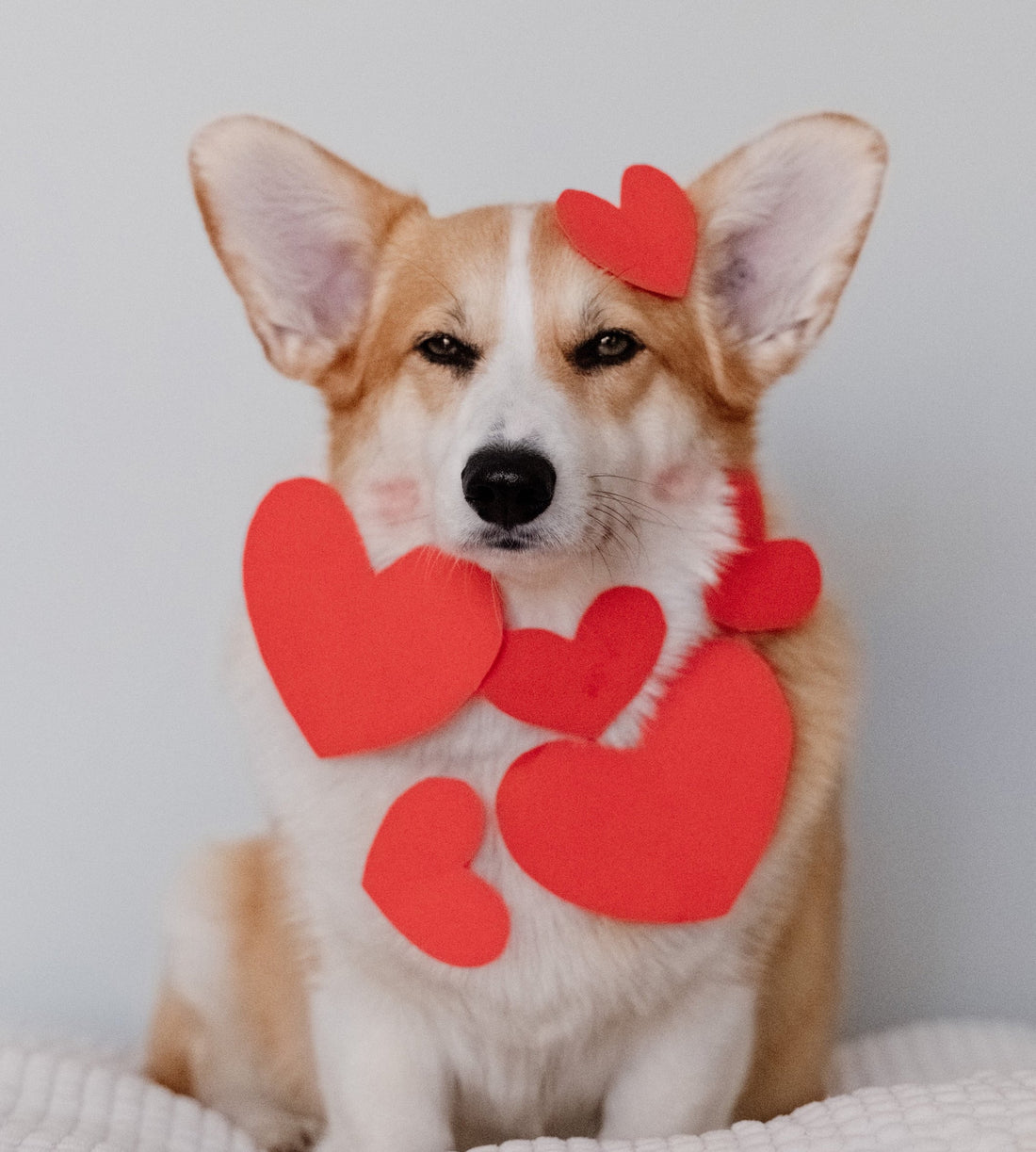 Valentine's Day is just around the corner. While hearts, flowers, and chocolates may be some of the typical go-to's, fur parents know it's a great time to show who's really stolen our hearts: our pups!
Whether showing love to our dogs or fellow dog lovers, there are many unique and amazing gift ideas that are sure to get all tails wagging this February 14th. So let's check out 9 ideas that will be sure to be a hit with your special someone!
1. Joyride Harness Love Designs
A Joyride Harness is always an amazing gift for any holiday, and Valentine's Day is no different.
Joyride Harness comes in time and time again as one of the top choices among pet parents who want to have the best and safest for their fur babies.
Slips easily on in 2 seconds. It adjusts for a perfect and secure fit. It is durable with a comfortable fleece-lined padding while leaving space for mobility. It has a reflective strip for night time safety. And it helps with pulling with a special side ring option to clip a leash.
Not only that, Joyride Harnesses come in a wide array of designs to suit your fur baby's personality or even show a little extra love.
We've pulled a few of our favorite Valentine's Designs to help you pick a dog harness for your favorite fellow pet parent or fur baby!
2. You, Me & the Dogs Canvas
Sometimes you want to shout your love from the rooftops - or at least the walls of your home!
A perfect gift for a partner, this beautiful custom canvas print features a gorgeous rustic wood sign style that is sure to spruce up any space.
It is available in three different sizes: 10 x 20 inches, 15 x 30 inches, and 20 x 40 inches. And the canvas has a large space that you can add a photo of your own pup (or pups) alongside the words, "You, Me & the Dogs."
Plus ordering from Woof and Watson means that you can know your art is being made from high quality materials and to strict standards, since they hand inspect each piece before they're sent off.
And not only that, your order doesn't just mean a better Valentine's for you, a loved one, and a pet but also something special for a pup in need! That's right, Woof and Watson takes a donation from each purchase to help a rescue dog in need. 
So with this beautiful custom canvas print, you can celebrate your whole family, fur babies and all while doing some good, too.
3. Love is Wet Noses Apparel
We've heard the sappy songs and seen the romcoms, but all pet parents know what love really is, and there's no better time to give a gift that shows it.
Another awesome piece from Woof and Watson, this amazing design speaks directly to our hearts.
This fantastic top boldly says, "Love is wet noses, slobbery kisses, and a wagging tail" and comes in a tee, hoodie, and women's tank style. Each of these comfy tops come in sizes ranging from small to 2XL.
What's more you can select the top in an array of different colors from black to blues to reds, depending on which style your special someone would love the most.
With Woof and Watson's high quality standards and free shipping, this top makes a great Valentine's Day gift idea to a fellow pet lover so that they can show off their love year round!
4. Joyride Harness, Heavy Duty Leash, & Seatbelt Bundle
As pet parents, we know that the key to making our fur babies lives the best they can be is by having the best for them. 
That's why an amazing gift this Valentine's Day for either a loved one with a pup or for your own beloved fur baby is this Joyride Harness, heavy duty leash, and seatbelt bundle! It is the must-have pack for every pet parent.
The Joyride Harness is loved by pet parents everywhere for how safe, secure, durable, and easy it is to get on and off (see number 1 for more details!).
Leashes are absolute necessities for pups, but it's easy to end up with one that isn't the greatest quality, falls apart easily, or worse has a clip that doesn't work properly. The last place you want a leash to go wrong is when you're out on a walk with your pup and they could make a great escape.
This heavy duty dog leash features high quality and durable craftsmanship along with two handles, one at the 6 foot end of the leash and one just a foot away from the clip. This allows better control of your pup and easier training!
And we all know about the importance of car safety, but how many of us buckle in our fur babies every time we get into the car?
With the dog safety seat belt you can keep your pup safe for every drive (as well as away from your center console!) The important thing to note about these seat belts is that they should always be connected to a dog harness, as they could be a choking risk if attached to a collar! Dogs under 25 pounds are recommended to be bucked into a car seat instead of directly to the seatbelt fixture.
All in all, this is a great bundle for all of your pup's needs and will show them all of the love by making sure they're happy, healthy, and safe.
5. The 2-in-1 Leash Seatbelt Combo
If your special someone is a lover of all things cool and innovative this could be just the thing for them!
This 2-in-1 leash seatbelt combo combines the durability and design of Joyride Harness's heavy duty leash with both handles, along with a hidden seatbelt attachment so you never get caught without a way to secure your pup in the car.
As we said in number 4, car safety for dogs is super important. Research showed that even at a low speed accident, a dog can be thrown through a windshield at 20 miles an hour or more. On top of that, unsecured pups can be major sources of distraction and distracted driving is dangerous driving.
This leash is built from heavy duty nylon that is much thicker and stronger than a standard leash with the bonus of sewn in reflective material, for that added layer of safety on night walks.
Things to keep in mind are that any time you use a pup seatbelt, make sure to attach it to a harness. It can cause them to choke if you ever get into an accident and it's attached to a collar around their necks. Additionally, if your fur baby is under 25 pounds, it's safest to attach them to their dog seat and not directly to the seatbelt fixture.
Overall, this is an amazing gift to show some love especially if your loved one already has a dog harness or you want to spring for something a little more innovative!
6. A Wise Woman Once Said 11 oz. Mug
What would a celebration of Valentine's Day be without a little Galentine's Day sprinkled in? And there is no better way to show some gal pal love than with this fantastic mug from Woof and Watson! 
We don't know about you, but starting the day on the right cup is an absolute necessity. And there is nothing we'd rather look at than our fur baby bright and early.
This 11 ounce mug features the words: "A wise woman once said f*** it I'm getting a Labrador, and she lived happily ever after." There is a spot where you can add a photo of your own pup surrounded by hearts, and you can customize the breed mentioned!
With 100% ceramic construction with dye that is blended into the actual ceramic itself, this mug will last your love or gal a good many mornings.
7. Double Dog Power Leash
You may be wondering what to get someone who has every… dog. The answer to that is simply an awesome leash that can handle more pups!
And there's no better way to do that than with Joyride Harness's double dog power leash. 
This leash is hand braided from a strong nylon and polyester blend that makes it suitable for dogs of all shapes and sizes. Along with that strength also comes a soft ergonomic handle to make walking as comfortable as it will be easy.
Additionally the connection point where the leash splits has a swivel connector so you and your fur babies won't have to worry about leash tangles or wrap ups. The leash itself will correct every time your pups have the urge to do a criss cross while walking.
More fur babies can mean more love, and now you can show yours by gifting this amazing double dog power leash so that walking is easier and more stress free.
8. All You Need is Love and a Dog… Pillow
What's almost as good as cuddling your fur baby? Cuddling a pillow with your fur baby's face on it, of course!
We absolutely love this adorable pillow from Woof and Watson for anyone's special someone. It reads, "All you need is love and a dog named…" and is fully customizable with a big spot for your fur baby as well as your fur baby's name. And for extra added cuteness, a big paw print.
This pillow comes in one of two sizes, 14 x 14 inches or 16 x 16 inches, and is made of 100% soft cotton. Not only that, but the pillow comes complete - meaning that the fluffy inside is included, so you won't have to buy anything else!
While the plushy insert is machine washable, it's recommended that the cover is spot cleaned.
As with all of their products, Woof and Watson hand-inspects each one before sending it along to their customers so you can be sure you're getting the best possible quality. Each month they also donate $3,000 to $5,000 to Dogs Without Borders, a nonprofit that has placed over 6,000 rescue dogs into loving homes.
This "All You Need is Love and a Dog" pillow is a super cute and thoughtful Valentine's Day gift that not only gives but gives back and is sure to be a hit.
9. Matching Dog Harness & Mask Bundle
Now when going out for walks, to the vet, or over to that cute pet store on the corner, you and your pup (or your special someone and their fur baby) can do so in matching style!
This bundle features the dog harness most pet parents choose, Joyride Harness, in a super cute pattern that comes with a matching mask. 
This bundle comes in a variety of colors to match a wide variety of tastes, including:
Joyride Harness has over 40,000 five star reviews and is a top pick by dog lovers everywhere because it's safe, secure, durable, and easy to put on and take off.
With adjustable straps and fleece-style padding, your pup will be snug and comfortable in this dog harness while still maintaining a full range of motion.
A secure fit means that you don't have to worry about your beloved fur baby damaging their neck or vulnerable throat area if they pull or get startled. And with the reflective strip you can walk any time, day or night, resting a little easier that your pup will be more visible.
With three leash attachment ring options, you have options that allow help with walking issues like tangled leashes or pulling. And with the EZ grip handle, you can have immediate control over your pup just in case, because while we never want to think the worst will happen we always want to be prepared.
Add in a wide array of colors and patterns - plus a matching swanky mask - and it's the perfect gift for that special someone! 
However you, your fur babies, and your loved ones choose to celebrate Valentine's Day this year, we hope that it's filled with a lot of love and joy!
If you have any questions about our dog harnesses, how to put them on, or anything else, you can reach our team through the contact form on our website. To take a look at more reviews and everything our customers have to say check out this page!
While you can search by breed, it is always recommended to weigh and measure your dog to find their exact size. To take a look at our sizing chart, go here! 
For more doggie photos and pup-related fun, follow us on Instagram at @joyrideharness. And for a more detailed blog post about finding the best size dog harness for your pup, check out this blog post!
Image Credits
Instagram: @the_mookie_boi
Instagram: @littlefrenchieboomer
Instagram: @coopyjohnjones
Share this post